Frequently Asked Questions

How does the league work?
The Lichess4545 league is an 8-round team Swiss tournament with one round per week. All games are played on Lichess.org with a 45+45 time control, where each player gets 45 minutes on their clock at the start of the game, and 45 seconds is added to their time for every move they make. Each team in the league has 8-10 players with a broad range of ratings, and teams compete against other in weekly matches. Players are sorted into "boards" based on their rating and therefore almost always get to play against similarly rated opponents. Players are responsible for contacting their opponent each week and scheduling / playing their games. The league also has a separate group of alternate players, who are offered the chance to play games when teams require a player for a round (or when players withdraw from the season). Although the number of players per team has changed over time, currently, each team consists of 10 players.
Pairings are released at the start of each round. Each round runs from Monday 12:00 UTC to the following Monday (12:00 UTC).
All league communication occurs on Slack.
You must be over 16 years of age to be eligible to play in the leagues. Our eligibility rules are set out in the Lichess4545 Terms of Service, and everyone who plays in the league must agree to comply with these Terms when they register for a season.
We'll leave the final word to one of our original mods (@MrLegilimens):
Most importantly of all, the league is a hell of a lot of fun! The camaraderie that you build with your team mates as the rounds progress is amazing, There really isn't anything quite like cheering on your team-mate as he plays the deciding match of the round, only to stare in horror at your screen as he plays a dubious Rook sac. It's also a great excuse to play some longer time control games and improve your chess. So don't be afraid to sign up, I can assure you it's definitely going to be worth it.
If you would like to join the league, you need to register online using https://www.lichess4545.com/team4545/register/.
League moderators review all registrations, including those from players who have previously played in the league. Registrations from ineligible players will be rejected. Please see the Lichess4545 Terms of Service for more details on the leagues' eligibility rules.
If you have a provisional Lichess classical rating (with a question mark), your registration will not be reviewed unless and until you achieve a non-provisional rating.
If league moderators approve your registration, you'll receive an email inviting you to join the Lichess4545 Slack workspace. When you join the workspace, you need to link your Slack account by sending a Direct Message (DM) to @chesster with the single word "link". If you're not sure how to do this, seek help in the #welcome or #general channels. All 4545 players should join the #team-scheduling and #team-games channels.
Registrations are only accepted from around two weeks before the start of a new 4545 season. If you register after teams have been announced, then you will automatically be added to the list of alternates for the season (subject to approval of your registration of course).
How do I get on a team? Can I create my own team?
The teams are created by the moderators at the start of each season. You do not need to register with a team.
If you are interested in playing with your friends on the same team, you may indicate your preferences on the registration form. However, if you request teammates who are similarly rated, it is very unlikely that you all will end up on the same team.
Although the moderators do strive to accommodate players' teammate requests, rating balance is prioritised in team generation. The aim is to ensure that each player on a team has a similar rating to everyone one else on the same board across the league. It should also be acknowledged that the rating ranges per board can vary between seasons due to changes in the league's player pool.
Why am I an alternate?
Players who register earlier before a season starts are given priority for placement on a team.
Those who register later therefore often start as alternates, and are listed in the alternate queue on the season rosters page by the order in which they register. Alternate players get prioritised for team placement if they register for the following season (if they register before teams are created).
Any player that received a red card in a season will automatically be assigned as an alternate if they choose to register for another season.
What are the rules?
We advise all players to read the complete league rules, as well as the Lichess4545 Terms of Service. Here is a short summary of the most relevant rules:
Scheduling games
After pairings are released, you should attempt to contact your opponent as soon as possible via Slack (not Lichess).
You and your opponent should make an initial offer to each other that consists of (at least) three distinct times on at least two separate days. Please list all times in UTC - this just makes it easy for everyone. Eg "Hi! Here are three times I can play this week: Wed 2100, Sat 1400, and Sun 0900 (all times UTC). When can you play?"
Once a time has been agreed, either you or your opponent should post it in the #team-scheduling channel on Slack. If you're not sure of how to do this, just copy the formats used by other players in the channel. Players should always confirm that their opponent is willing to play at a certain time before posting it.
Players who have not heard from their opponent after 24 hours should notify their team captain.
Team captains will attempt to find an alternate for the week.
In cases where both players can't agree a suitable time to play, suitable alternate(s) are not available, and teammates are unable to fulfil the fixture by playing up or down a board, a scheduling draw may be declared. Players involved in this type of situation should contact their captain early and update them regularly.
Playing games
When it's time to play, either you or your opponent has to send the other player a challenge on Lichess for a standard rated 45+45 game, making sure that colours are assigned correctly. (If not, chesster should message you about it!)
Then you just need to play your game! Chesster will automatically know when your game starts and ends, and the result will be posted immediately in #team-games (which is why we advise players to join this channel). The result will also show up immediately on this site.
If a player does not show up at the scheduled match time, they will have a grace period of 20 minutes to appear, otherwise they will forfeit the game. If your opponent has not turned up and 20 minutes has passed since the scheduled time, you should receive a message from chesster with a link to request a forfeit win. Follow these instructions. If chesster doesn't contact you after 20 minutes, summon the 4545 moderators in #general and provide them with timestamped screenshots of your challenge to your opponent as proof that you showed up and they didn't.
All games must be rated 45+45 games played on lichess.org (https://lichess.org/).
Any player who misses two games in the season will be permanently replaced
Please note that the "Claim Victory" and "Claim Draw" features on Lichess are not permitted in the league. In other words, if your opponent disconects, you must wait for their clock to run out.
Also, it is not mandatory in the league to accept takeback requests. Indeed, many league players disable the ability to give or receive these requests. We advise you to always take your time before moving and to use Lichess's move confirmation feature if necessary.
Cheating is not tolerated in the league. Lichess moderators support the league in various ways, including identifying fair play violations. If you are concerned that someone is cheating or otherwise violating the Lichess Terms of Service, you should report the player using lichess.org/report. If you are concerned that someone is infringing league rules, please alert your captain or contact the moderators.
How long do league games take?
We recommend planning for a game to take at least 3 hours. This should cover most possibilities, as the average league game takes around 1h 45m, but game durations can vary considerably, as can be seen in this graph of the distribution of game times since April 2017.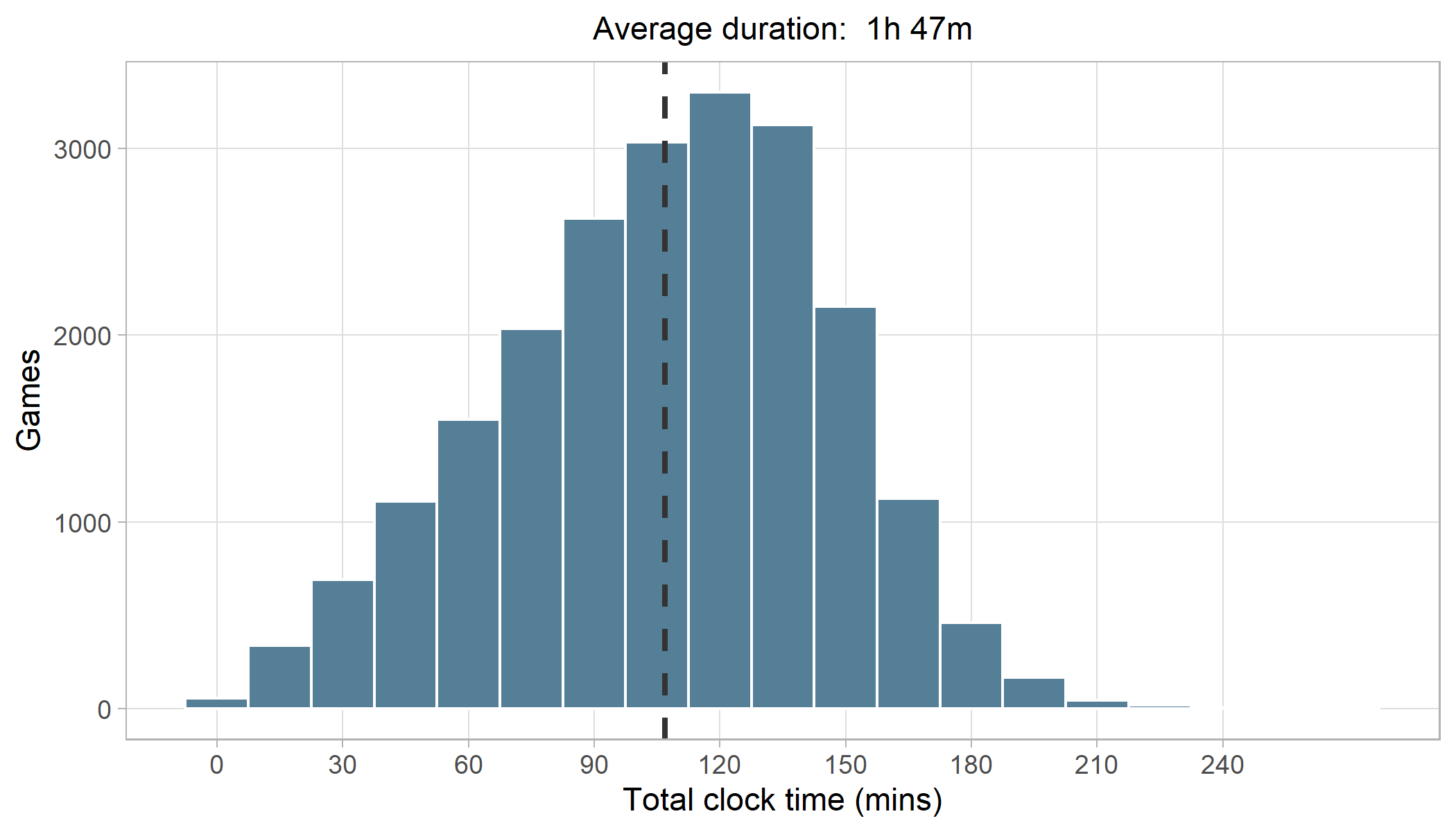 How can I contact the moderators?
Within Slack: if you are a member of our slack already you can summon a mod by typing "@chesster summon mods". Please do not directly contact individual mods. "Summoning" all the mods in #general will ensure your issue is resolved much more quickly.
Outside Slack: if you are not a member of our slack workspace you can contact the mods by using https://www.lichess4545.com/team4545/contact/.
Who is @chesster? What are some useful @chesster commands?
Chesster is an amazing bot that helps manage our leagues. It was developed by the OGs @endrawes0, @lakinwecker, @ghostologist and @cyanfish.
Some useful chesster commands (many of these commands can be sent directly to @chesster in a direct message)
help - returns all commands that chesster responds to
rating 'Player Name' - returns the current (very recent) classical rating for the named player
mods 4545 - list current 45|45 league mods
mods lonewolf - list current lonewolf league mods
summon mods 4545 - pings all the mods - useful when you need to speak to a mod
summon mods lonewolf - "
subscription help - information on how to subscribe to league events chesster will send you a message when events happen - see below
Chesster subscriptions
The subscription system supports the following commands:
tell me when <event> in <league> for <target-user-or-team> (where <event> can be (1) "a-game-is-scheduled", (2) "a-game-starts", or (3) "a-game-is-over"; <target-user-or-team> is the target user or team that you are subscribing to; and <league> is either (1) "45+45" or (2) "lonewolf".
subscription list (lists your current subscriptions)
subscription remove <id> (removes a specific subscription)
Can I watch my teammates' games while I'm playing my own?
Yes, you are allowed to watch other games while playing. Spectating on your teammates' games is a good way to show support for them while they play.
Note that you may not discuss your own game with others while playing under our rule about receiving outside assistance. If your game is being discussed in the spectator chat of a game you are watching, we advise you to leave the chat. You can safely watch ongoing games on Lichess4545 TV, which does not give you access to the spectator chat.
I want to learn more about the other leagues and opportunities within the Lichess4545 community
That's great...because our members organise a ton of amazing leagues and initiatives! Check out this overview to learn more!
Here are just a few of these initiatives at Lichess4545 (all are open to further support from new members):
Interested in starting something new within the community? Just contact the mods to float your idea. The community is always open to new initiatives; many of our most popular leagues outside the team league were community-initiated projects (such as LoneWolf, Series and the recent wunderkind Infinite Quest).
Useful links
For new players
About the league