Lichess4545 Ledger
Issue #007 - November 7, 2016
State of the League
Thanks to all who read this newsletter every week. As a treat I've included some great content in this issue: an Interview with GM Wesley So, the current No. 6 player in the world! There's also some important league news to get to, so sit back, grab perhaps some coffee, and dig into all the content in issue #007.
Every week, there are new subtle changes and improvements to the Lichess4545 website. This past week members of 45+45 clearly noted an improved pairings page. Thanks for the hard work @cyanfish. Thanks for all the changes you're making behind the scenes on a consistent basis to enhance the league's website! We'll continue to highlight the behind-the-scenes improvements he's made in a future newsletter.
There have also been some cool updates to lichess itself that are worth mentioning since many of our games are observed and kibitzed by several spectators.
The Whisper Feature
To send messages to the spectators chat and NOT your opponent type /whisper <your message> or /w <your message> while playing a game. For many of the league games with several spectators this is a great way for the players to interact with their audience.
Link to ply in chat
When you type in a particular ply in chat such as "23...Qg3" it will become a link.
I see you lichess developers! Thanks for all the hard work you do and continue to do on a consistent basis. Truly! Please Give some thought to making a donation to Lichess if possible. They will appreciate it!
Member Demographic Survey
Members, a reminder: Please fill out @endrawes0's survey. It will close soon. The link is: https://endrawes0.typeform.com/to/barBRV
Chess Content
Lichess4545 members have made a ton of great chess content to check out. From this past week:
@Atrophied finally got a webcam. swoons. He hasn't made any league related content this past week. However, he did start a climbing the AI ladder series (Atrophied vs Stockfish at Crazyhouse). (Link)
@dcwoods from TheChessRoom: Endgame #001 (Link)
Did you Know?
You can see your tournament score and performance rating on your player profile page on the website. The performance rating is only calculated and displayed for each tournament you've participated in if you have played at least 5 games within the tournament. Examples: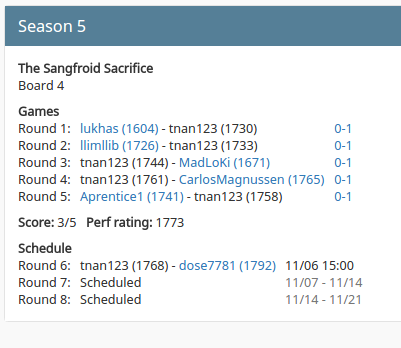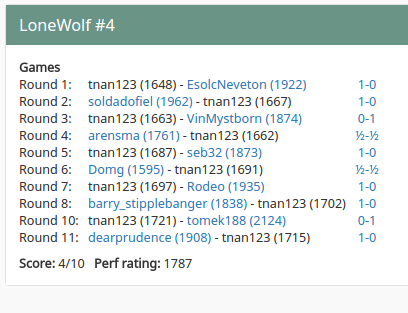 The individual performance ratings are also visible on the lonewolf standings (again for those who have played at least 5 games)
Performance Rating: There has been some confusion this past week about how the performance rating is calculated. To clarify:
Performance Rating (RP) is calculated as follows Rp = Ra + dp
where Ra = Average Rating of Opponents
and 'dp' is the rating difference taken from Table 8.1a of the FIDE Rating Regulations based on your percentage score
In layman's terms your performance rating is equal to (the average rating of your opponents) + (a number "dp" taken from the table which is based on a percentage score). This table can be found under section 1.49 of the FIDE title regulations.
To give an example for clarity: Let's say I play 10 opponents in a particular tournament with an average rating of 1918. I scored 3.5/10 against these 10 opponents. This translates to a 35% percentage score. I go to the FIDE table and look up 35% which gives a dp or rating difference of -110.
Now I can calculate my Performance Rating as 1918 - 110 = 1808.
Bear in mind that Perf rating is a hypothetical rating that would result from the games of a single event only. Keep in mind that main reason anyone cares about Perf Rating in chess is related to the requirements for the IM and GM norms. For our purposes it's mainly another indicator of your performance in a particular lonewolf/4545 tournament in addition to your overall score.
A final note: As you can see from the FIDE table a perfect score and a 0 score either adds or subtracts 800 rating points, however, at these extremes performance ratings are inaccurate.
Standings update: After 6 rounds, The Littlest Pawn Shop remains in clear first with 11 match points followed only by This Shogi Tournament is Weird with 10 match points. Also of note is that Get Swifty notched their first win of the tournament meaning no teams have 0 match points anymore!
Stats from Week 6:
Disclaimer: All info accurate to the best of our ability. However, since games occur up until the time the ledger is released, we may have missed something.
---
Chess For You
Interviewed by @tnan123 (TN) for the Lichess4545 Ledger
GM Wesley So (WS in the following interview) is among the brightest young talents in chess today. Wesley has shown he truly belongs among the world elite with an incredible 2016 season. It would be hard to argue that he won't continue to battle for the top prizes in years in to come. In winning the 2016 Sinquefield Cup, helping to bring Gold to the US team at the Olympiad with a gold medal performance on board 3, and playing the consistent chess he has shown for years now, Wesley has cemented himself among the handful of players who may be a challenger for the world championship in the near future. Wesley has recently come back from a very busy tournament schedule with a strong performance at the 2016 Isle of Man Open tournament. He was gracious enough to allow me to send a list of questions which he has kindly answered below.
It is very much an honor and privilege to have Wesley share a few thoughts about his chess journey and the incredible year he has had so far. He also was very kind to share some thoughts specifically about online chess. I hope you find some interesting takeaways in this brief glimpse into the life and chess of such a gracious young man and rising star.
Chess Development
TN: Wesley, thank you so much for taking the time to answer a few questions. First, tell me a bit about your start and early development in chess.
WS: You can find much of this in my bio on www.wesleyso.com and FB page.
TN: You became a GM at a very young age, just after your 14th birthday. When did you think you would make chess a career and what were some of the obstacles you faced early on in your chess journey?
WS: I never thought I would have a chess career and in fact only decided to become a professional chess player in Jan 2015. The years before that, when I was in the Philippines, I played on and off when I could afford to go to tournaments, but never had coaching or any serious support. I was a competent amateur who could pick up some money playing weekend tournaments. From about 17 to 20 years old I rarely even studied chess and was considering giving it up completely. When I accepted an invitation to play chess for an American university it was because I thought I could use that opportunity to study for a degree in finance and get a job. I had no idea I would end up playing chess professionally.
TN: Could you describe your early training in chess and how it has evolved?
WS: For many years it was just an interesting game. I started by reading borrowed books. I studied them and tried to work out the ideas on a board. There was no way I could ever have afforded a coach or second so I got used to working by myself. I guess not much has changed. I still read a lot of borrowed books, still work mostly by myself, but now that I have some money I can pay people to help me with the parts I don't understand.
TN: Did you have any chess heroes? If yes, who were they and what did you admire about them and their chess?
WS: Yes, I love to study a number of other players' games. I always liked Bobby Fischer, though. His games were the easiest for me to understand.
TN: Do you have a game of your own which you find memorable or instructive that you'd like to share?
WS: No. I am a work in progress. When I look at my games mostly all I see are the things I did wrong. When I do see something I did right, like my round 5 game with Nikola Sedlak during the Olympiad ( 25th move …RxN), few others really notice it.
TN: Now that you are firmly in the top 10 in the world, what are your current goals and ambitions?
WS: To keep improving. There is a lot of pleasure in that. I'm learning new things constantly and that is exciting. I hope to get to number one, but who knows? I just focus on trying to improve bit by bit and hopefully I'll keep climbing.
2016: An Amazing Year
TN: 2016 has been an incredible year in your chess career. You won the Sinquefield Cup, helped the USA get the gold at the Olympiad for the first time since 1976 and also won individual gold on board 3, your second gold at the Olympiad. Not to mention your incredible games, highlighted by the incredible miniature you played against Kasparov in the Ultimate Blitz Challenge. 2016 still isn't over, but looking back at the year up to now how do you feel about it thus far?
WS: Thank you for mentioning those highlights, but in fact I wish I could have done better. The highlights are exciting, but I have perfect recall for the times I've missed a win. I am happy the whole year wasn't one big miss.
TN: Tell me how it felt to be a part of the USA team at the Olympiad?
WS: Amazing. It was almost unbelievable for me to be part of such a great team. Someone told me there were sarcastic comments that we weren't a close team. I don't understand that … were we supposed to hold hands? We're serious players and we took our job seriously.
TN: In your other tournaments this year where you didn't take the title--Wijk Aan Zee, the US Chess Championship, the Paris and Leuven Rapid and Blitz events, and the recently concluded Isle of Man Open--you've been very consistently challenging for the top spot. What do you attribute that consistency to?
WS: Simply aiming for more consistency, because I wish I could consistently take the top spot! Why that doesn't happen more is frustrating. I dedicate most of my time to study and work. I'm happy there have been some good results but I want more.
TN: The last big event for you this year is the London Chess Classic. You are currently in a very good spot in the Grand Chess Tour standings. What are your expectations heading into that event?
WS: I expect to try my best because I love to play and am looking forward to this event, but the mind can be unmanageable and unpredictable. Sometimes you think it's your game and then you unexplainably miss one move and you're toast. And then sometimes you know your position is horrible and you should just resign, but unexplainably your opponent blunders. It's strange how that goes.
Advice for the Improving Player and Online Chess
TN: Do you have some general advice for the improving chess player?
WS: Discipline yourself. Work on your weaknesses instead of your strengths. Turn off the noise. Laser up your focus.
TN: How do you train yourself to become better at visualization and going deeper into variations?
WS: There are no short cuts. You have to work on it every day, the same way you work out any muscle in a gym.
TN: Many of us at lichess4545 are club players who thoroughly enjoy chess, enough to organize a league to play 45+45 games online on the lichess server. You were briefly on lichess, but gave it up. Any comments on that?
WS: It's a very nice site, but I had joined using my real name, and it turned out to be impossible for me to play against anonymous players. I just became a target for cheaters trying to make their bones. Blitz should be relaxing, a letting off of steam, but the constant, what engine are you using against me? made it a building up of steam, a waste of time. And for you wood pushers who think a GM can't tell, wake up. This is what we do for a living.
TN: I also read you recently have decided to disconnect altogether from the Internet. That's an admirable decision. Tell me more about that.
WS: When I made the decision to go pro, I had to move from treating chess as a pastime to committing to it as my full time job. I had a late start, so catching up to my peers was my first goal (a seemingly impossible task at the time). I began with turning off all unnecessary distractions. Having the Internet always in my face took away too much, especially my peace of mind. After the first day it really wasn't that hard. We live a very quiet life but I am not out of touch as some have suggested. We have 24/7 email (the whole family shares one email). My sister has a cell phone for emergencies. I have an FB page and someone updates it and I look at it when I have time. That's enough. I don't need to be constantly entertained and wired up to strangers' needs. I don't know how others do it, but I had to tune out.
TN: Finally, what do you think we would need to do to make our community attractive for titled players?
WS: You won't do it, but players who want to compete against a titled player should register with a credit card. That way they'll think twice before cheating, because if they get banned they can't just change user names and pop right back 5 minutes later.
Fun Questions
TN: What are some hobbies and interests outside of chess?
WS: Spending time with my family. We do a lot together. Biking, swimming, watching movies, going to church. We take road trips and visit hidden places. Minnesota is peaceful and clean with lots of outdoor activities. You never get bored here.
TN: Favorite dish and favorite drink?
WS: Depends on the day!
TN: Do you have a favorite place or city?
WS: Home.
TN: I find it really interesting to hear who people admire. Let's say you're having a dinner party and can invite anyone dead or alive. Give me a few names.
WS: Jesus Christ. Paul the Apostle. I like to ask questions so why not go right to the source.
TN: Any predictions about the upcoming world chess championship match between Magnus Carlsen and Sergey Karjakin?
WS: Lotis says that horse sense is the reason horses don't bet on people.
TN: Okay last question: Tell me a chess secret or a really important lesson you learned from chess.
WS: Don't underestimate lower rated players. They have nothing to lose.
Conclusion
I have thoroughly enjoyed the process of learning more about GM Wesley So. First, I want to send a big thank you to Lotis Key who has helped facilitate this interview on behalf of Wesley. Thanks also to Petruchio who helped in editing this interview. Most of all thanks to Wesley.
Wesley your kindness and openness in sharing your thoughts is truly appreciated. I'm sure many of the readers are big fans. The ability to hear some of your thoughts is such a treat. It's incredible to hear about your chess journey and insights into how you have personally viewed your incredible 2016. It's easy to see how humble and hardworking you are. I'm sure you will continue to improve and vie for the biggest chess prizes in the future.
GM Wesley So's next event is the 2016 London Chess Classic where he has a great chance to take overall first place in the Grand Chess Tour (he can only be caught by GM Hikaru Nakamura in the overall GCT standings). Pairings have already been released here. I hope you will root him on in his next events and future career. I sure will be.
---
Chess Puzzle
From a board 2 match during round 6: p_implies_q vs sahkal. Black just played Nc6. White to move. What is the best move for white? Other attempts may keep a slight advantage for white, but this tactic seals the game in white's favor.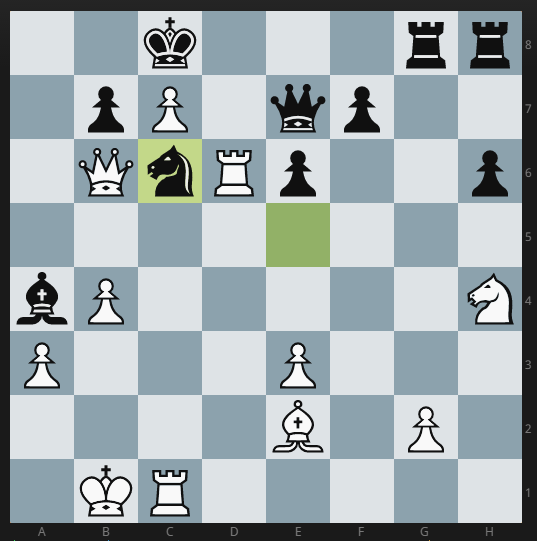 For the answer see gamelink.
Lichess4545 Ledger #007 ©2016 by Thienan Nguyen is licensed under a Creative Commons Attribution-NonCommercial-ShareAlike 4.0 International License
An Interview With GM Wesley So ©2016 by Thienan Nguyen and GM Wesley So
Thanks to @petruchio for his help in editing this issue. Thanks to @mrlegilimens and @jptriton for their question suggestions for the interview. Thanks to @cyanfish for help in finding this week's puzzle.