Lichess4545 Ledger
Issue #016 - February 13, 2017
State of the League
The main feature content in this week's issue is an interview with a 10 year old chess player. See below for the interview with Christopher Yoo and his father.
In 45+45, Petrojan Horse will remain without a loss and lead with 11 match points after 6 rounds. This past round was the worst this season when it came to shaming. As we near the end of the tournament, a reminder that if there is no response from your opponent in 48 hours after the pairings are released, you should contact your captain and/or the moderators. UPDATE on the ChessExplained Youtube Review: We've been told the videos are recorded. We will share the videos once they are made public.
In Lonewolf, the two remaining players at 4/4 @Beauvain and @DonJohn matched up on board 1 and drew their game. However, the other players who had a chance to join the leaders also drew their games. Thus we have the same two leaders atop the leaderboard going into round 6.
In blitz-battle the tournament was held at an earlier time this past Sunday (15:00 GMT). Overall 14 players took part. After 8 rounds @FelixNL took the gold with a score of 6.5/8. Full standings are at https://www.lichess4545.com/blitzbattle/season/3/summary/
Lichess has made a public discord chat at https://discord.gg/AWSze7n
Notable Lichess4545 community member video/contributions:
@Atrophied continues to post his Lonewolf and 45+45 games
@Journey_to_NM shares another live commented game of his Lonewolf game from Round 5
@Doberm4n extensively annotated his league game in the Nimzo-Larsen (1. b3) in the following lichess study.
Stats from Round 6 of 45+45: Thanks to @somethingpretentious for his work to automate the process of coming up with these stats. It is much appreciated!
Stats from Round 5 of Lonewolf:
Finally as always feel free to join #lichessledger on slack if you want to help or contribute in any way to this newsletter.
---
Chess For You
Introduction:
Christopher Yoo is a 10 year old chess player and many of you have probably never heard of him. However, that might change in the next couple of years. He recently broke the record as the youngest master in US history,which he achieved by reaching a rating of 2200 USCF at the age of 9 years 11 months 0 days. Christopher also has been participating as a member of the San Jose Hackers Pro Chess League team and has been noted as a mini online chess celebrity for his enthusiastic commentary.
The majority of readers of the Ledger are club level players and/or are adults with jobs and families. That doesn't mean Christopher's chess experience as a rising star can't inform, help, and inspire our own chess experience. Christopher's father Young-Kyu Yoo has also graciously joined this interview to help answer questions and provide a unique perspective as a chess parent.

Beginnings in Chess

Thank you both Young-Kyu (Christopher's father) and Christopher for answering some questions for this interview! Would you mind giving a brief introduction of yourselves.
Christopher: I am 10 years old and I am the youngest master in US history. When I got it I was 9 years old and 11 months exactly. I also like to play tennis and mini-golf and a little bit of soccer. I was born in Fremont, CA.
Young-Kyu: I was born in South Korea, came to the States when I was 5. I'm a US citizen. I studied math and English Literature in college (and English Lit for a year in grad school) but became a software engineer. I'm 50 now and retired. Today I homeschool Christopher and help him with his chess. My wife is a lecturer in Korean at UC Berkeley. She was born in South Korea and came to the States for a PhD in linguistics at UCLA.
Christopher, when did you first get interested in chess and how did you initially learn the game?
Christopher: My dad signed me up for a class when I was 6 and I learned how to play there, but my dad had to teach me how to move the knight and bishop.
Would you say that chess came naturally? How much of it was hard work?
Christopher: It sort of came naturally at the beginning, but it got harder. There's a lot of hard work needed to become great.
Young, what was the process like when Christopher started to show promise as a chess player? How did you support Christopher as a parent?
Young: When he was very young (like 3 or so) he had a memory for numbers that amazed us. He'd remember hotel room and parking spot numbers months after the fact. He'd remember the lengths of songs on albums and track numbers. He was also very good at shape-based games like Tetris and an iOS app called "Stack the States." So I thought he might have talent for chess. I've loved chess since I was a kid and played in rated tournaments in college. So when he was 5 I tried to teach him the game but he couldn't remember the names of the pieces and I gave up. Then at age 6 (September of 2013), we put him in a weekly afterschool chess class at his elementary school where he finally learned the game…sort of. After two classes he still didn't know how to move the knight and his bishops refused to stay on their colors, so I taught him those pieces myself.
He played in his first tournament a couple of months after learning how to play and was lucky not to lose all his games. His first rating was 144 [144 USCF]. However, in a couple of months he won the California first grade state championship and was rated about 1000. Less than a year after he learned how to play he was 1700/1800.
In those early days, chess tournaments were Christopher's passion. He loved winning trophies and he even cried because we made him skip a tournament so he could attend his best friend's birthday party. I encouraged his love for the game by taking him to lots of tournaments. At home, I started him on tactics from A.J. Gillam's Simple Checkmates and within a month or so he was faster than me at solving them (I'm about 1500 rated).
What was the rest of the support system like when you first started getting serious with chess? Did you have coaches?
Young: We keep getting asked about his coaches, so here's the full history of his coaches.
In January of 2014, about three months after he learned how to play I started looking for a coach. We tried out two. One was IM Emory Tate. He had taught Christopher at a chess camp over winter break and had told us he wanted to coach him. Christopher was only 600 rated at that time but Emory saw something in him. Emory had a great rapport with Christopher, and Christopher would beg for more after a two-hour session with him. Unfortunately, it didn't work out because Emory wanted to push him harder and faster than I thought was wise. He thought he could get him to 1600 in 3 months (to qualify for World Youth) if he did 6 hours of openings a day. At that time, Christopher was in school full-time and doing maybe 30 minutes to 2 hours of chess a day on school days. Emory told us he'd even donate his time because he thought of Christopher as his legacy to the chess world. But he wanted to put Christopher on a very tough schedule and to have full control of Christopher's chess training, which we were not willing to give him, so we parted ways after only a few lessons.
Around the same time, Christopher started with a local coach named Wei Liu. Wei Liu doesn't have a rating but is probably A or expert strength. He emphasized tactics and calculation and got us hooked up with Susan Polgar's Chess Tactics for Champions and CT-Art software. I think this was the perfect thing for Christopher at the time. To this day, Christopher's strength lies in tactics and calculation.
In May of 2014, we traveled to the National Elementary Championships in Dallas. Prior to going there I contacted NM Bruce Pandolfini via email and arranged a meeting with him in Dallas. Bruce tested Christopher, took an instant liking to him, and told us he wanted to coach him. He gave us a nice discount on his rate or otherwise we wouldn't have been able to afford him. Christopher was about 1200 rated when we met Bruce, but Bruce began coaching him regularly after the summer when Christopher was around 1700.
A year later when he was 1900/2000 rated, I began to homeschool Christopher and he started working with GM Melikset Kachiyan and GM Gregory Kaidanov. But we parted ways with Kaidanov when we realized having two GM coaches wasn't working out. We are still with Khachiyan and we still have lessons sporadically with Pandolfini. The lessons are over Skype as we're in Northern California, but Khachiyan is in SoCal and Pandolfini is in NYC.
Several months ago, Christopher also started doing weekly group lessons with the Bay Area Chess Elite Team, which is taught by GM Cristian Chirila and GM Daniel Naroditsky. There are about a dozen kids, mostly experts and masters, in the class. Christopher is the youngest in the class by a couple of years.
What is it that you like about the game?
Christopher: I just like it. I like the geometry, the beauty of tactics, the entertainment. I just like it. I can't really explain it well.

Growing in Chess to Breaking a Record

I'm sure once you started with chess seriously your improvement accelerated quite quickly. Was there a moment in your training where you felt things coming together in a new way or your understanding suddenly changed? What was that like and what led to it?
Christopher: When I won the state [grade-level] championships. Talent and practice led to it. I was practicing with my mom and dad. When I won it felt like the greatest feeling in the world.
Are there OTB tournament experiences as you rose up the ranks that you'd like to share?
Christopher: Other than the state championships, I remember when I beat my first A player when I was 1200 to 1300. I didn't have a great position but I still managed to win. Also the time I drew my first master when I was around 1500.
Young: He also drew a GM for the first time around that time, in a blitz game at the Stanford Chess Club.
How did you balance your passion for chess with other parts of your life as you were grinding on the tournament circuit. Both as a kid and as a parent?
Christopher: When I was going to school, I did my schoolwork first and then did chess. We started homeschooling a year and a half ago. I do tennis and soccer now. I used to have basketball, creative writing, and choir classes too.
Young: As a parent, I love traveling to tournaments with Christopher. Fortunately, he loves traveling as well and loves staying in hotel rooms. We try to balance out Christopher's life with sports, other learning activities, and random fun. He has chess friends, but he misses having school friends so we are considering putting him back into public school in the fall.
Were there any setbacks during you chess development? How did you both deal with those setbacks?
Christopher: I blundered a rook going for the youngest master record. I recovered by trying to pretend that it never happened.
Young: He had always improved steadily, both in skill and in rating, but at one point last year he dropped over a hundred rating points. At that time he started playing too passively, so his coaches and I got him to play aggressively as he had done before. He used to get really upset when he lost. He is more calm about losses now, though he did get very upset when he blundered a rook under time pressure against a master when he was going for the youngest master record. He recovered well in his next tournament.
Tell us a bit about the tournament where you reached the 2200 USCF level?
Christopher: I won my first game in an endgame against a 1600. I played and beat a 1300 in my second game. Then I beat a 2225 in the third game to make master.
Young: The tournament was in Allentown, PA. We didn't tell the TD Christopher was trying to break the master record until after he had done so. They actually served a free lunch during the tournament. We were warned by a couple of people that Pennsylvania players have a reputation for being underrated and when Christopher got into a tight game with a 1600 in the first round I was thinking, "Uh oh." Fortunately, he pulled that game out and played his next two games very well.
What was the feeling like to reach master level and at the same time breaking the record for the youngest USA master ever?
Christopher: So awesome.
Yours is an incredible success story. What do you think about the current landscape of scholastic chess in the US and do you see more success stories on the horizon? Are there any improvements to the system you would like to see implemented?
Christopher: I don't really have any opinion on scholastic chess in the US. I don't really follow it much. I think someone will break my record within 2 years. I think the rating system is just fine.
Young: Scholastic chess is booming. I heard 80% of USCF membership is scholastic. I wish though that kids and their parents had more say in the USCF. Only adult members of the USCF get voting rights, and most parents are not USCF members. I'm a member as I'm also a chessplayer but I think parents should automatically be proxies with voting rights for their kids until the kids come of age. As for future success stories, I agree with Christopher that his record is likely to be broken soon. Kids are starting chess at younger and younger ages, they are doing more chess, playing more chess online, playing in more chess tournaments, getting more coaching, and learning from better books as well as videos and online resources than ever before. But as I like to tell other parents, chess success at a very young age doesn't necessarily correlate with chess success in adulthood. No U8, U10, or even U12 world youth champion has ever won an adult world championship. The best that Magnus Carlsen could do was a 2nd place in the U12 I think. If your kid wants to be among the best when he/she grows up, the critical period of development seems to be from ages 10 to 13, maybe up to 15. Becoming the youngest master in US history is a nice achievement, but it's a small step in a much longer journey.

Current Chess Activities

How would you describe you own style of play?
Christopher: Tactical. Aggressive.
What motivates you to put in the enormous amount of time studying and playing chess? In what way do you both feel rewarded?
Christopher: Because I want to become world champion and I like playing chess, especially in tournaments.
Young: I feel rewarded that Christopher is steadily progressing and is willing to work hard to achieve his goals. I feel doubly rewarded that he's developing into a good person. People seem to want to root for him because he really is a nice kid.
Do you see yourself competing in tournaments mainly in the US? Any plans for international tournaments any time soon?
Young: The only international events he's done so far are the annual World Youth/Cadets Championships. This year we're sort of considering Pan-American Youth, though that's likely not happening for us. When he gets good enough to go for IM norms, we may do some tournaments in Europe. That may not be for another couple of years.
The on-line chess community doesn't totally overlap with the OTB spheres. Can you comment how much of the online chess community you interact with? What do you think of it at the moment?
Christopher: I don't play much online chess. I like to play in OTB tournaments.
You've been competing in the Pro Chess League for the San Jose Hackers. How did you get started with that?
Young: He's been a member of the Bay Area Chess Elite Team for a few months. The Elite Team is a team that learns together, but they don't really play together. However, Bay Area Chess chess also runs the San Jose Hackers and they asked him to be a part of the Hackers. Because of Christopher's relatively low FIDE rating but master-level strength, he's a good weapon for the team. There is a rating average requirement, and Christopher allows the Hackers to field three strong GMs in a match while having a decent strength board 4 (Christopher). In their first match, Christopher earned 2.5 points out of 4, beating a GM and an IM, drawing a GM, and losing to an IM.
How do you see the San Jose team doing and what are your thoughts on the Pro Chess League in general?
Christopher: Our team will do WELL! We have Mamedyarov, Naroditsky, Chirila, Izoria. I think the PRO Chess League is a good thing for chess so that people can see more exciting online chess.
Young: The Hackers are among the favorites in their division. They had a close loss last week [Jan 25 against Rio Grande Ospreys] but we're sure they can bounce back.
You've become a popular figure with your recent commentaries on your team's games in the Pro Chess League. What are your reactions to that?
Christopher: I like it!
What are your other 2017 chess plans?
Young: US Amateur Team West with the Bay Area Chess team, SuperNationals in May, World Cadets in August, and a bunch of the major American open tournaments (US Open, World Open, et al.). Maybe Pan-American Youth as well. In the summer he's usually attended a bunch of chess camps but this year he'll be more focused on tournaments.
What are your long term ambitions in chess and in life?
Christopher: I want to become a world champion in chess. In life, I want to become a good person. That's my ambition.
Young: He's always said that if the chess thing doesn't work out he wants to become a youtube star. That's why he wanted to try commentating for the San Jose Hackers. He's never done anything like that before in front of a camera, but he's often done commentary for himself while he's doing tactical exercises or playing a game online.

Studying and Advice

What would you tell someone who has ambitions to become a titled player or master?
Christopher: Just keep working at it. Don't play too much bullet chess. Tactics first, positional chess later.
Young, what's your top advice to parents whose children have similar ambitions?
Young: Make sure the game stays fun and instill love for the game in your kids. Help them develop the grit to overcome setbacks. That'll serve them well in anything they do in life.
Who are your inspirations in chess or otherwise?
Christopher: Kasparov, Tal, maybe even Fischer. Andy Murray (the tennis player).
How did you focus your time while studying chess?
Christopher: Mostly tactics and [currently] reading Dvoretsky's endgame manual.
What are some specific recommendations on chess books or training tools for a typical chess player?
Christopher: Susan Polgar's tactics book Chess Tactics for Champions. Maybe Simple Attacking Plans. I haven't actually read Simple Attacking Plans, but Dan Heisman likes it and I sort of skimmed through it.
Do you have any favorite games and/or moves?
Christopher: Kasparov vs. Topalov 1999. That was the immortal game that Kasparov played.
Can you share any weird or funny chess moments or stories that might entertain our readers?
Christopher: I actually "hand slipped" in a OTB chess tournament. I actually moved a rook to a square that I didn't mean to move it to. Fortunately, it worked out and I just moved the rook to the right square on the next move.
Lastly, tell me a chess secret or a really important lesson you learned from chess.
Christopher: Stay focused on whatever you're doing.
Conclusion:
Christopher Yoo definitely has a zeal for chess and a spirited energy! He's also quite adorable as evidenced by the videos above and his answers to this interview. He is still just 10 years old and the future is always unclear, but Christopher has definitely had an amazing start in chess and is on the expected trajectory that it would take to reach his dream of becoming World Champion. I'm excited to see Christopher continue to improve. How could you not root for Christopher!
Moreover, it is great to see the support his father Young-Kyu has provided Christopher. He also is very sensible and pragmatic when it comes to Christopher's chess ambitions. For someone with such talent at such a young age, having a parent like that is invaluable.
I want to thank you both for taking the time to answer questions for this interview. Best of luck with your busy tournament schedule in 2017, Christopher.
---
Chess Puzzle
From a round 6 game in 45+45 on board 5: @dose7781 vs @arensma. White just played Ng5. Black to move. Black can win a piece here. How?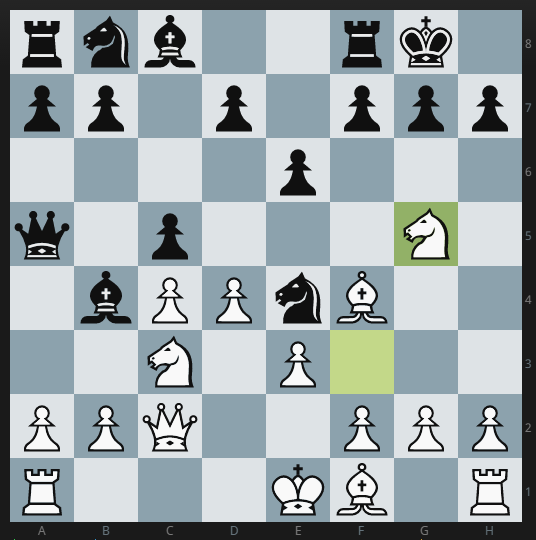 For the answer see gamelink.
Lichess4545 Ledger #016 ©2017 by Thienan Nguyen is licensed under a Creative Commons Attribution-NonCommercial-ShareAlike 4.0 International License
Thanks to Christopher Yoo and Young-Kyu Yoo for the Interview
Thanks to @doberm4n and @somethingpretentious for their contributions. Thanks to @petruchio for his help in editing this issue.