Lichess4545 Ledger
Issue #020 - April 3, 2017
State of the League
Round 1 has come to a close and generally it has gone quite smoothly despite the increase in the league's size for season 7. There were a lot of exciting games and excited teams to start the season. After Round 1 several teams are tied at the top of the leaderboard with 1 match win. Truth is, Caro can't and 8 Queen Stalemate lead that group with the best tiebreak due to their 5-1 match scores in round 1.
ChessLeagueTV returned for season 7 with live streaming of 4545 games. The inaugural episode was quite a thriller. The hosts had the priviledge of following the amazing Catalan game of @TonyRo vs @Sleightly. @doberm4n and @DETERMINATION take you through that game. Also, be sure to listen at the end of the stream where both contenders,@Sleightly and @TonyRo, joined for a post-game interview and post-mortem. This past Saturday (1st April), they streamed almost 4 hours of coverage. @Sleightly and @DETERMINATION hosted as they bounced back and forth among @Atrophied vs @yeyq, @hetraie vs s2004k1993, and @jin_ch vs @Citronsauvage. You can watch the VODs of the streams on their youtube page (and embedded below).
There are just a few quick updates on the other leagues.
Lonewolf moderators are currently working on the end of season survey. Based on the survey responses they will choose the start of the next Lonewolf tournament.
Competition is still going strong in #ladder as they near 200 played games.
#Blitz-battle has chosen Sunday at 18:00 UTC as a consistent time for the near future.
Coaches Corner
This is a new feature in the Ledger and hopefully other chess coaches in our community will find something to contribute.
Here's a tip on general chess improvement by NM Unicornz
The following quote is taken directly from the following interview, but it is damn well worth repeating. NM Unicornz is chess coach who knows a thing or two I bet.
Have fun. Learn from the people and players around you, the resources you surround yourself with, your games and the games of heroes who play similar pawn structures to you. Get inspired and always question why you play the move you play every move and not some other move. Then find the answer to that question! Make space for your pieces! Play the game from the perspective of your opponent. Learn the tools of the game, tactics, and learn to play many pawn structures to maximize your board awareness and resourcefulness. Do not give up while you have active options for your pieces.
Notable Lichess4545 community member video/contributions:
ChessLeagueTV Ep 1 of Season 7. Board 1 @TonyRo vs @Sleightly hosted by @DETERMINATION and @Doberm4n
ChessLeagueTV Episode 2 with @Sleightly and @DETERMINATION hosting. They covered @Atrophied vs @yeyq, @hetraie vs s2004k1993, and @jin_ch vs @Citronsauvage
@quirked shares another well made study of 32 positions for you to try to solve.
@chessicstudent who is one of the original moderators/founders of lichess4545 has started his self analysis series. First game below. See here for his announcement video about the series.
Stats from Round 1 of 45+45: Thanks to @somethingpretentious for his work to automate the process of coming up with these stats. It is much appreciated!
Biggest upset: 227 point difference SMC 2161 beats lovlas 2388 Gamelink
Lowest ACPL game: 6 ACPL by ChukoDiman against WikiplaysChess Gamelink
Lowest combined ACPL game: 17 combined ACPL morallygray vs dctrip13 Gamelink
Highest ACPL game: TIE 136 ACPL
Highest combined ACPL game: 241 combined ACPL SuperIntegration vs dorhinj1 Gamelink
Longest game: Reached move 80 warrelium vs petruchio Gamelink
Quickest mate: Mate on move 8 by agrav123 vs jaak3l Gamelink
Fastest draw: Ends on move 29 tnan123 vs EXOprimal Gamelink
Fastest resign: Resignation on move 15 by thebishopschaplain against ethanpowell Gamelink
Finally as always feel free to join #lichessledger on slack if you want to help or contribute in any way to this newsletter.
---
Chess For You
by @tnan123 for the Lichess4545 Ledger
Introduction

As the league has grown quite a bit, I want to remind folks to check out prior interviews with a famous super-GM, chess youtubers, crazyhouse afficionados, chess app developers, chess site founders, and chess record breakers. These can be found in past issues of the league newsletter - Lichess4545 Ledger Archives. I am yet again super excited about this next interview. NM Matthew O'Brien, aka NM Unicornz, on lichess.org, was also very gracious and allowed me to send him some questions for an interview (like 3 months ago :P) He finally responded with answers and I have to say that I'm elated he came through!
As a titled player within our midst (He has played 1 season in 4545 [Season 5] and recently competed in the Lonewolf #6 tournament), he was an easy target for me to bug for an interview. However, after doing more research, I came to appreciate his chess story and yearned for insights that he might provide. Unlike the last national master I interviewed, record-breaking 10 year-old NM Christopher Yoo, NM O'Brien learned chess later in life. He was a 1300 player at the age of 20. After putting together the interview and reading through his answers, I'm definitely honored to be able to share another unique story and perspective in chess. Hope you all enjoy!

Personal Chess Journey

1. Thanks a lot for granting me this interview! Tell us a little about yourself.
My interests include reading, learning everything about the world and living a healthy lifestyle. Hence I generally read opinion and historical papers and books on topics such as politics and nutrition and neuroscience. I have some talent for speedreading which just means I read more at speed and absorb the parts that interest me. Other activities I do currently include soccer refereeing, chess teaching, which I do in person, not online. If they are learning something from each game, that's progress. My students have done a lot better than I expected. Two of them for instance shared the mixed doubles prize at Million Chess 3 last October. I hope my students all continue to improve rapidly so they can soon find a stronger or higher rated teacher. I'm happy when nice people do well.
2. I'm sure you had other interests as a child. How did chess come to be one of the main activities that you've continued to pursue?
I played nearly every sport growing up on teams and sometimes with friends. My favorites were soccer, running, and tennis. As I was busy with sports, school, and many extracurricular activities, chess was a priority. I played a little in high school and college. My team in my senior year of high school played at Nationals and in college; my team from Penn State played at the US Amateur Team East, which was an inspiration because before those experiences at chess tournaments, competitive chess, or a collective social chess environment simply had not manifested for me outside the classroom. Chess continues to exist for me today because it is more fun than alternative activities.
3. Were there periods in which you had doubts about chess? Are there any negative experiences you'd like to share?
Of course I have lost several chess games in ridiculous fashion, losing with advantages of several pieces of material, blundering into checkmates, missing opportunities to checkmate my opponent. Once I was up a queen for a piece against an IM but in my excitement, my queen flew out of my hand across the room barely missing everyone and the glass window, hitting only the doorstop thankfully. In my confusion, I promptly lost on time. My longest streak of losing successive standard rated games was 10, shortly after I became a USCF expert. I really only felt like quitting chess when my school studies occupied almost all my time.
My experiences have been overwhelmingly positive, especially over the board, when negative attitudes and cheating is more of an outlier relative to the impersonal anonymity online. I know some masters are discouraged by often having to compete against professionals for small prizes, playing conditions, sometimes losing games to very strong young players and the amount of work required to improve to play at a higher level or jaded by playing the same positions repetitively, but the solutions to many of these problems are quite simple. Play the chess and tournaments you like under the conditions that are acceptable to you, work on your chess step-by-step and learn something from each game that will apply to future games, and the results will follow. When I am mentally engaged, usually I am having fun; life is simple to me that way.
4. Was there a moment in your training where you felt things coming together in a new way or your understanding suddenly changed? What was that like and what led to it?
Few experiences are more fun in chess than playing against titled players in time pressure with a crowd watching, when you have to be hyperfocused and really living in the moment. It is a thrill to play chess heroes in that situation. I have realized that chess players are human beings who can do really well or make big mistakes and who can sometimes have perspectives outside the manifestations of my own consciousness. Knowing how to make plans based on the pawn structure and which pieces you want to trade is quite important. There is some science to analysis, but I see chess as an exchange of ideas, and it's usually a simple exercise of square control using the tools of the trade, that is, tactics, to facilitate a long term strategy.
5. Can you tell us about getting the NM title, your feelings when you first realized it and your feelings about it now?
Amused. I obtained the title going 3/5 at a strong local tournament beating two FMs and an IM and losing to 2400 rated players. It was a surprise to me when it happened. I liked getting the free lifetime diamond membership that chess.com offers titled players and the red letters by my username.
6. What would you tell someone who has ambitions to become a titled player or master?
Have fun. Learn from the people and players around you, the resources you surround yourself with, your games and the games of heroes who play similar pawn structures to you. Get inspired and always question why you play the move you play every move and not some other move. Then find the answer to that question! Make space for your pieces! Play the game from the perspective of your opponent. Learn the tools of the game, tactics, and learn to play many pawn structures to maximize your board awareness and resourcefulness. Do not give up while you have active options for your pieces.
7. Personally, what has your chess journey so far meant to you?
It has been expensive but worth it. Meeting people from all around the world has been a pleasure.
8. What motivates you to put in the enormous amount of time studying and playing chess? In what way do you feel rewarded?
Fun.

Current Chess Activities

1. You currently are still very active with playing OTB tournaments, correct? If so, can you tell us about your recent tournaments?
I have stopped losing to players rated under 1999 USCF since 2015, probably about 90 games undefeated, which is pretty amusing to me because I am used to having worse chess positions than my opponents. I have been drawing more often against masters but I am still lacking in experience playing and scoring against 2400+ opposition.
2. What tournaments are coming up for you and what are the plans for 2017 in terms of playing OTB?
US Open in Norfolk my one big tournament of the year.
3. In terms of the online chess community, do you have any plans to start a youtube channel, stream, coach online, or play in any online tournaments?
I may consider playing in the upcoming Infinity Chess Freestyle tournament which I played in the past. Occasionally I play in bigger Open online chess events.
4. Do you do any work for any online chess entities?
I have done some work in the past for chess.com and am currently doing some part time work for chess.com on making their tactics trainer better.
5. How would you describe you own style of play?
Petrosianic. Defense.
6. What opening(s) do you least like to play against and why? And what is your favorite opening and why?
I like playing asymmetrical positions when I have the Black pieces. Otherwise I have no real preferences. I like having pieces on the board and trying to win brilliantly, but failing that, I am more satisfied to play calmer and better chess these days. Least like playing against: Petroff Defense. Favorite Opening: Sicilian Najdorf. I like getting in my pawn breaks in the center under the best possible conditions!
7. Are there any current, planned, or even dreamed chess related projects (writing a chess book, chess-start-up, working with chess education, etc) that you'd like to mention?
All those things are part of a business plan I created for myself. But my resources are limited and I prefer in-person relationships over Internet correspondences. I think success will manifest itself organically should I prove good results in what I do as a coach and a player, and I am working to improve myself in terms of my resources as a player and a coach rather than expanding my marketing and business opportunities at the moment. Substance over marketing myself.

Chess Training and Improvement

1. Can you give a bit of background to your personal chess training? Did you have a coach and how was your training structured as a scholastic/younger player?
I am self taught and lost hundreds of games in blitz chess. I repeat some openings in some lines and try to make improvements, which I have read is akin to Hikaru Nakamura's method. These days I tend to use online chess as a means to exorcise the creative ideas I should refrain from playing in OTB chess. I liked doing many of the Chess Mentor program puzzles which provides feedback on logical incorrect answers in addition to the correct solution. A few friends introduced me to the game when younger, but I only started playing tournament chess regularly at the age 21. My first non-provisional rating was at the age of 20 with a rating of 1348 I believe in the year 2009. I became a master in 2013 and see no reason why people of all ages cannot improve themselves in some way although we all have our challenges.
2. Do you have any specific resource recommendations (books, videos, chess programs, apps) for the typical club level player?
Amateur's Mind by Silman for mistakes in thinking. I recommend books and channels that inspire you, whether GingerGM, Ben Finegold, Chessexplained, John Bartholomew, etc. David Pruess and Yasser Seirawan are probably my favorite video authors because of the clarity of their presentations. Yermolinsky would be near the top of my list of course. I recommend the chessbase starter package for openings database management (2000+ level). Chess24 has great broadcasts and higher level opening theory, chessopenings 24/7 and chesspub are also good on opening theory, of course, although I have not focused too much on the details of memorizing openings, which I will do should I ever be a pro player. Currently I only have a paid subscription to chess24 and Chessable mostly because I like what they do although I should use their material more as an aspiring player!
3. Right now, what aspects of chess improvement are you mainly focused on?
Early middlegame plans, how to finish development of pieces and change the pawn structure and exchange pieces if applicable.
4. What are your thoughts on chess openings? Is there a rating level where players should or should not start studying theory and what do you find is the best way to begin studying the opening?
Play the opening, see if you like it, then look up game collections, famous games in it and the options for both sides via an openings book or database or explorer. Annotated games are a great starting point in analysis. Knowing your heroes in a given opening system helps so you can look up their games and incorporate their ideas efficiently.
5. Rank the following in order in terms of importance for chess improvement and maybe give a bit of explanation: 1. Practicing tactics (tactics trainer) 2. Analyzing your own games 3. Analyzing grandmaster games.
2, 1, 3. Analyze GM games to understand the tactics and annotations. Study games in game collections by the theme stated in the game collection. For instance, in a game collection for awesome endgames, study the endgames of those games, which you can get at a site like chessgames.com or lichess.org in the Study section. I like using the chesstempo tactics trainer, but as the chess.com tactics trainer is and will be my job to make it better please use that one too!
6. What are your top tips for the endgame phase?
Do not agree to early draws. Stay flexible in your thinking; be especially careful when making assumptions. Keep your pieces active!
7. How do you balance chess with work, relationships, family, social life?
It helps to have relationships in chess if you travel. If you do not travel too much, relations can happen in the community normally.
8. How did you / does one determine a realistic goal for your chess career?
I do what I like to do if it helps me move forward and pays the bills especially if it helps other people and makes me grow as a person.

Random Questions

1. Who are your favorite chess players/heroes?
In terms of chess content, my favorites are Ivanchuk, Tal, Bronstein, and Kasparov among many others. All the champions made a contribution to chess in some way.
2. What is your favorite chess game (maybe one of yours and one game that someone else played)?
The game below is probably my favorite recent game of mine because it was an important game for me because I do not play in many big tournaments at classical time controls or chess openings very well at all and it was a key victory for me to qualify for the FIDE U2400 tiebreak at MC3. But somehow the game went very smoothly.
Very much enjoyed the correct (!) and beautiful transitions made by the winner in the following game to convert an openings advantage for Black despite Black being down a piece!
3. Do you have thoughts on lichess4545? What are some ideas you have to improve it?
It's a great concept! I prefer 30/30; I believe it to be sufficient time for ideas.
4. Are there other interests outside of chess you'd like to share about yourself? Feel free to say as much or as little as you'd like.
Trail running is fun.
5. What TV shows/movies/music/books do you like or recommend?
You can usually tell whether or not you like a book by the first few pages. Scan it and if you really like it very much, read it, and if not, discard it. I believe music can improve the quality of a work environment. I find a few old episodes of Doctor Who charming.
6. What is your favorite dish and favorite drink?
Normally I eat vegan at home, but very occasionally I will enjoy chicken fajitas. I also like dark chocolate. I like orange juice.
7. Okay last question: tell me a chess secret or a really important lesson you learned from chess.
It is OK to play chess on intuition, you use analysis to verify your instincts. Chess masters do not calculate more in terms of ply depth than 1800 players except in endgames, they simply do more relevant calculations more quickly. Not knowing what else to do, improve your worst placed piece. If you want to know chess gossip, simply ask the tournament director.
8. Anything else you wanna mention?
Always happy to see positive energy on and off the board. Cheers.

Conclusion

Thanks a lot to NM Matthew O'Brien! It was a joy to read your answers and put together this interview. Doing my bit of research and putting together the questions, and then finally getting the answers to I'm glad you were able to find the time to contribute to the ledger.
Your story as a player who came to chess at a late age is very inspiring. Continue to share your positivity with the rest of the chess world! There is a lot of great advice and tidbits throughout from how to make the tournament chess grind worthwhile and how to work on your chess game. On behalf of the folks at lichess4545, we really appreciate the interesting and insightful responses. Good luck in your future chess endeavors!

---
Chess Puzzle
From a round 1 game in 45+45 on board 3: @mingpro vs @matt_p_14. White just took a pawn with Nxc4. Black to move. Only one move keeps black's advantage. This is a tricky one!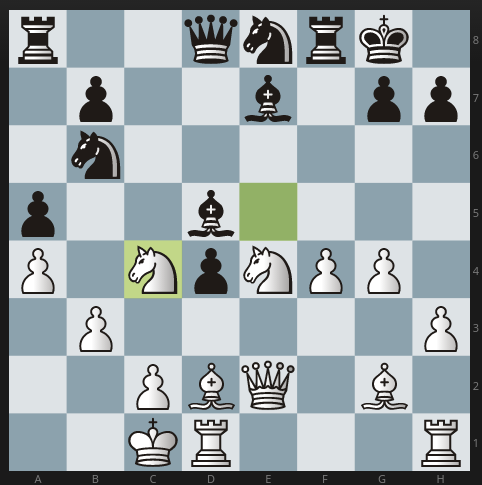 For the answer see gamelink.
Lichess4545 Ledger #020 ©2017 by Thienan Nguyen is licensed under a Creative Commons Attribution-NonCommercial-ShareAlike 4.0 International License
Thanks to the lichess4545 mods for their contributions. Thanks to Matthew O'Brien for the interview. Thanks to @petruchio for his help in editing this issue.