Lichess4545 Ledger
Issue #004 - October 17, 2016
State of the League
"WLECMEO" to another issue of the Lichess4545 Ledger. Another week in the books and everyone has by now mostly settled into the weekly pattern of the season. I'd like to address the many alternates patiently waiting. This is a reminder that lonewolf is always open each week if you want to play a slow 30+30 game. Part of the reason for the many alternates on some boards is the lack of depth in others pools. This past week all the alternates in the board 3 pool were contacted to play a game. Stay with us, be patient, feel free to kibitz games, share your ideas, contribute to the ledger. You are as much a part of this community as anyone else.
Now onto some highlights from this past week:
The Chess Players deserve a special mention for the first perfect match of the season beating Ro Ro Ro your board 6-0.
These lazy youtubers finally post their videos within the week their 45+45 game is played, so I can highlight their vids. Here's @Atrophied's round 3 live commentary of his game vs @linail (FYI youtube allows watching at 1.5X or 2X speed which I recommend).
Did you know?: Don't forget that we have a stats page. It's a feature of the site that probably is overlooked. It seems board 6 is drawless through 3 rounds and white does especially well on board 6. Our 10.47% draw rate this season across all boards is actually the lowest draw rate compared to the previous four seasons.
Lastly, here are some noteworthy messages typed out this past week (will not be a regular thing in this newsletter):
it's not possible for a 22 year old to be born in any year, they mostly come out as newborns - @llimllib
FEEL ME - @JPTriton
It's usually just my mom. supporting her kid. - @endrawes0
I'm like.. angry at numbers. - @doberm4n
Stop making me realize that I have no idea what I'm talking about
I'm on the internet to feel superior! - @toperoco
I hate French people. I like salty water - @prune2000
Played bughouse with Hansen, I think my chess-related life is complete now :smile: - @Atrophied
@chesster wake up you lazy ant I'm trying to schedule my game goddammit - @chukodiman
777777777777777[7777777777[[[[[[[[[[7[7777777777[7
sorry about that. 3 year old loooves the keyboard. - @mekhami
Ach sorry I haven't figured out how to hide!! SPOILER above
SPOILER
ABOVE
that should do it. - @samjjames
Standings update: The Finachetto Fellows are now tied only with The Stale Maids with a perfect 6/6 match points. They face off in round 4 in an exciting battle for first place. Shout out to Blunder-Bots for being so consitent with 3 match points (TIES) 3 weeks in a row.
Stats from Week 3
Disclaimer: All info accurate to the best of our ability. However, since games occur up until the time the ledger is released, we may have missed something.
Biggest upset: 309 point difference linail 2005 beats LM Atrophied 2314 Gamelink
Lowest ACPL game: TIED 7 ACPL by 3 players
Lowest combined ACPL game: 22 combined ACPL Quadriculado vs Heidman Gamelink
Highest ACPL game: 91 ACPL AngBorxley in loss to prendradjaja Gamelink
Highest combined ACPL game: 163 combined ACPL AngBorxley vs prendradjaja Gamelink
Longest game: Reached move 84 headisbagent vs badplayer_CM Gamelink
Shortest game: Ends on move 13 ghostologist vs awfulbot Gamelink
---
Chess For You
Interviewer: tnan123 on October 1, 2016
In this issue of the ledger we have an interview from another super strong player and a new member to Lichess4545, @darksquaregames. Darksquaregames has been able to combine his passion for chess with his work as a software developer to create some great products which you can check out in the links below. I asked @darksquaregames to share some thoughts on both chess and his work. He accepted my interview invitation and was able to provide some great insights. I found that he was super friendly and generous to share his time. I hope you enjoy our brief discussion.
First Forays into Chess
Please introduce yourself.
I'm a 28-year-old software developer originally from Estonia but currently living in Madrid, Spain.
And how did you first get interested in chess?
I learnt the rules when I was 5 years old but I never really started playing until I was around 10 when I started playing against my father. Also my best friend at the time got interested and we got playing a lot and eventually found out there was a chess club in our small town. We went there the next week and they asked if we wanted to go to a national youth tournament the week after. After that the game and the community kind of sucked me in.
Were you pretty serious with chess growing up and did you compete in chess tournaments?
Yes I was lucky enough to be fairly successful on the national level and got to travel quite a bit in youth tournaments around Europe. That of course was very exciting for a kid as I loved traveling. I was always very lazy in doing the work at home but I loved going to tournaments and playing online.
Are you still active and going to OTB tournaments?
For the past 5 years maybe I've mostly played in team league matches but a couple of weeks ago I attended another long tournament and really enjoyed it so I'm hoping to get back into it. It's very different to play these tournaments as an adult when you don't have so much time, but I still love it.
That's great! Any fun stories from past tournaments you'd like to share?
Hmm, I guess the best part for me was always going to international tournaments and making friends with kids from around the world. Coming from a small town this was always very interesting to me and probably drove me to move abroad later in life.
Software Development and Chess
Talk a bit how you combine your interest in chess with your career as a software developer.
Okay, so the past 5-6 years or so I have mainly focused on iOS development and I was always a huge fan of apps and often downloaded many chess apps as well. It wasn't until a few years ago when I thought it would be fun to make some chess apps and once the first ones were fairly well received I made some more. I guess as with many other products people develop, the ideas came from my own needs. I wanted a simple Elo calculator so I made one, and as an active member of local chess clubs and blitz tournaments, I wrote an app for managing round-robin tournaments that we used on weekly basis
You seem pretty successful doing that. Any future plans or projects in the works related to chess?
I've been working a bit on a site called chessfort.com. It's still very early days but I wanted to collect all the best resources around chess under one website. I tried to list all my favourite books, sites, tools and even movies that I've consumed along the years.
After that I have some other ideas but nothing concrete yet. :)
Yeah I've checked out chessfort.com. It's a great resource. I assume you work as a freelancer now. How do you like that compared to working for someone else?
I enjoy the freedom a lot. I'm able to move around quite freely and work from wherever and whenever. Of course it comes with a lot of challenges and sometimes I really miss working in a team for example. It's also hard to differentiate between work and free time as you basically carry your work everywhere you go.
Where can folks check out some of your work and iOS apps you've already produced? Also, are there any specific ones you'd like to plug?
All my apps are available here or through darksquaregames.com
Chess apps specifically:
Simple arcade game around the Knight's Tour
Elo calculator
Round-robin manager app for blitz tournaments. You can contact darksquaregames on lichess if you want a promo code for the round-robin app.
Great stuff. Another thing I noticed while prepping for this interview is you have a large twitter following @darksquaregames (over 5600 followers - to put that in context thats 2700 more than arguably the biggest online chess celeb, John B). Tell me more about that.
I started out by mostly making games and the game development community is very strong on Twitter so you get a lot of follows just by being active. There are many different hashtags and even events on Twitter for game developers.
General Chess Questions
Do you have any chess heroes/favorite players?
Growing up in Estonia one has to say Keres. I read many of his books growing up and he was also a very under appreciated player globally. He was also on the cover of one of our bills before the Euro came in so you saw his face every day.
What are your favorite chess games?
Uh, I have to admit I'm very bad at remembering specific games so I'm going to have to pass on this one!
I also noticed you have very interesting opening choices. Let's talk about your black openings first. It seems like you're #Teamscandi all the way!
Haha, yes overall I have to admit I'm terrible at openings and it takes me a long time to be comfortable in one before I use it in an OTB game. That being said, I play also different openings online than OTB. As I played a lot of league games, you'd have weeks to prepare for each opponent so playing the 2…Nf6 Scandinavian for example could have been dangerous. Then again in blitz and bullet if you can throw your opponent off a bit in the beginning you can get an advantage.
From the white side - based on your lichess history - you're a BIG fan of the Van Geet/Dunst (1. Nc3) opening. (The 8th most popular first move)
I play Nc3 online and sometimes against weaker opponents but I agree it's not exactly the best, but since I have been playing it for most of my life, it's a natural thing for me to play in blitz games.
What are your chess ambitions moving forward?
Honestly, after joining a few Slack communities and being able to chat with other players I got really excited about training again and as my Elo is fairly close to the FM limit, that is ultimately my next goal. So hoping I could achieve it over the next year. I don't feel much pressure about it though!
Nice, I wish you well towards reaching that goal. Why did you decide to join Lichess4545?
My favourite tournaments have always been team tournaments and I often wanted to join but found myself too busy. Now that I finally had more time on my hands I decided it would be time. It's also great to get some longer games under my belt after such a break, since online I tend to mostly play blitz.
Training and improving at chess is different for everyone, but any advice for club players based on your experience?
Hmm ok let's see. Some random thoughts I had. I always valued playing a lot and I think you always learn a ton by analysing your own games really well. Even when I play classic on lichess I try to go through every game afterwards just to see what went wrong. And sometimes it's better to totally ignore the engine and just try to figure out yourself what happened. Using only engines in analysing isn't always that helpful.
Also, and maybe this is a bit silly to say as someone so bad at openings, but I feel like many beginning players focus on memorising opening theory by heart. It's so much more important to understand the main ideas and themes of the opening than just hard-core memorising everything. In the end you can reach a fairly decent level even by playing questionable openings.
Study endgames! Turning an advantage in the middle game to a win in the endgame is so much easier if you know what to do. And as a beginner it's important to understand the basic endgames by heart.
There are also a ton of good books I could recommend, my favourites probably being the Dvoretsky's manuals that I felt like I learnt a lot from. I guess you could check out chessfort.com to check my other recommendations.
Wow glad I asked this. Great advice!
Fun Questions
What hobbies and other interests do you have?
I try to do a lot of sports, football(soccer!) being my favourite both on the couch and on the field. Other than that, all the usual stuff I guess, movies, TV, reading, etc. Old people hobbies
Any specific books/movies/TV recommendations? Things you must share with the world because its so good.
I just finished reading a book called The Luzhin Defence which tells a story of a mentally disturbed chess grandmaster and I really liked it!
Ah chess related too!
Coincidence! I saw it at an antique chess book shop and always wanted to read it.
Also whats your football team - which team do you root for?
Big fan of Arsenal!
Favorite dish and favorite drink?
Ooh, tough one.... I guess I'd have to say pizza. I went to Italy a few times and was amazed about having amazing pizza everywhere I went. As for the drinks I really enjoy beers and i'm trying to get more into craft beers lately
What are your favorite cities or places you've visited?
I usually like big cities and I absolutely love visiting London (and not just because of Arsenal) but I think even for me it's a bit too hectic. To live in I mean.
So sticking in Spain for now?
For now yes! Just moved here a few weeks ago so it's still all new and exciting, hehe
You're having a dinner party. You can invite a few people dead or alive. Who would be on the guest list?
Haha. Someone just posted on reddit a few days ago something about spending 24 hours in a room with someone so I actually thought about this. I think Robin Williams is the first name that comes to mind. And maybe Tom Hanks. I love comedy so I'd probably just invite a few more comedians to fill the seats!
Any predictions for the world championship match between Carlsen and Karjakin?
I have a feeling that Carlsen will win. Those matches are so huge and I think having some experience from previously is a huge factor.
Tell me a chess secret or a really important lesson you learned from chess.
hmm, well this is maybe a bit silly and not exactly a top tip but my coach always used to say that when you play a g3/b3/g6/b6 fianchetto, it's like a hole in your tooth that you should always try to fill (ie with the bishop asap). It sounded better when he said it and I can't really remember it.

Thanks so much for the interview. Any final things you'd like to mention?
Hmm, as this is going to mostly lichess(?) players, I'd like to encourage everyone to play chess OTB as well. I assure you most local chess clubs would be extremely happy to have you in their ranks and the community (online and offline) is what makes chess social. And you'd be surprised how many small towns have their own chess clubs!
Conclusion
Thanks to @darksquaregames and welcome to your first season with us at Lichess4545. It'll be hard to forget that when you mean to fianchetto with g3/g6/b3/b6 you create a "hole in your tooth" that needs to be filled with a bishop!
The highlight of the interview for me was definitely your advice for improving players. It's clear you put thought into that answer. I'd say chess players from all levels can benefit from your advice. Moreover, the chessfort.com website looks to be a great asset for chess players to find a whole lot of great online resources. I hope it continues to grow!
Lastly, your final comment on playing OTB really resonates with me and I'm sure also for a lot of other community members. The online community is one thing and especially good for those who've had poor/suboptimal experience with chess clubs in their city, but nothing really replaces OTB chess.

Please check out @darksquaregames at darksquaregames.com
---
Chess Puzzle
From a board 4 match during the past round: ethanpowell vs llimllib. White just played Bb2. Black to move. The hint here is the first move seems scary based on white's last move. Precise calculation of the follow up will win black material.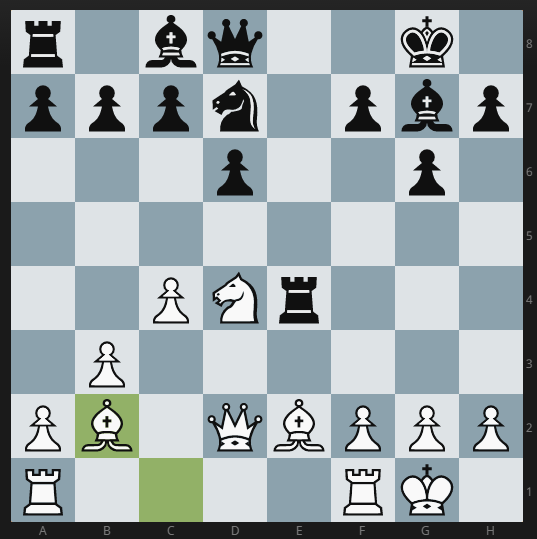 For the answer see gamelink.
Lichess4545 Ledger #004 ©2016 by Thienan Nguyen is licensed under a Creative Commons Attribution-NonCommercial-ShareAlike 4.0 International License
Interview with @darksquaregames ©2016
Thanks to @petruchio for editing.