Lichess4545 Ledger
Issue #144 | 18 June 2021
By the Editors
Ledger Says
The ledger returns after another lengthy break with an exclusive that in no way has been overtaken by events...
4545 Super League Announced!
Our sources tell us that 12 teams from Season 25 have decided to go it alone and form a breakaway 4545 Super League!
It's believed that the new league will work on a similar basis as the existing 4545 league, except that it won't allow any new teams or players...and existing participants won't be allowed to leave.
Defending the renegade enterprise, a Super League spokesperson said, "The 4545 League is getting too big, so we need a streamlined alternative that doesn't allow new players to join all the time and ruin our self-esteem by beating us in 15 moves. We know that our star players like to play the same opponents every week, and our talent should get what it wants. Above all, we want to make lots of money, and to bring in revenue, our teams must be brands. How can we have brands that change their names, logos and personnel every season? And if this wasn't enough, our deep-pocketed and not at all gullible investors have promised to pay for a fully featured Slack and a much bigger mod yacht."
We are told that the teams in the new league will take their names from famous chess players and corporate sponsors, as is clear from the few that have already been confirmed: Gazpromniachtchi, Canonruana, Bobby Fischer-Price, and Hikaru BankofAmerica.
The 4545 mods responded to the news with a terse statement: "They'll all be banned, every last one of them...and they would have been banned even without that unseemly yacht rumour. And to be clear, we categorically deny conspiring to get someone else to pay for a bigger yacht. It's not true, and you can't prove it."
The official Lichess response was hardly more diplomatic: "Advertising? They can **** right off to Chess24!"
Indeed, Lichess have announced that any player that signs up for the new league will receive a lifetime ban from participating in any other league - 4545, LoneWolf, Bundesliga...even the venerable Team 45 45 League.
In this week's edition:
The latest news from around the leagues, including a fresh dispatch from Infinite Quest and new 4545 and LoneWolf dashboards
New end of season stats reports for 4545 and LoneWolf, with oodles of sortable and searchable data...and 17 player awards with suitably whimsical names! They're so big they don't fit in the ledger...so you'll need to check out the links below (in the league updates as well as Stats Corner).
---
State of the 4545 League
Where does all the time go? Somehow we've already reached the halfway point of Season 26.
After four rounds, two teams lead the standings with perfect records: Let the Wookiees Win (excellent life advice) and Do you believe in life after Smyslov?
Round 4 featured two titanic tussles between unbeaten teams. Our Wookiee appeasers emerged victorious over Hoosier Daddy and the Temple of Doom - who are making another gallant tilt at the title after coming agonisingly close last season - and our Autotune aficionados managed to overcome Pawn Patrol by the slimmest of margins.
Round 4 summary stats (click to enlarge)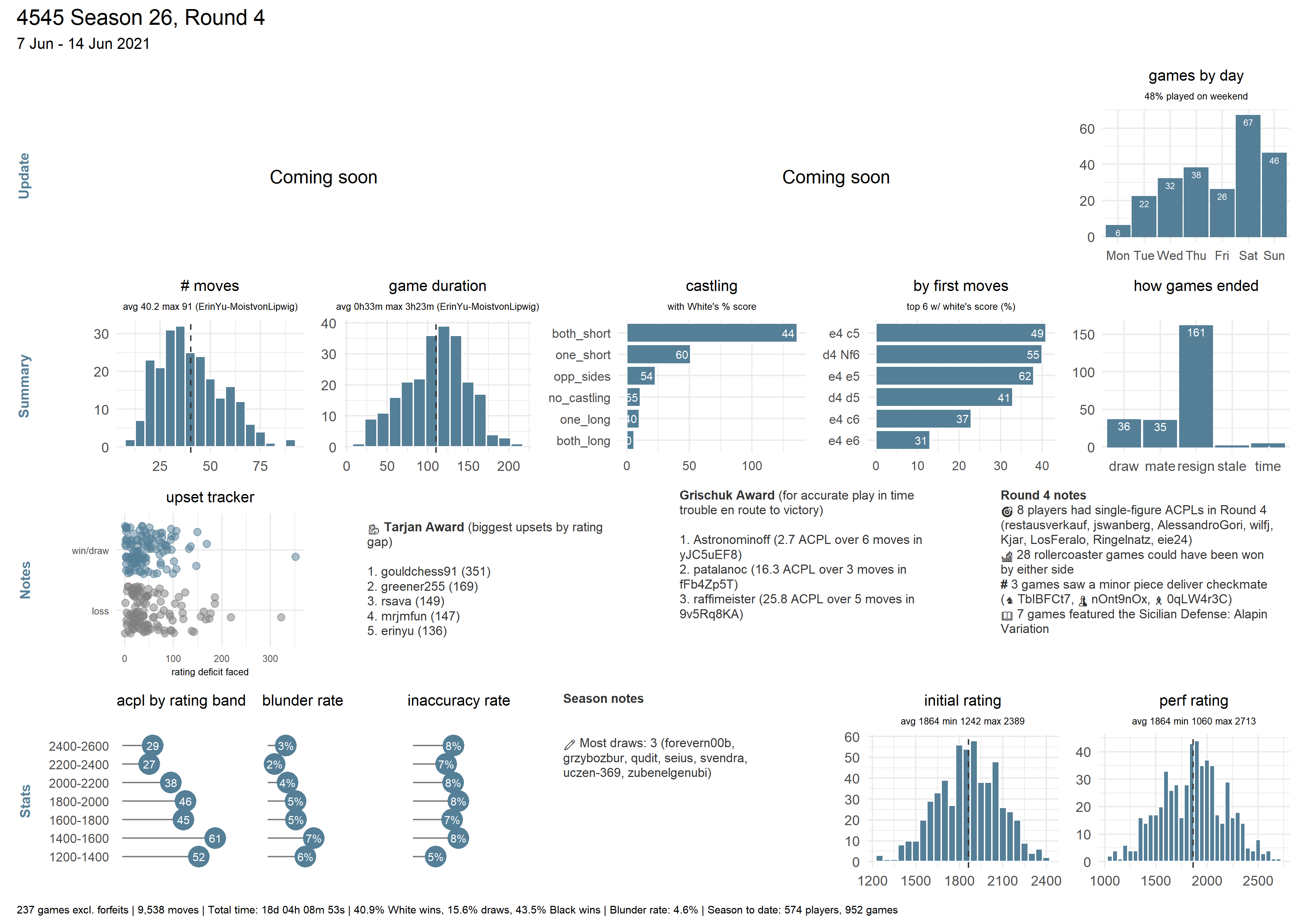 Stats for previous rounds: Round 1 | Round 2 | Round 3
Season 25
Season 25, which concluded in the ancient days of April, was the biggest ever 4545 season, featuring 563 players in total and 1,751 games.
Further down, we present a separate report with tons of stats from the season, searchable tables, and an array of whimsically named player awards...but we begin by congratulating the members of the top three teams:
The Season 25 podium

| | | | |
| --- | --- | --- | --- |
| | | | |
| | The Opposition | Hoosier Daddy? | The Knights Who Say Ni-dorf |
| B1 | slackwyrm | SycoraxCirce | DubiousChess |
| B2 | rezoons | maxivgc | Giulio43532 |
| B3 | smerlijn | accool52 | chill5555 |
| B4 | snorcal | ATrueRavenclaw | cristoper |
| B5 | Chesspatzerswan | kjfoster17 | Lawkeito |
| B6 | Aphla | scvrf | ExirK |
| B7 | esKaayY | Drotciv | Jebotto |
| B8 | Pe-lle | yerboiMatias | SuperIntegration |
| B9 | penguinsr6 | buddhastalin | NoviceCitations |
| B10 | malbin | Outbox | Tomato_Xplosion |
Here are the top three performance ratings on each board. You can check your own ranking using the links below.
Gold

Silver

Bronze

Board
Player
Score
Perf
Player
Score
Perf
Player
Score
Perf
1
lovlas
7/8
2550
MoistvonLipwig
6.5/8
2547
Sigrud
7/8
2532
2
maxivgc
6/8
2415
chessfish2
5/6
2400
starbaker
6.5/8
2340
3
nouvato
7/8
2372
Sesquipedalism
5.5/7
2265
nonowho
6/8
2222
4
xToms
5/5
2756
Connerator
6/7
2250
liboy
6.5/8
2211
5
sexbucket
4.5/5
2293
grabhispieces
4.5/5
2284
RaisinBranCrunch
4/4
2283
6
pedropablo72
4/5
2101
lincolnp
2/3
2095
PRyr
2/3
2059
7
Ixitixl
4/4
2097
gkroch
5/6
2069
loungelizard
6/7
2068
8
Ixitixl
3/4
2097
Felipekaox
4/4
2085
entoen
4/5/5
2056
9
simopippa
5/5
2432
yerboiMatias
5.5/6
2024
LionelHuttzz
7/8
1910
10
ipr
5/5
2320
Tomato_Xplosion
7.5/8
1903
Zopherus
4.5/5
1797
"Score" includes all games played on the specified board, and "Perf" excludes forfeits.
Links to complete board rankings: B1 - B2 - B3 - B4 - B5 - B6 - B7 - B8 - B9 - B10
As for the real prize of the season - the award for best team name - that was determined by you, the players...at least those of you who filled out the end-of-season survey:
The Knights Who Say Ni-Dorf (with 11% of the vote)
Queen's Debit Card Declined (8%)
GME Nigel Shortsqueeze (7%)
Season 25 statistics and awards
Please note that this page doesn't quite behave like a normal website page; for example, some of the links at the top will not work. If you encounter this, just use the "back" button on your browser to restore full functionality. Send a message to izzie26 on Slack if you encounter any other issues.
---
Around the leagues
Season 22 update: Round 3 summary stats
Open section (click to enlarge)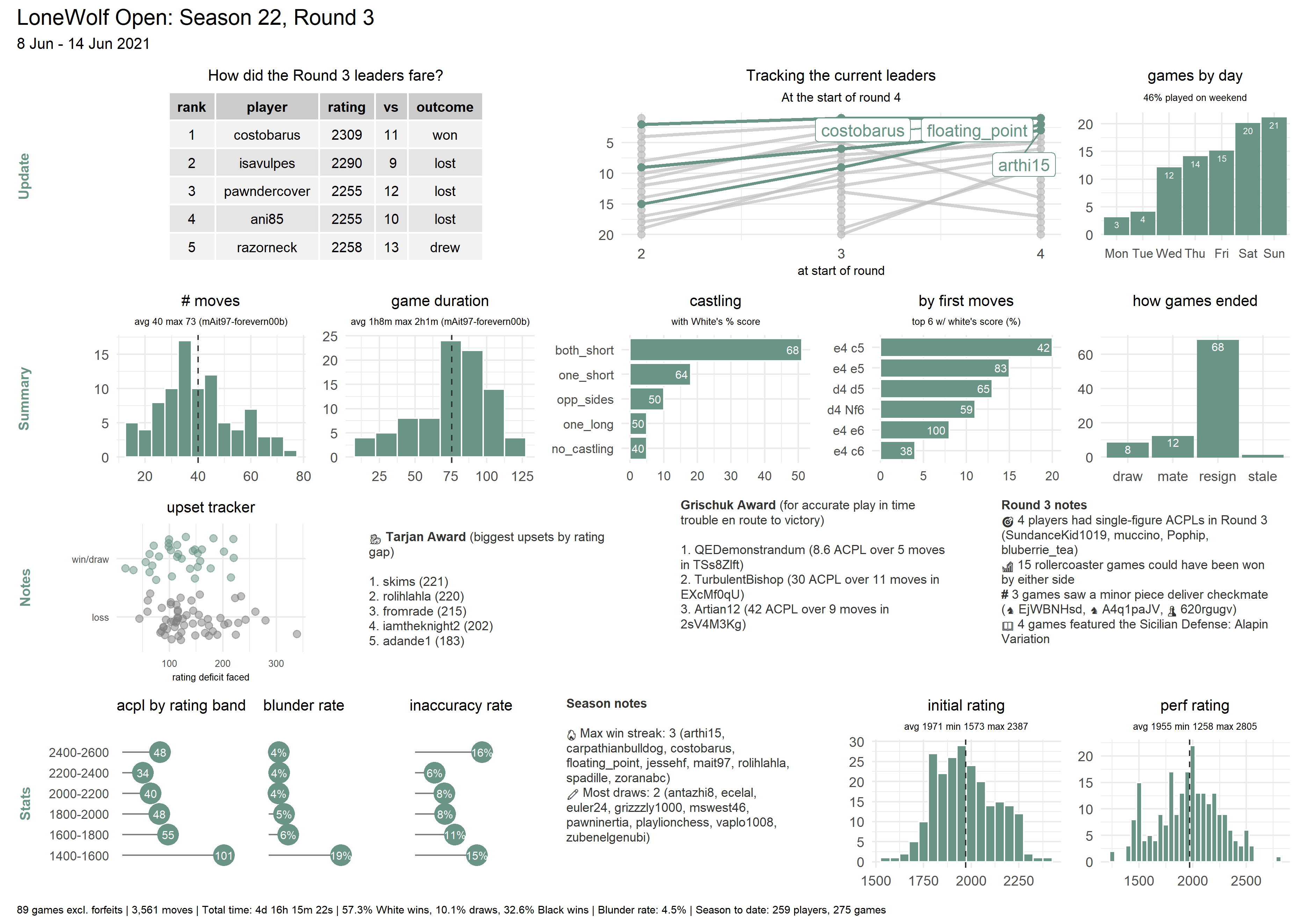 U1800 section (click to enlarge)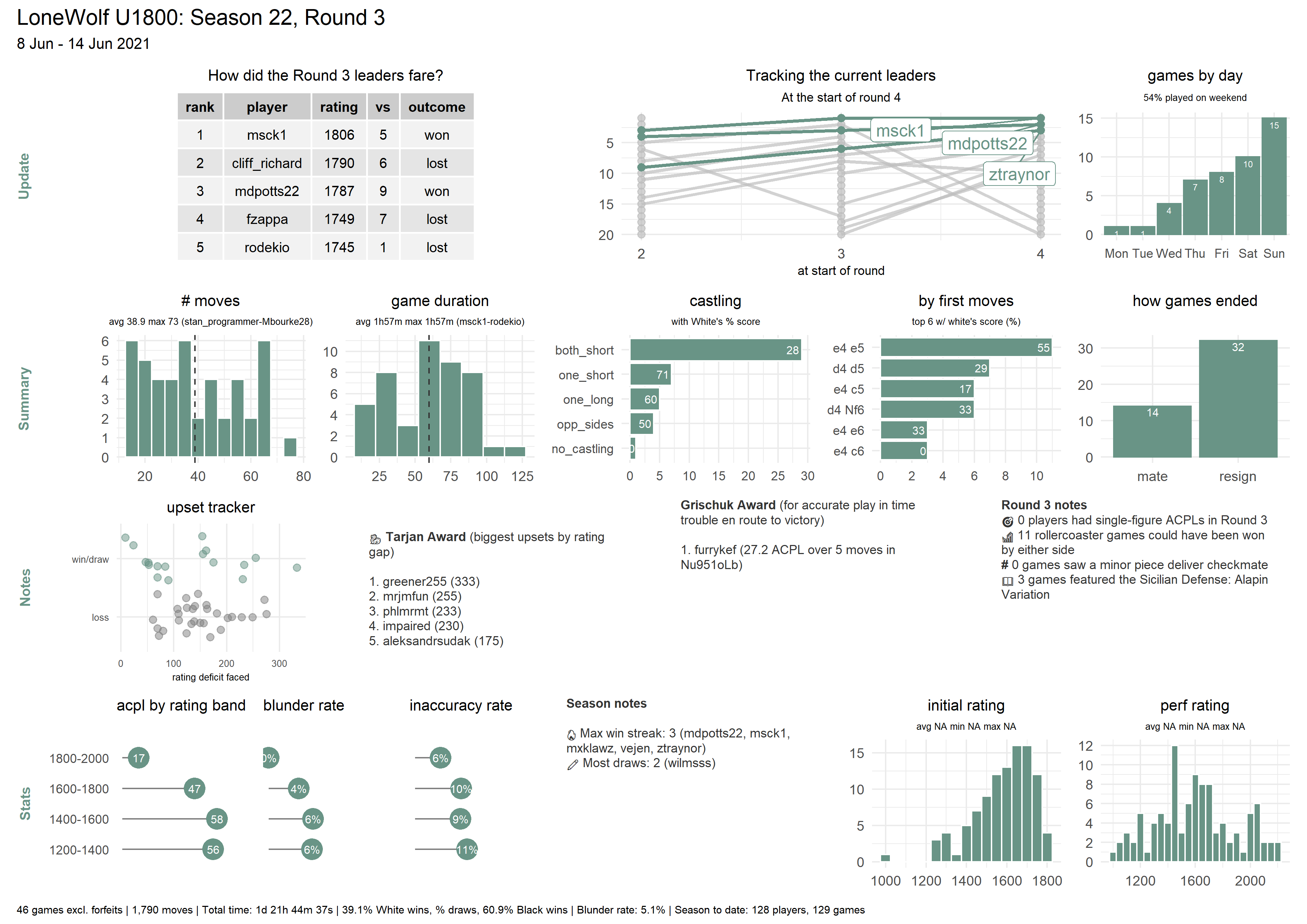 Stats for previous rounds:
Season 21 results
Season 21 ran from the final week of February to the first week of May. 411 players participated across both sections, playing 1,563 games over 11 gruelling weeks. Congratulations to our final winners, top finishers and prize winners!
Gold

Silver

Bronze

Rating Prizes

Open
astralfenix
9.5pts
Spadille
9pts
Toonerer
9pts
ButterPecan
U2000
U1800
Bobjonsty
9.5pts
froehlich
9pts
Othello1896
9pts
Othello1896
U1600
Season 21 statistics and awards
LoneWolf S22 Open section - stats and awards
LoneWolf S22 U1800 section - stats and awards
Please note that these pages don't quite behave like normal website pages; for example, some of the links at the top will not work. If you encounter this, just use the "back" button on your browser to restore full functionality. Send a message to izzie26 on Slack if you encounter any other issues.

Here's how ledger 138 described Season 14: "It's the final round of the season this week. After six rounds, eie24 leads with a perfect record (6/6), with MoistvonLipwig trailing by a point."
Well, again we find ourselves in the final week of a season (Season 16), and again after six rounds eie24 leads the way, albeit this time with an almost perfect record (+4=2-0), and again MoistvonLipwig is their closest rival, trailing this time by a mere half-point.
What's more, if eie24 manages to retain their slim advantage, they'll exact sweet revenge for what happened in Season 15, which concluded on 28 March:
Gold

Silver

Bronze

Rating Prize

Standings
MoistvonLipwig
6pts
eie24
5.5pts
asmn
5.5pts
Tranzoo
U1600
Congratulations to our past (and future) winners!
Series
Series was one of the first leagues to restart following the resolution of GDPR-gate. The 90+30 round-robin league with a cult following is proving ever more popular, with the current Season 14 attracting 104 entrants in total - 25 per cent more than the previous season, which itself had established a new record.
We're now in the second rest week of the season, with two more official weeks scheduled to follow.
The latest results and standings can be seen here.
Season 13 ran from the middle of January to the end of March. With 82 registrants, it was the biggest ever season of Series to date. Congratulations to our group winners!
Series Season 13 winners and runners-up

| | | |
| --- | --- | --- |
| Group | Winner | Runner up |
| Masters | Razorneck | LeEcU1 |
| CM1 | quirked | Brundd |
| CM2 | Aleksandr88_62 | Mindworm64 |
| C1 | AACtrl | mathijshuis |
| C2 | j3084 | lakinwecker |
| D1 | NightJumpsKing | ImproveToIM |
| D2 | kajoM | Merkava777 |
| E1 | JustinTanas | pepepibote |
| E2 | HoolyDuck | Calcium237 |
| F1 | Lenorion | H0tblackDesiat0 |
| F2 | ssyx | kostasvl |
One day, we'll finally delve into some stats from Series. But not today.
Infinite Quest
By Silkthewanderer
22 weeks in, Infinite Quest celebrates the first Level 8 player in its ranks, Lelouch_Vi_Brittania, who defeated MoistvonLipwig in the latest instalment of their rivalry, stealing a whooping 18 XP from their victim and making it (just) to the next level. Our leader leaves behind a trailing pack occupying levels 6-7 comprising of eie24, ErinYu, our MVL and IsaVulpes.
Obviously, this wasn't the only high-stakes match last week; in fact, three matches went all the way to Armageddon, with ngducphu, cyndaquil1 and fwcj68 emerging victorious from their respective duels. Also, a hat tip should definitely go to APDent42, who bounced back from a recent run of losses to defeat a higher-rated opponent.
Featured Player: NLance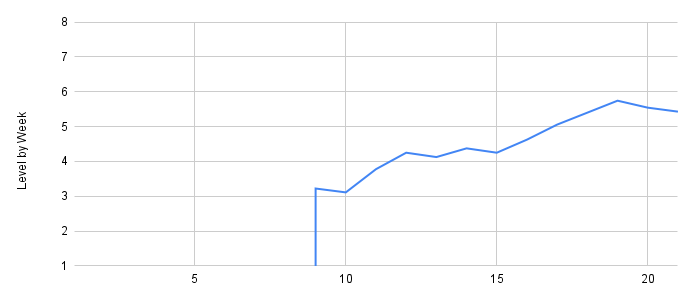 Since joining in Week 9, NLance has been on an upwards trajectory towards the top that was proceeding smoothly for a few weeks - accelerating in fact - until they ran into the redoutable Lelouch and Shnippy. NLance heads into this week seeking to return to their former winning ways.
If you are wondering what this is all about, please consider visiting us in our channels and trying it out for yourselves…we're not going anywhere! Infinite Quest is a perpetually ongoing tournament with new pairings for a four-game Rapid (15+10) match issued every Wednesday. Winners gain XP to reach ever higher Levels. Asymmetric pairing and scoring allows everyone to play against players of similar strength and form right away.
Of the 105 players that have ever started their Quest, 32 are currently active. Players can join, pause or resume any time they want. If you're interested, check out our documentation and standings, or join us in our channels #quest-herald (for new signups and results) and #quest-tavern (for general discussion).
Fantasy League
By adande1
We had 38 real participants in the Fantasy League this season and all of them outperformed the bot teams arbitrary and cheapskate. Perhaps more surprisingly, our newest bot team popularity - containing, you guessed it, the players most picked by other fantasy participants (all credit to IsaVulpes for the idea) - beat all the other bot teams, including the Highest Cost Team (which couldn't even break the top 20 this season!). Team Popular managed a respectable fourth place overall, proving that there might be something to be said for the collective wisdom of fantasy participants!
As ever, thanks to all for playing and congratulations to our winners this season:
Kvltvr_Wvltvr. Their reverse psychology gambit, as indicated by their team's name, I am Tanking This Season, appears to have helped them to their second fantasy title! This feat hasn't been achieved since SP's back to back wins in the first two fantasy seasons (4545 S15 and S16). Although SP went on to take second place in S18, remarkably, with this win Kvltvr_Wvltvr has already matched SP's record of top-3 fantasy finishes as they had previously bagged a silver medal in S22. The big question then is whether they can overtake SP and establish themselves as the new fantasy legend? I wouldn't bet against them given their excellent track record: three podium finishes in six seasons speaks for itself, and what's more, they've always finished in the top 15! You know what would really spice things up? What if SP decided to come out of retirement to reclaim their fantasy throne? They were spotted briefly in #fantasy after these results were published, so you never know!

mynameismund. Mr. Bnmgsmwe earned their first ever top 3 finish!

Tranzoo. We're not sure what goes on on the mod yacht these days, but clearly K.I.S.S. G.L.B.E.R.T. proved an effective strategy for them to secure their first ever spot on the fantasy podium!
Favourite Fantasy Team Name: Who is this GM 'E' and why is he selling his position short? (Silkthewanderer)
The fantasy league for Season 26 is in full swing. Be sure to check out #fantasy if you want to check out the standings or if you're interested in participating next season. Fantasy registrations tend to open shortly after the teams are announced for the new season, and they stay open until Round 1 pairings are released.
---
izzie's random rec of the week
Album 16, a 2013 documentary covering Boris Gelfand's quest to win the World Championship in 2012, which is available for free on YouTube: youtu.be/jFrevXxAojY.
It won the Best Film award at the São Paulo Film Festival as well as an Art Direction prize at the Jerusalem Film Festival.
More info here: https://www.imdb.com/title/tt3249714/reference.
Amusingly, Albert "Fat Fritz" Silver wrote a ChessBase article about the film that states that the match took place in 2010. One pines for the days when professional chess news websites had higher standards (and better copy editors) than the ledger. 😂
---
Stats Corner

Since we're not presenting any additional stats this week, we've just reposted the links to the season summary stats reports from above, for those who might expect to find them here instead.
LoneWolf S22 Open section - stats and awards
LoneWolf S22 U1800 section - stats and awards
---
Thanks for reading the ledger! Feel free to join #lichessledger if you would like to contribute in any way or provide any feedback. Both are highly encouraged and appreciated.
Some useful links, especially for new members: 4545 Player's Handbook / Rules / FAQs / TV / Overview / History
Lichess4545 Ledger #144 © 2021 is licensed under a Creative Commons Attribution-NonCommercial-ShareAlike 4.0 International License.
Thanks to everyone who contributed this week: @gingersquirrelnuts, @izzie26, and @Silkthewanderer.
Unchastened by their long absence, the editors continue to absolve themselves of responsibility for any errors and omissions, but nevertheless remain open to making any necessary corrections...for a negotiable fee.