Lichess4545 Ledger
Issue #138 - 29 January 2021
End of Season 24
by @gingersquirrelnuts, @izzie26 and @lc91
Rejoice, dear reader, for the ledger has returned!
We know it's been a while...almost five months, in fact...and to celebrate, we've prepared a bumper edition for you, containing not just the usual league news, commentary, and statistics, but also some impressive visualisations, introductions to all the latest community initiatives, some tantalising trivia, and a completely revamped puzzle section too!
This is just the beginning. We want to be able to produce ledgers at least two or three times per season - if not more frequently like the Good Old Days - but that requires you to help. Yes, you. We need contributions from the community. If you have something to say, send it our way! Are there any books you'd like to review, or chess-related TV shows or movies that you want to tell people about? Do you have any tips, ideas or articles to share? Or any stories you want to tell about your chess-playing experiences, whether they be glorious accomplishments or heroic failures? We're not too fussed about what we print - ignores repeated texts from the yacht - so your contributions don't need to be highly polished or rigorous...or even text-based; we'd love to post videos, streams, and Lichess studies too. And we especially encourage contributions from our newer and/or less experienced members. By the way, we'd also love for people to get involved on the production side - anyone interested should join us in #lichessledger.
We also want to thank BigEvo8 for everything they've done for the ledger over the past year, and wish them the very best in their doubtless rapid ascent up the editorial ladder. ❤
In this edition:
4545 league update and S24 statistics
Insights - check out lc91's amazing visualisations!
Around the leagues: LoneWolf, Chess960, Rapid Battle, Series, Fantasy, Blitz Battle, Crazyhouse, Simul, Blindfold, and Bundesliga
What's new: Theme Brawl, Book Club, Infinite Quest, and Variant of the Month
Puzzles - revamped and revitalised!
Trivia
---
4545 League Update
The 24th season of the 4545 team league featured a whopping 40 teams, 423 players, and 1,208 games. We also had 137 (!) registered alternates this season - significantly more than in previous seasons. Alternates are the secret and somewhat underappreciated glue that underpins the league's success and longevity, so we would like to thank everyone who accepted a place as an alternate last season, and we encourage you all to register for Season 25 (if you haven't already!).
As many readers will be aware, unfortunately there was some unwelcome drama before the season officially concluded. While these events were already discussed at some length in Slack, the 4545 mods would like to briefly clarify what happened:
"While we're not officially affiliated with Lichess, their moderators typically support us in a few different ways, including, importantly, providing assurance that league games comply with the platform's fair play rules. Although the vast majority of our members play fairly, a few don't, and when Lichess bans their accounts, we get told about it and we reverse their results. Unfortunately, three of these cases occurred in the final round of the season, which had a significant impact on the standings. Nevertheless, we would like to thank everyone who played their hearts out this season, and played honestly. We also want to thank the Lichess moderation team for their continued support."
Congratulations to the deserved winners, No BS in Chess!
In the final standings, our admirably direct champions finished a single point ahead of the imprecisely named We Won This Season, BY A LOT, and two points ahead of the radical opening theorists from The Dude's Gambit.
We have to give a special shout out to cantosh, M0r1, JustinTanas, Lalaze and masedog91 - the five members of the No BS crew who played together in Season 23...on the team that finished last. Yes, last. And yet for inscrutable reasons they decided to try to stay together for Season 24. Maybe they wanted to prove something to themselves. Well, surely not in their wildest dreams could they have imagined that in the very next season they would be rewarded with the ultimate prize...yes, getting that coveted #1 trophy on their profile pages.
News of this stirring testatment to camaraderie and collective spirit has unsurprisingly spread quickly and generated interest far beyond the confines of Slack. We hear that several Hollywood studios are already in contact with the mods, seeking advice for the inevitable bidding war over the No BS movie rights. We hear that Vincent Cassel has already been lined up to play Lalaze thanks to their shared love for refuting the Marshall. Admittedly we also hear long-dead pharoahs arguing with their viziers, and last night we definitely heard the Moon serenading the clouds. Our doctor says we need to take our medication more regularly. ¯\_(ツ)_/¯
The Season 24 podium

| | | | |
| --- | --- | --- | --- |
| | | | |
| | No BS in Chess | We Won This Season, BY A LOT | The Dude's Gambit |
| B1 | Cantosh | Stubenfisch | OldOx |
| B2 | Charlesb198 | nouvato | Groger12 |
| B3 | M0r1 | Marcos_Paulo | rodeo |
| B4 | JustinTanas | chesshavoc | Merkava777 |
| B5 | Lalaze | ticketyboohoo | Tranzoo |
| B6 | APDent42 | kamizik | pepepibote |
| B7 | masedog91 | halifax2345678 | Rskyoz |
| B8 | Highonpotnuse | Patheticus | Cornelius25 |
Best team name
"But who really cares about those results?!" I hear some of you cry. Fear not mes amis, for now we reveal (arguably) the true winners of the league...the winners of the best team name award, as decided by popular vote in the end of season survey.
The winning name was We won the team name competition, by a lot! which garnered 9 per cent of all votes cast. There was a tie for second place between We Won This Season, BY A LOT! and STOP THE ACPL COUNT, which both received 7 per cent of the vote.
Congratulations to the winners, and may we all replenish our creative spirits before nominal battle resumes.
Save the date
We're fast approaching the start of the new 4545 season. The teams for Season 25 will be announced on 1 February, and pairings for Round 1 will be released at 1200 UTC on 8 February.
MoistvonLipwig has graciously volunteered to organise reviews of the most nominated games from Season 24. The window for nominations is now closed, so watch this space (and #announcements) to learn when they'll be streamed. For anyone unfamiliar with this particular league tradition, take a look at some of the awesome reviews that have been made for previous seasons:
Season 21 reviews by IM Adrian Gschnitzer and FM Marco Riehle (aka the ChessHobbits): playlist
Season 4 reviews by IM Alex Astaneh: playlist
Season 24 by the numbers
Me playing 3+0. A Short and Sweet Chessable course.
Some things are timeless, and others may be priceless, but few things are both. Consequently, few sights are more welcome than the return of our ledgerndary stats!
These have been produced using https://github.com/timothyha/lichess4545_stats_puzzles, a fruit of the combined efforts of several illustrious members including somethingpretentious, robumbra, forhavu, Kraaft, and timothyha (and that's probably forgetting some others too).
In future editions, we will aim to expand this section to cover more leagues and potentially more measures. So please send us your ideas for worthwhile new stats to look into!
MEDALS To see how you stack up: (B1 - B2 - B3 - B4 - B5 - B6 - B7 - B8)
Gold

Silver

Bronze

Board 1
skyfaller1
2647
wookash_888
2461
cantosh
2445
Board 2
savvyd
2418
PJJackson
2333
Kvltvr_Wvltvr
2273
Board 3
Schackmacke
2317
wakeupspaceboy
2262
prentice_sloth
2223
Board 4
Showboater
2157
Macastani
2125
ATrueRavenclaw
2053
Board 5
glbert
2652
adande1
2194
howtoparadox
2091
Board 6
Khasi1596
2133
Midnightokar
2064
blarson
2042
Board 7
Rehbein
1943
halifax2345678
1925
ZheniaSemyanko
1897
Board 8
Highonpotnuse
1831
moleSG
1822
Janetheus
1816
Includes players with at least five games played on the board; performance ratings are board-specific.
Special mention #1 for skyfaller1, who finished with an impressive record of 7.5/8 on Board 1!
Special mention #2 for glbert, who achieved an eye-popping (board-specific) performance rating of 2652! Once again, Sesame Street's finest shows us the way: if you're going to lose, do it on a higher board!
---
Insights
By @lc91
We have to thank lc91 for producing some stunning visualisations of Season 24 data.
This first graphic summarises every opening played this season. Click on the image to explore the full opening star!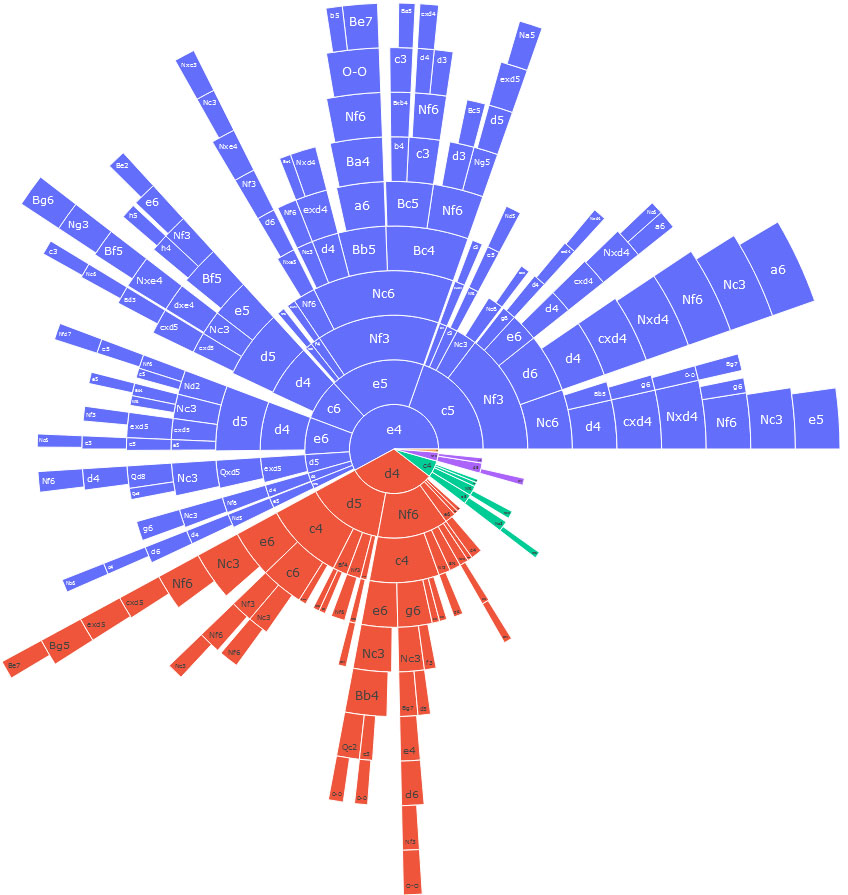 If anyone's wondering which was the most successful opening, it looks like the Bird's the word!
The graphic below summarises results by selected themes. Click on the image to load the full visualisation.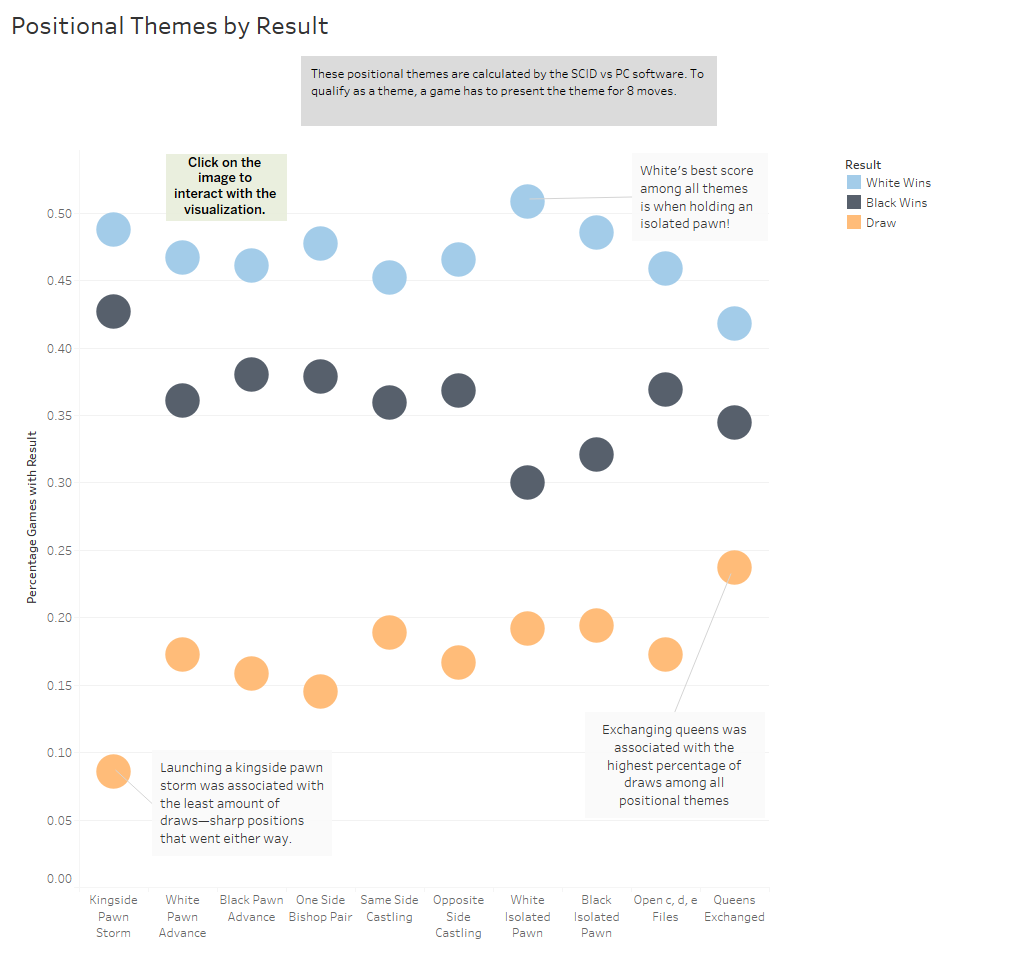 Frequency of themes in first 20 moves of each game

| | |
| --- | --- |
| Theme | Frequency |
| Same-side castling | 62% |
| Open c/d/e file | 55% |
| White pawn on 5th, 6th, or 7th rank | 53% |
| Only one side has the bishop pair | 50% |
| Black pawn on 2nd, 3rd, or 4th rank | 33% |
| Queens exchanged | 19% |
| Opposite-side castling | 12% |
| White has an IQP | 10% |
| Black has an IQP | 9% |
| Kingside pawn storm | 7% |
Material remaining at the end of each game

| | | | | | | | | |
| --- | --- | --- | --- | --- | --- | --- | --- | --- |
| | ♙ | ♝♞ | ♜ | ♜,♝♞ | ♛ | ♛,♝♞ | ♛,♜ | ♛,♜,♝♞ |
| All games | 6% | 10% | 11% | 21% | 5% | 5% | 7% | 36% |
---

Trivia
1) Who said "People think they can name ten things (Lichess) does better than chess.com. I can name 50?"
2) Which players were never defeated in both the 2016 and 2018 Candidates but failed to become the challenger?
3) When the 2020 Candidates was paused, which two players remained unbeaten?
Answers at the bottom of the page.
---
Around the leagues

The ledger's been away so long that a full LoneWolf season has been and gone...and the next has almost concluded.
Season 19 closed on 26 October. 394 players participated over the 11 rounds, and as per usual the competition for the top spots was awesomely fierce. Congratulations to our S19 winners IsaVulpes and terrormt!
Gold

Silver

Bronze

Rating Prizes

Open
IsaVulpes
10pts
LostEarthworm
10pts
actuville
9pts
JustinTanas
U2000
U1800
terrormt
9pts
SedNomini
9pts
PetMarmoset
8pts
PaintingWithPawns
U1600
Season 20 update
This season, 313 and 141 players have registered for the Open and U1800 sections respectively.
After nine rounds, IsaVulpes and jaybir share the lead in the Open section with a score of 7.5 points. However, no fewer than ten different players trail them by a mere half point. With two rounds remaining, everything is still to play for!
In the U1800 section, with two rounds to go, dcamp leads the way on 8 points. But the competition is still within striking distance: three other players are tied for 2nd place on 7 points (LukaCro, crouchbag, and GERDie). Yet again, the final rounds of LoneWolf promise to deliver on drama.
Latest standings: Open | U1800

Season 13 results (concluded 27 November)
Gold

Silver

Bronze

Rating Prize

Standings
arian13862007
6.5pts
CoachJohn
6pts
FlokiTheCat
5pts
JeremyisFishing
U1600
Season 14 update
It's the final round of the season this week. After six rounds, eie24 leads with a perfect record (6/6), with MoistvonLipwig trailing by a point, and lenguyenthanh a further half-point back in third place. Standings after Round 5 / Round 6 pairings.
Rapid Battle
By @gavalanche20
The 12th season of Rapid Battle is in its final week! It's been a thrilling playoff befitting the largest edition of Rapid Battle yet. In the Open section, finalist wookash_888 scored an incredible 14/14 in the group stage and only lost one game en route to the playoffs, while Pawndercover finished second in a strong Group C and won two consecutive thrillers on tiebreaks. The final is set to take place this weekend (30-31 January), so stay tuned! Meanwhile, in the U1800 section, gokuba defeated Fr4nco61 3-1 to claim the U1800 Rapid Battle title - capping off an incredible playoff performance that began by dispatching gkroch in the Round of 16 before staging an incredible comeback in the quarterfinal against gavalanche20, who had gone unbeaten in the group stage, and then sweeping PrestaJay 3-0 in the semifinals. Likewise, Fr4nco61's route to the final was anything but easy, taking down last season's runner-up H0tblackDesiat0 on tiebreaks as well as two-time bronze medalist Walfie.
If you're looking to get in on the action, then you're in luck, as the next edition of Rapid Battle starts on 9 February, and registrations are open - you can sign up here: https://bit.ly/3ciSi0Q. Join us in #rapid-battle to learn more.
Series
Season 13 of the 90+30 round-robin league commenced on 18 January. This is the biggest ever season of Series, with 82 participating players (and a new tier of groups!).
By happy coincidence though, Series has arrived in the Age of Automation! This season, a script has been introduced to support the administration of the league by automatically identifying games and recording their results (and URLs) in the league spreadsheet. This promises to potentially deliver significant benefits, not just for Series, but also for our other community (read: spreadsheet) leagues. Massive thanks to erv123 for developing the original script and adapting it for the league, supported by the indefatigable Series mod Isachess.
Congratulations to our group winners and runners up from Season 12, which ran from September to December.
Series Season 12 promotions

| | | |
| --- | --- | --- |
| Group | Winner | Runner up |
| Masters | chessunable | Razorneck |
| CM1 | arian13862007 | LeEcU1 |
| CM2 | Ajolote4 | Mehzinho |
| C1 | Mindworm64 | Ecclesiastic |
| C2 | Chewbacca_Defense | mkac |
| D1 | cptkirchhoff | Luci_Bunny |
| D2 | j3084 | pulsar512b |
| E1 | ImproveToIM | ZheniaSemyanko |
| E2 | erv123 | Meeklydim |
Fantasy League
By @adande1
After much drama and a few surprises til the very end, the fantasy league for Season 24 is finally over! Thanks to all for playing and congrats to the winners:
pulsar512b: whose New and old friends helped them win their first win in fantasy!
adande1 with S24: More drama than Trump 2024 (unfortunately no extra points for the rather prescient team name)
ssyx with Rank Outsiders
Favourite Fantasy Team Name: G.M. G.L.B.E.R.T. Congratulations to Tranzoo for winning the team name competition twice in a row!
This season had 22 human participants and the bot teams' performance was surprisingly as expected with profligate's Highest Cost Team coming in at the very top and cheapskate's Lowest Cost Team near the bottom of the standings. Silkthewanderer deserves special mention for beating cheapskate by a full point to take last place in spite of having spent $15,952 on their team! Now that's what we call value for money.
Blitz Battle
The last Blitz Battle (#96) took place on 22 January: https://lichess.org/swiss/0ffUMpIT.
Congratulations to the top three:
🥇 mathijshuis
🥈 Vkiller
🥉 PracticalNiceGuy
🎀 Best U1800 performance: gokuba
Crazyhouse
Season 8 of the Crazyhouse League was won by ZHit Happens (Gsvc, pkr5025, pepellou, jamesog, earlpurple and kostasvl) with The Glass Bead Gamers taking the silver medal and Radical Posture coming third.
Season 9 starts on January 27. Check the #crazyhouse channel for details.
Simul
Like the ledger, the 4545 simul is a cherished community tradition that has returned with a bang in 2021. Silkthewanderer hosted an event on New Year's Day, and ended up with six wins, two draws (against NLance and gokuba), and a single loss (to Chewbacca_Defense).
Blindfold
You may not have seen it for a while 😎...but the blindfold league is back! A new season (Season 8) is due to start on 1 February, as well as a cup competition. Anyone interested in learning the ways of this devilish but extremely useful skill (or so we are told) should join #blindfold for more details.
We can't mention blindfold here without plugging the August 2020 episode of the Perpetual Chess podcast on blindfold chess, co-hosted by our own Jerry Wells (jwwells42), blindfold evangelist par excellence: https://www.perpetualchesspod.com/new-blog/2020/8/29/book-recap-talking-blindfold-chess-with-guest-co-host-jerry-wells. Check it out!
Bundesliga Update
The league continues to enter a team in the popular twice-weekly team blitz tournament, held on Lichess each Thursday and Sunday at 1900 UTC.
Due perhaps to the significant expansion of the league over the latter half of 2020, the 4545 team fell from the 8th to the 13th division at one point. In the last two months though, we've held our own, and we now tend to bounce between the 10th and 12th divisions (there are now 17 in total).
Most weeks, just a few wins can make the difference between promotion and relegation, so if you're free to play at these times, and you're in the mood for blitz, please help us out...especially if you're any good! (But really, there's absolutely no minimum standard.) Look out for the tournament links that are usually posted in #general 2-3 hours before they start.
---
New leagues and initiatives
Theme Brawl
No, this isn't about street fighting in fancy dress. Each week, members of #theme-brawl vote to decide on an opening to use as the basis for a rapid tournament played a few days later from a custom starting position.
To date, six Theme Brawls have been held:
Smith-Morra Gambit (won by VicPez)
Blackmar-Diemer Gambit (Pawndercover)
Benko Gambit (adande1)
Grünfeld Defence (VicPez)
Sicilian Defence, Taimanov Variation (harsh_chess_player)
Tarrasch Defence (Pawndercover)
If you would like to vote and play in future brawls, join the #theme-brawl channel.
Book Club
By @Ecclesiastic
The book club is a new initiative that, well, focuses on books. We're currently reading, discussing, and playing through the popular and much recommended 100 Endgames You Must Know by Jesus de la Villa. It provides a fun way to learn endgames through a casual tournament. Each week, participants are paired to spar in several endings from the book. Meanwhile, the #book-club channel is available during the week for all the participants to discuss the endings. This week, we're looking at rook vs pawn endings, which are covered early in the book. If you want to join, simply join the #book-club channel on Slack and message me (@Ecclesiastic) if you are interested in joining the sparring tournament.
Infinite Quest
By @Silkthewanderer
Chess tournaments, right? Everyone plays a few rounds, then the tournament is over and whoever scored the most points is the winner. Well, the Infinite Quest is a somewhat different kind of tournament:
The tournament is designed to run in perpetuity, with a new round every week. Players can join, pause, and resume any time they want.
That means no winner is ever declared. The rankings only ever show who is currently on top.
Instead of just collecting points, players try to level up to higher 'Player Levels' that become increasingly harder to reach.
Scoring is nonlinear. Players at the top must work harder to gain a new level while it is a lot easier for players on a lower level to catch up to the leaders.
Even for players far away from the top of the table, there is plenty to play for, with unlockable achievements that everyone can reach...with sufficient persistence.
Note that you don't need to be a fan of the novel format - or even understand it! - to play in the Quest. Maybe you just want the chance to play more rapid matches against other league members. In that case, you've come to the right place. Matches in the Infinite Quest consist of four 15+10 rapid games, with blitz tiebreaks if required. If you have any questions, you can ask them in the #quest-tavern channel. Alternatively, you can start your quest right away in #quest-herald.
Variant of the Month
Welcome to the newest kid on the Lichess4545 block! The idea here is that players vote each month to decide on a particular variant in which to play weekly rapid games. In January, we've been playing King of the Hill. To join and/or learn more, see #variant-of-the-month.
---
Puzzles
by @izzie26
Resurrected ledger, meet revamped puzzles!
We've combed through the new Lichess puzzles database to find a range of good 'uns from previous 4545 games. What more could you ask for on National Puzzle Day?!
A word of warning: you'll probably find these much more challenging than previous ledger puzzles, despite the immeasurably greater ingenuity invested to generate those.
The number of stars indicates the relative level of difficulty. Don't be fooled by appearances though. They start hard, and then only get harder...as the bishop said to the actress.
Click on each image to open the original puzzle.
pioki (1924) - somethingpretentious (2062)

⭐ | S9 R2 | 16 Sep 2017 | link

flipiflapi (1831) - Khasi1596 (1839)

⭐ | S23 R4 | 24 Sep 2020 | link

jaybir (2179) - Stubenfisch (2135)

Verdikins (1701) - cristoper (1762)

⭐⭐ | S17 R2 | 26 May 2019 | link

DMSA_OR (1742) - colwem (1698)

theknugdorf (1951) - haukenamejs (1923)

TCGRIF (1785) - Showboater (1756)

⭐⭐⭐⭐ | S14 R3 | 6 Oct 2018 | link

ekopp2000 (1767) - pulsar512b (1780)

⭐⭐⭐⭐ | S21 R3 | 2 May 2020 | link
Diagrams produced with Apronus.
1) Danny Rensch
2) Anish Giri (2016) and Ding Liren (2018)
3) Maxime Vachier-Lagrave and Alexander Grischuk
---
Thanks for reading the ledger! Feel free to join #lichessledger if you would like to contribute in any way or provide any feedback. Both are highly encouraged and appreciated.
Some useful links, especially for new members: 4545 Player's Handbook / Rules / FAQs / TV / Overview / History
Lichess4545 Ledger #138 © 2021 is licensed under a Creative Commons Attribution-NonCommercial-ShareAlike 4.0 International License.
Thanks to our contributors for this edition: @adande1, @Ecclesiastic, @gavalanche20, @gingersquirrelnuts, @izzie26, @lc91, @Lou-E, @Tranzoo, and @Silkthewanderer. The editors accept no responsibility for any errors and omissions because they're feckless ne'er do wells :) (actually they do)