Lichess4545 Ledger
Issue #035 - July 18, 2017
State of the League
Thank you all for a great season!! Congratulations to Summer Pawn Storm, the winners of season 8!! Due to some unfortunate incidents forcing us to reverse the scores of some players, the standings were adjusted for the final week. Full summary of the season is at https://www.lichess4545.com/team4545/season/8/summary/.
As the season ends we typically have an awards and stats page. I need your help to get that done! Please submit any awards or stats to a lichess4545 moderator! Who wins this year's Giri Award, Marathon Man, Accuracy King and much more?!
For those interested in joining for Season 9 of Lichess45|45 and want an email reminder about registration you can join the mailing list here.
The mods have opened up nominations for the best games of season 8. We are still unsure if there will be a youtube review, but please nominate great games nonetheless (if no youtube review we might do something else!). Be sure to submit your nominations by sending @chesster a Direct Message with, nomination 45 to get a link where you can enter your nominations.
As you may have seen in your team channels there is an end of season survey. Please fill it out to help improve the league. The link is https://goo.gl/forms/8REZXcSNg7ZIRiEr1.
Quick updates on the other leagues
Lonewolf #8 is onto round 2!! Registration will remain open at https://www.lichess4545.com/lonewolf/register/
Competition is still going strong in #ladder! For new members check out #ladder on slack.
#Blitz-battle: The 18th edition was contested over the weekend. Congrats to first time winner @Lelouch_Vi_Brittania.

@dose7781 the undisputed U1600 blitz battle champion has compiled the following stats on past winners here. Can anyone catch alex_1987?!!
Notable Lichess4545 community member video/contributions:
ChessLeagueTV. Please visit the CLTV Youtube page for VODs of the recent streams. (Videos weren't able to be embedded at the time of publication).
Weekly Stats
Thanks to @somethingpretentious for his work to automate the process of coming up with these stats. It is much appreciated!
Stats for Round 8 of Team (45+45): (full season stats will be included in the awards/stats page)
Biggest upset: 218 point difference Jlee1268 1302 against Petruchio 1520 Gamelink
Lowest ACPL game: TIE 6 ACPL
Lowest combined ACPL game: 13 combined ACPL VvvenomvV vs matt_p_14 Gamelink
Highest ACPL game: 232 ACPL Vevochi in loss to Lord_Karamat Gamelink
Highest combined ACPL game: 263 combined ACPL Vevochi vs Lord_Karamat Gamelink
Longest game: Reached move 113 VvvenomvV vs matt_p_14 Gamelink
Quickest mate: Mate on move 5 by Lord_Karamat against Vevochi Gamelink
Fastest draw: Ends on move 32 Lichie vs Rakpyrogravas Gamelink
Fastest resign: Resignation on move 11 by MadLoKi against Axp156 Gamelink
Longest think: 25 minutes 25.0 seconds on move 11 by MadLoKi against Axp156 Gamelink
Most time left: 58 minutes 25.0 seconds Neuronlahaine against dorhinj1 Gamelink
Most time spent: 121 minutes 45.0 seconds matt_p_14 against VvvenomvV Gamelink​
Stats for Round 1 of Lonewolf:
Finally as always feel free to join #lichessledger on Slack if you want to help or contribute in any way to this newsletter.
---
Chess For You
An Endgame Study from a 4545 Game
by @malamutt
Here is the annotated game @carc vs @malamutt (Grunfeld Exchange Variation)
Here is the endgame study. Really instructional! This is where analysis still beats engine evals!
---
Chess Puzzle
From a round 8 game on board 2 in 4545: @sahkal vs @TMaus. White just played Rb7. Black to move.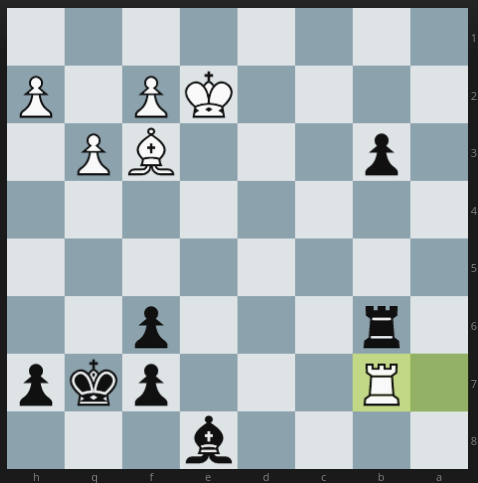 For the answer see gamelink.
Lichess4545 Ledger #034 ©2017 by Thienan Nguyen is licensed under a Creative Commons Attribution-NonCommercial-ShareAlike 4.0 International License

Thanks to @somethinpretentious, @quirked, @Malamutt, @dose7781 and @TMaus for contributions this week.