Lichess4545 Ledger
Issue #010 - November 28, 2016
State of the League
Lonewolf continues towards its final rounds! Good luck to all those finishing that grueling tournament! The winner will be decided in the final two rounds. Meanwhile the team competition is collecting all your feedback and compiling the information from the End of Season survey, working on securing a youtuber to do our season 5 review, and using the break to think through other improvements for season 6.
Looking to keep playing competitive chess over the break, but in a league with less structure? @chessicstudent, along with @cactus and @seb32 will be starting a chess ladder system in which all players are ranked and battle their way to the top. Each player can challenge someone higher up on the ladder and if they win, the challenger moves up and the defender down. For more information, visit #ladder and feel free DM one of the mods (@chessicstudent, @cactus, @seb32) for further questions.
TO NOTE:
Please fill out the End of Season Survey (https://goo.gl/forms/UbwP2Mhc7g9B2eB23)

Nominations for best games of the season for a Youtuber Review is still open. When you have a game in mind send @chesster a DM with nomination 45 and you will be given a link to enter your nomination. The link will expire after 1 hour.

The 4545 mods are looking for someone to join us as a moderator. Interested parties should DM any of the current mods.
Chess Content
Lichess4545 members have made some great chess content to check out. From this past week:
TonyRo has a new opening video on facing the Catalan. He is recommending 4... Bb4+ and 5... Bd6!? (link)
Stats from Season 5:
Stats are being compiled currently and will be released with the season awards. @somethingpretentious has created a program to help automate the process. Thanks so much! @cyanfish has also made it easier to award medals. The winner of gold, silver, and bronze on each board will be included in the Offseason Awards.
---
Chess For You
Demographic Survey Results
Thanks to all league members who filled out the demographic survey. We recieved 89 responses. The moderators hope to use this information to better serve the league. Here are some of the highlights and interesting results. If you would like to see the raw results, send @endrawes0 a Direct Message to get access.
Many of you have been asking about the results of the survey, so without further ado, lets jump into it!
Over 900 years of chess experience from just 89 respondents!
At least 29 countries around the world!
2 National Masters
1 Lichess Master
Click on the images below to see them full size.
The Players
The Chess
The League
Feedback
A major purpose of the survey was to get get feedback regarding the most important aspects of the league from the perspective of our league members. We believe we have a very special community here and your responses confirmed it. This is a chess league, so of course chess is important; beyond that, the overwhelming reason that our players stick around is the community. In that regard, the moderators will do whatever is necessary to maintain the community. In the past, we have taken measures to protect it and we will continue to do so. If you have any specific suggestions for how we can further improve the community, we would love to hear it. Feel free to send your suggestions to any of the moderators.
Many of you gave some suggestions in the survey. We have compiled the responses below. While we cannot meet all of the requests--and in many cases they are contradictory -- we have already begun working on initiatives to address the immediatly attainable ones.
Back-up Scheduling - I think this is up to the players. If you want to schedule a back-up time, feel free.
Better Cheater Detection - We are open to suggestions.
Bigger Teams
Elimation/Playoff Rounds
Engagement for Alternates
Fewer Alternates/More Teams
Fewer Rounds
League Strata by Rating - Lonewolf and Team
Less Spam in #general - This is always a problem. We are considering an announcements channel that would allow players to mute #general. We are looking for a solution that will block messages from the #announcements channel from non-privileged users.
Live Analysis - see ChessLeagueTV twitch channel
Match Tie-breakers
More Exposure
More Focus on Lonewolf
More High Rated/Titled Players
More Leagues (see #ladder)
More Players/Teams
More Team Engangement
More Website Features (specifically Scheduling Features)
Other Formats, besides Swiss (see #ladder)
Previous Season Stats - Already got it!
Recognition for the League Devs
Scheduling Features
Simplify Team Creation
Slower Lonewolf Time-Controls
Smaller Increments
Tougher Moderation
If you have any suggestions for how to address the issues above, feel free to reach out to a moderator by Direct Message. Thanks!
---
Chess Puzzle
From a round 9 Lonewolf game: mhavgar vs StriderJ. Black just played fxe5. White to move. The first move may be easy to spot but seeing why this is the only good move is the tough part.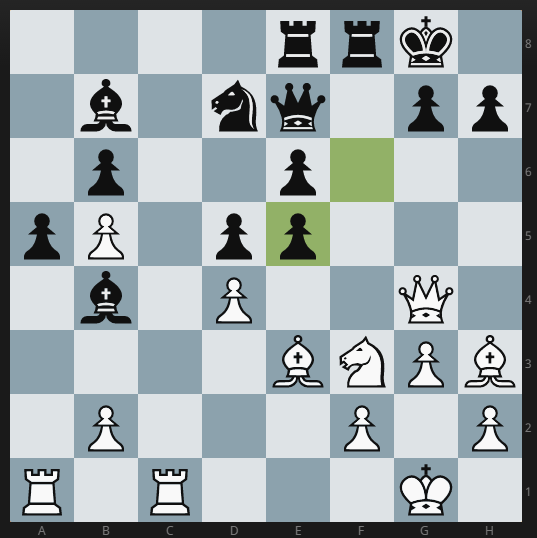 For the answer see gamelink.
Lichess4545 Ledger #010 ©2016 by Thienan Nguyen is licensed under a Creative Commons Attribution-NonCommercial-ShareAlike 4.0 International License
Demographic survey Results ©2016 by @endrawes0. Thanks to @seb32 for his blurb about the #ladder league.
Thanks to @petruchio for his help in editing this issue.