Lichess4545 Ledger
Issue #076 - September 20, 2018
State of the 4545 League
by @SpiteKnight
Season 14 of the 4545 League is here! I am glad it is, as the break between the seasons seemed to go by real slow. We start with a healthy 30 number of teams. Good luck for the new season everyone!
LoneWolf #12 is in its round 2 this week, too early for any drama out there.

A few announcements:

GM Niclas Huschenbeth will do a live stream for last season's game reviews this Thursday 20th at 17:00UTC.
You'll be able to chat with him and ask questions during the stream. In case you miss the stream, you'll be able to see the games on his Youtube channel later.
https://www.youtube.com/watch?v=AnCxMW4TaRI
Crazyhouse #2 is here!
Registration is open, just send a DM to @Zher0 or post your participation in #crazyhouse on slack. The new season will start on Monday, Sep 24th!
You can join and withdraw any time. As it was last season there will be 2 games with a time control of 10+10.
@mn8 has volunteered to run the Series, a 90+30 tournament. Please join #series-general or DM @mn8 on slack to know more or participate.

Thanks to @bufferunderrun we can now download PGNs of previous seasons games. "I remember someone asked for last season's PGN, so I've written a Python script to fetch the games.
Limitations so far: team names and board numbers are not included, results are according to Lichess and not the pairings, forfeited games are not included."
Python script: https://drive.google.com/file/d/1c0Y1CBNvTMey8P8KId1Bbhnd49cEVYuD/view?usp=sharing
PGNs season 1-13 (7-zip): https://drive.google.com/file/d/1whTncDyzPslDORrAN5yUEN0it5dKpdmA/view?usp=sharing
---
How Strong Was Season 13? – A Quality of Play Analysis
by @ErinYu
How strong are the players in the league, really? I let Stockfish analyze every game from season 13 to find out.
The results are plotted below. T1, T2, and T3 refer to the percentage of moves that matched Stockfish 7's #1, 2, and 3 options, >100 refers to the percentage of moves Stockfish evaluates as losing 100 centipawns (also known as "blunders"), and ACPL refers to average centipawn loss. Stockfish evaluated only positions it deemed "undecided" according to the PGN Spy software's default settings. Standard errors are omitted.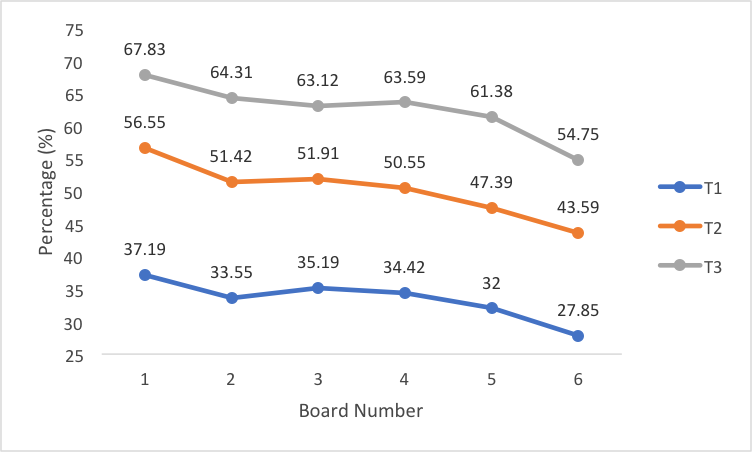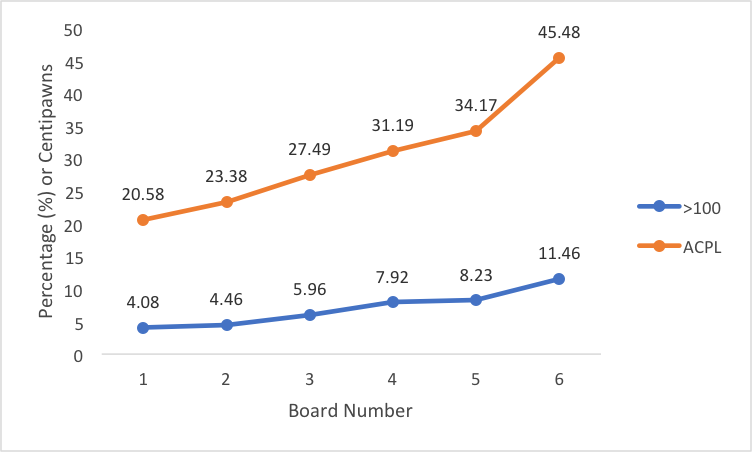 Some observations:
The numbers, as a trend, monotonically change board to board in the expected ways. This means that these metrics, including ACPL, can be a valuable tool in assessing quality of play.
Amusingly, board 3 and board 4 players played the best move more often than board 2 players.
In ACPL terms, the difference between board 5 and board 6 is nearly twice that of the others.
A board 1 player makes a blunder ~7-8% less of the time than a board 6 player. At least theoretically, a board 6 player can traverse the entire league by making 4 fewer bad moves every 50 moves.
These data were compared with the values collected from thousands of FIDE rated games played since June 2017 to produce a correlation between Lichess Classical rating and FIDE rating. Unfortunately, board 5 and 6 data broke linearity for the model, so I stepped in for ratings less than 1750. I also stepped in for ratings greater than 2150 just because many of these players are at the top of the leaderboard. There are many sources of error (and many of which I have yet to consider), but here are the results!
Here is a neat little table showing the same results.
| | |
| --- | --- |
| Classical Rating | Estimated "FIDE" Rating |
| 900 | 630 |
| 1000 | 730 |
| 1100 | 830 |
| 1200 | 930 |
| 1300 | 1030 |
| 1400 | 1130 |
| 1500 | 1230 |
| 1600 | 1330 |
| 1700 | 1430 |
| 1800 | 1545 |
| 1900 | 1681 |
| 2000 | 1816 |
| 2100 | 1952 |
| 2200 | 2070 |
| 2300 | 2170 |
| 2400 | 2270 |
| 2500 | 2370 |
Is it accurate? Please let me know! This is still a work in progress and feedback is appreciated.
Special thanks to @hicetnunc for putting up with my questions, leading me to my ideas, and introducing me to PGN Spy. Check out his wonderful interview for the Ledger at (https://www.lichess4545.com/team4545/document/ledger-070/), which was my inspiration for this work. Additional thanks to @toni4127 for proofreading this article, showing me how to create code that accesses websites, and entertaining my many, many tangents.
---
Weekly Stats
by @kraaft and @somethingpretentious

Stats for Season 12 Round 1:
---
Chess Puzzles
by @forhavu and @kraaft
Click on the images for the solution.
pedropablo72 (1705) - Fianchettoed (1880)
Gamelink.
◯ White to play.

halloway (1727) - kostasvl (1545)
Gamelink.
⚫ Black to play.

Acer30 (1464) - Rabioso (1673)
Gamelink.
⚫ Black to play.

Chessboard images provided by lenik terenin.
---
Please feel free to join #lichessledger on slack if you would like to contribute towards the ledger in any way, or provide any feedback. Both are highly encouraged and appreciated. Thank you for reading.
Lichess4545 Ledger #076 ©2018 by Thienan Nguyen is licensed under a Creative Commons Attribution-NonCommercial-ShareAlike 4.0 International License
Thanks to @ErinYu, @forhavu, @kraaft, @somethingpretentious and @spiteknight.