Lichess4545 Ledger
Issue #068 - July 4, 2018
State of the 4545 League
by @SpiteKnight
Welcome to Season 13 of the League everyone! We start with 26 teams this time around and we would like to wish everyone good luck. In order to be able to prepare well for your games you no longer need to sacrifice three goats to the lichess advanced search mechanism, you can simply click on the grey symbol of stacked books, next to your opponents name and download a PGN file consisting of their games. This makes the process of finding the games to prepare from a lot simpler for a lot of people. There's more good news though, you are now automatically notified of when a teammates game starts or ends, in the team channel. Also mods now have the luxury of seeing the status of the contact between players on the pairing page, adding another weapon to their arsenal of fascism. On behalf of the entire community, we'd like to thank the mods and the volunteer programmers for making our lives simpler and enabling our laziness, it really is appreciated.
Survey Summary:
by @aliquantus
The largest season (40 teams!) thus far has come to an end! With it comes the end-of-season survey, which saw 113 responses. Thanks for all the valuable feedback!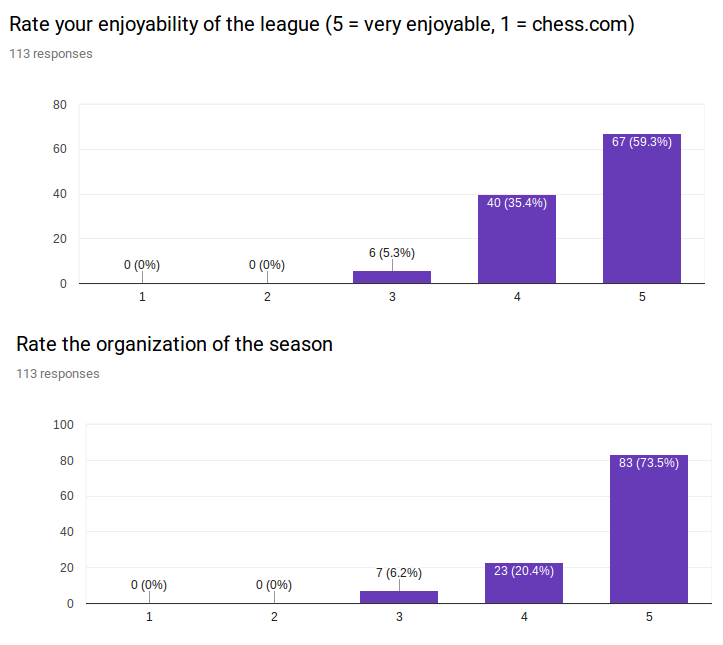 As usual, team names were impressively creative. The team name favourite this season was "We find more mates on Tinder" witth 11 votes, with "En Croissant" and "6 man tablebase" as runner-ups at 9 votes each.
People remain happy with the status quo of balanced teams of 6 players and, and an 8 week tournament, favouring the current league size, and not splitting the league up. However, some responses also noted that with 40 teams it becomes very difficult to win the league. The current season is smaller at 26 teams, but if future seasons become larger again, then we may consider having larger teams.
Reddit remains the channel through which most people hear about the league the first time - since the only active advertisement we do is a single Reddit post before each season, this is perhaps not surprising.
Waiting to play against an opponent who does not show up can be frustrating, so we also wanted to know the opinion regarding no-shows. For now the 20-minute grace period remains!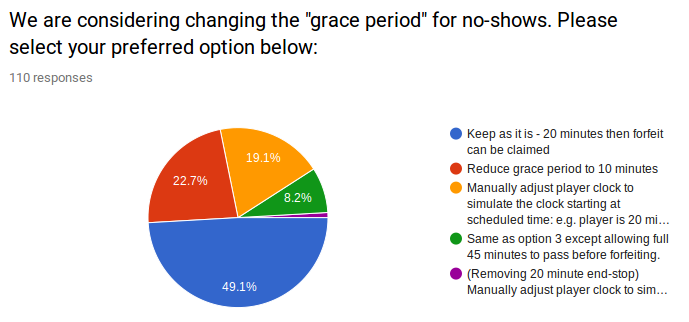 New last season was the 24h contact window (down from 48h). From the moderators' point of view, this appears to have worked well. We also saw the introduction of automated claims for no-shows, which greatly reduced the workloads of the moderators. Thanks to @lakinwecker and @cyanfish for doing a great job with the website and chesster.
Season 13 is already underway, and there are no rule changes for next season to inform about. Happy playing and good luck in season 13!
---
Video
by @okei
Reviews of the selected game of Lichess4545 season 12 Boards 4, 5 and 6.
---
Weekly Stats
by @kraaft and @somethingpretentious

Stats for Season 11 Round 4:
---
Chess Puzzles
by @forhavu and @kraaft
Click on the images for the solution.
Anarschi (1736) - Nytik (2025)
Gamelink.
⚫ Black to play.

Injektilo (1727) - skmanil (2017)
Gamelink.
⚫ Black to play.

aplause (1731) - jrvdwjr (1757)
Gamelink.
◯ White to play.

Tokros (1656) - JonathanCoffin (1842)
Gamelink.
◯ White to play.

chief88 (1705) - HighonPotnuse (1618)
Gamelink.
⚫ Black to play.

DAAL (1323) - Drotciv (1597)
Gamelink.
⚫ Black to play.

Chessboard images provided by lenik terenin.
---
INTERVIEW WITH @CYANFISH

by @SpiteKnight
We had a lot of requests for another interview of a member of the 4545 community and while it has been overdue we finally have something for you. On the suggestion of the community we decided to interview an important and long-present member of our group, @cyanfish! He was gracious enough to agree for the same.
For those who don't know him, he is a LoneWolf mod, a contributor towards Chesster, the famous bot , and also the lichess4545 website. When I had just joined this League, Chesster and the website intrigued me greatly, and added to the personality of the competition. It also added to my enjoyment of the League. We would like to thank @cyanfish and @lakinwecker for working on these projects that really enhance our experince. The questions to him were tailored towards these contributions and he has answered them with a nice amount of detail. We hope you enjoy reading the interview!
INTERVIEW
Which was your first season as a participant in the League?
At the start of 2016, just after the beginning of Season 2, I saw a Reddit post that got me interested in the league. I played my 20 games on lichess (which I had joined not long before), became an alternate for the team league, and joined Lonewolf in the meantime. I was lucky and my first alternate game came with a full-time spot, so I played the last four games of the team season as well.
At what point did you realize that the League would need a website?
The spreadsheets were a bit clunky, but the extent of it was mostly hidden from me since I wasn't one of the people maintaining them. When the call went out for developers to help build a website, I was more than happy to help. I was looking for something to do with my spare time, and it seemed like it would be a fun project.
Who all worked with you on the project?
Lakin was the one that had the idea for the website and was trying to get it started. There were a couple other people that expressed interest but ended up drifting away. Since he had more experience with the tech we were using, Lakin ended up doing most of the work getting the system set up, and since I had more free time I ended up doing most of the coding. Later on, freefal contributed the initial version of the TV page.
How was your experience of working on the website? Are there any particularly good or bad experiences you had while working on it?
Overall it's been a very good experience. Before this project, I hadn't worked with Django (the framework the site runs on) before. I've been very happy with it. It was definitely the right choice for this project, since it has a lot of stuff built in and lets you add a lot of functionality with relatively little work. Since the start of this project, I've also used Django in my actual work, and it's always nice when you can use something you've learned in a side project like that.
How was the response towards the website after its initial completion? Were you satisfied?
The response was very positive from both mods and players, which was nice. Of course, there's always more do to.
Is programming something that plays a big role in your life? What are your feelings towards it?
Programming is what I do. I first learned to code at a fairly young age, it's been something I've done in my spare time, and both my university education and career have been based around it.
How was your experience of working on the bot 'Chesster' and in what way did you contribute?
Since the website was developed we've put most functionality in there. Some of what you may think of as Chesster's role (like sending pairing notifications) is actually the website using Chesster just to pass along the message.
That said, I have contributed quite a bit to Chesster – that kind of integration, refactoring, part of the game watcher (which lets us see live when games start/end), plus many fixes and small enhancements. I do prefer Python (the website language) over Javascript (Chesster's language), though maybe someday Chesster will be rewritten in Typescript.
Does either of these projects still demand your time and attention?
As I've gotten busier the amount of time I've put into both projects (and Lonewolf mod work) has winded down. I have a big backlog of tasks to do once I have more time available. That said, I'm pretty happy with where the projects are at right now, and they should be able to operate indefinitely with minimal maintenance (as long as Slack doesn't keep breaking things…).
I put a lot of development time into automating things that reduce mod work (for example, the automatic forfeit wins for no-shows). Now that we have all of that, it's hard to imagine how we managed without. Going forward, I want to continue to automate more things and make it easier for people to use what I've built (for example, managing multiple sections for Lonewolf is a bit unpolished since I've mostly been doing that myself).
What was your biggest challenge while working on these projects?
There's no one thing that stands out. There are always some things that take a while to figure out, but once you do the code itself isn't too bad. For example, trying to understand why the task scheduler wasn't running some tasks, which took a long time to diagnose but was fixed by changing a setting. Then there are things that aren't hard per se, but just take a lot of time and effort. For example, reworking the permissions system on the site to isolate each league. And then there are things that are just annoying, like Slack removing the concept of usernames and having to fix everything that depended on that.
Let's talk about chess now shall we, what role does it play in your life?
When I was in high school I spent a lot of time on chess. I played with friends, and we competed in team tournaments which was a lot of fun. Nowadays I play more casually, but occasionally I'll put in more serious effort to study and play.
Do you have any goals with respect to chess?
One day I'd like to get the NM title. I don't think I want to dedicate enough to get FM or higher, but I think NM is within reach if I put in serious effort for a few years. Right now I don't have the time, but I hope that will change.
Is there any chess related application/program/website that excites you the most?
Besides lichess, I'm a big fan of Scid. I know some people find it relatively hard to use, but if you put in the time to master it, it's a very powerful piece of software. For example, I can have multiple databases open at once to see both what top players have played recently and what people play more generally.
For opening training, there's been a lot of recent development, but I don't think anything else has matched Chess Position Trainer for repertoire management. I haven't had a chance to try out Chesstempo's new trainer, though, which looks quite interesting and is definitely better if you want something free.
How has this League and the community affected your experience of the game?
The league has given me a chance to get back into playing long games without needing to travel. I've gotten a lot of enjoyment out of those games that I wouldn't have had otherwise.
Thank you @cyanfish for taking the time to answer all questions so candidly and with honesty, and for all your contributions. We wish you success in your quest to the NM title.
---
Please feel free to join #lichessledger on slack if you would like to contribute towards the ledger in any way, or provide any feedback. Both are highly encouraged and appreciated. Thank you for reading.
Lichess4545 Ledger #068 ©2018 by Thienan Nguyen is licensed under a Creative Commons Attribution-NonCommercial-ShareAlike 4.0 International License
Thanks to @aliquantus, @cyanfish, @forhavu, @kraaft, @luvgangster, @okei, @somethingpretentious and @spiteknight.