Lichess4545 Ledger
Issue #045 - November 27, 2017
State of the League
Welcome everyone to a new season! Welcome back all the veterans and hello to all the new players. Apologies for a delayed newsletter. Things have already gotten underway in all the leagues and a lot has happened in the meantime. We wrapped up season 9 of 4545 competition and celebrated the 2 year annivesary of the entire Lichess4545 venture with the 2nd annual 15+15 anniversary arena tournament. There were also the reviews of selected games from season 9 which was done by our very own ChessLeagueTV host @quirked (The list of selected games and VODs are below). We also had several improvements to our site, lonewolf made a big change, and chess-series (the new round-robin 90+30 league) had its first games played.
To kick off this season of newsletters we have the survey results of season 9 survey from 4545 below. Look for other content in future issues and feel free to join the #lichessledger on slack to contribute!

The big announcement from 4545 is that there WILL be a break in the team league the week of December 25-31.
Quick updates on the other leagues
Notable Lichess4545 community member video/contributions:
ChessLeagueTV Please visit the CLTV Youtube page for VODs of the recent streams.
From the recent past, highlights were:
The season 9 Youtuber Review!
Weekly Stats
Thanks to @somethingpretentious for his work to automate the process of coming up with these stats. It is much appreciated! FYI there's a new format to the stats which is easier for me at the moment to just copy out the output. In the past I had to to click each gamelink and then copy over the players and then link the gamelink here. Saves me literally tons of clicks and alt-tabs each newsletter so thanks @somethingpretentious!
Stats for Round 1 of Team (45+45):
Stats for Round 1-2 of Lonewolf:
Finally as always feel free to join #lichessledger on Slack if you want to help or contribute in any way to this newsletter.
---
Chess For You
by @somethingpretentious
Thank you to everyone for filling out the end of season 9 survey, it's a really useful tool for the moderators to see what's working and what isn't. We appreciate all the suggestions made, even if we are not able to implement all of them! Overall everyone seems to be having a good time, which is definitely the main idea! Please read on for a more detailed breakdown...
In general, we're over towards the "5" end for enjoyability and organisation which is great to see. Even compared to previous seasons, there's improvement (although maybe people are just being nice, it's hard to improve every season but we try!) Now onto what everyone really wants the answer on, best team name!
Congratulations to "Wait This Isn't Fantasy Football?", "The Tarrasch Talkers" and "Chesster Summon Mods" in order for first, second and third place, and also for being funny individuals! Honourable mention to "The Hat-Wearing Superconducting Electric Transdominators" for pushing the limits of the website and @chesster in dealing with long names!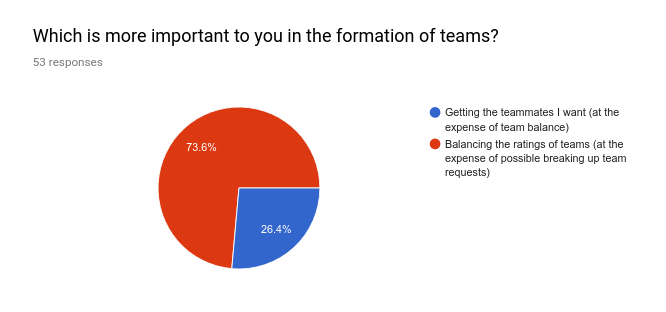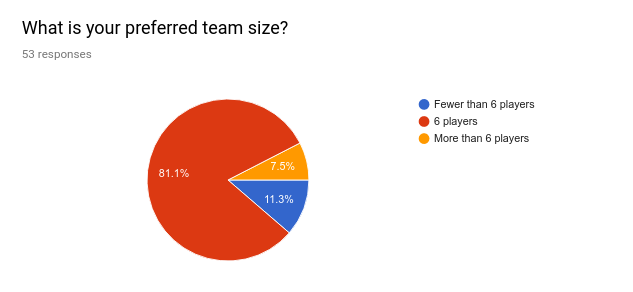 Rating balance is the clear favourite for team formation and team size of 6 is also the clear favourite, so team formation will be very similar to previous seasons for season 10.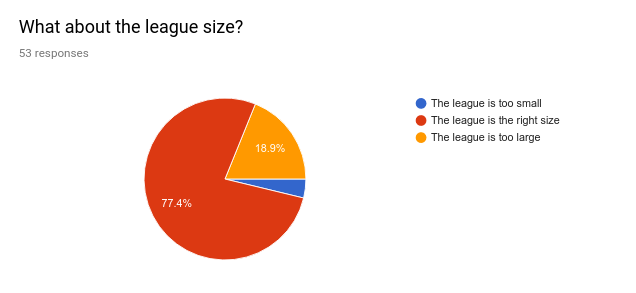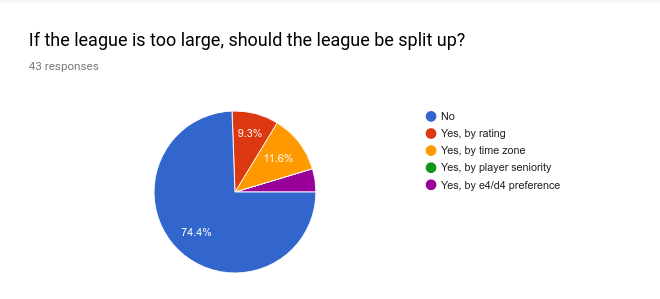 The league size is also satisfactory for most participants, with a minority opinion that the league is too large. The majority of players believing the league is too large also voted to split the league either by rating or timezone (only one player was happy with the league size but also wanted the league split). As these opinions are in the minority, the league will not be split this season. Any split may also diminish the community feel of the league, so would be considered carefully even if it were more popular.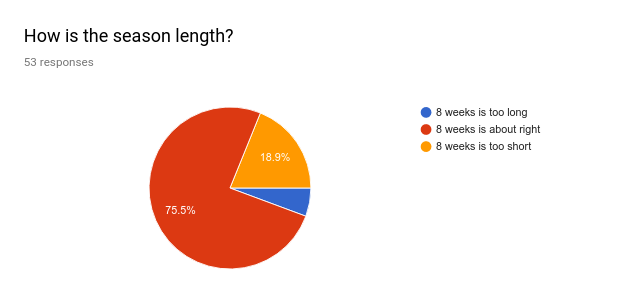 It's a similar story with the season length, with 8 weeks being heavily favoured. This will be revisited every season as if the league grows a large amount, more weeks may be needed to adequately separate the top teams.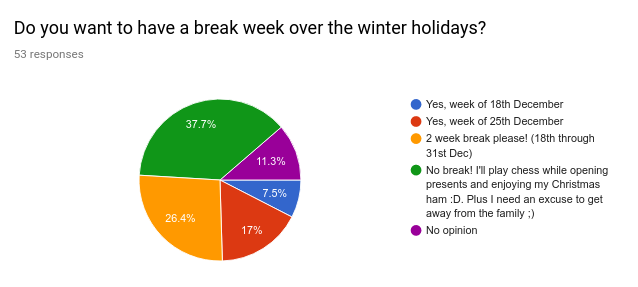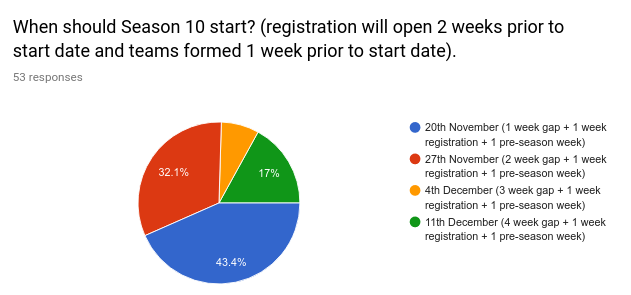 The next season will begin on the 20th November with registration opening 6th November due to popular request. We are deciding on a midseason break due to the holidays. Unfortunately this question should have allowed multiple choices, and we have learnt for next time!
This season's reviews are going to be from our very own @quirked as previously announced, we hope everyone can tune in or watch the recordings! Thank you to everyone for your YouTuber suggestions.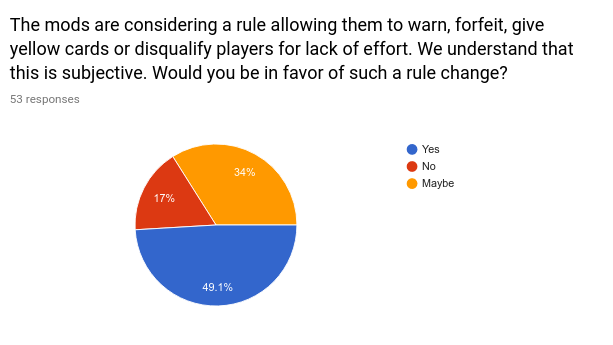 We had a lot of interesting feedback on this proposed rule update, and it seems popular with a variety of different suggestions and definitions of "lack of effort". The most common suggestions are:
Lack of scheduling effort

No scheduling response <48 hours - This is currently met by rule section V.
Incomplete offers at first contact - This is currently met by rule section IV. B.

Lack of communication in the team channel
Disrespectful underuseage of time during the game
Based on this feedback we will be more strongly enforcing rule sections IV and V, three times on two different days MUST be offered in your first contact and within 48 hours of pairings being released. Lack of communication will not be punished but we encourage everyone to take an active part in their teams, preparing, discussing games and creating a supportive and fun atmosphere. Disrespectful underuseage of time has been noted in several instances this season, where players have not scheduled sufficient time to play their game and play as though it were a blitz game. This is not what the league is about and it is disrespectful to opponents and teammates, who want to take the league seriously, with serious games. We would like to clarify that this does not apply to situations where players are both in prep/well-known theory.
Further rule changes have also been proposed and considered:
Lower board can play up any number of places - THIS is Changed
More games required before joining the league? Older accounts only? - Not a current rule change
Edits to simplify rules - please make specific suggestions to any moderator?
Suggestions to improve @chesster and the website have been passed to our wonderful volunteer developers for their consideration. A relevant quote "Be the change that you wish to see in the world." All of the league endeavours are open source so if you have an inclination, please dive in! The same applies for the ledger (although most of the responses were lovely comments and appreciation!), and for general league feedback.
The most popular moderator is [REDACTED]
---
Chess Puzzle
From a round 1 game on board 1 in 4545: @CamelClutcher vs @MelodyMarathon White to move
submitted by @MelodyMarathon: "There is also a puzzle in my game which my opponent missed on move 29 for white, there is one killer move in this position which wins on the spot all other moves are only a bit better for white . It is slightly difficult though I would say the puzzle should be rated around 1900-2000 level"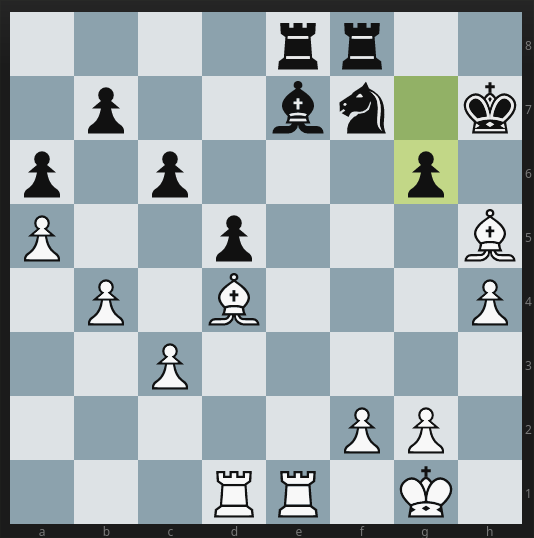 For the answer see gamelink
From a round 1 game on board 2 in 4545: @ThePasiP vs @Lord_axe Black to move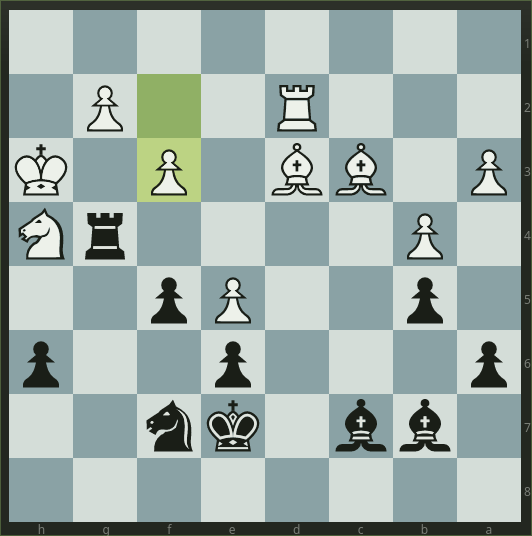 For the answer see gamelink
From a chess-series game in the Masters Group: @MoistvonLipwig vs @Sonata2 White to Move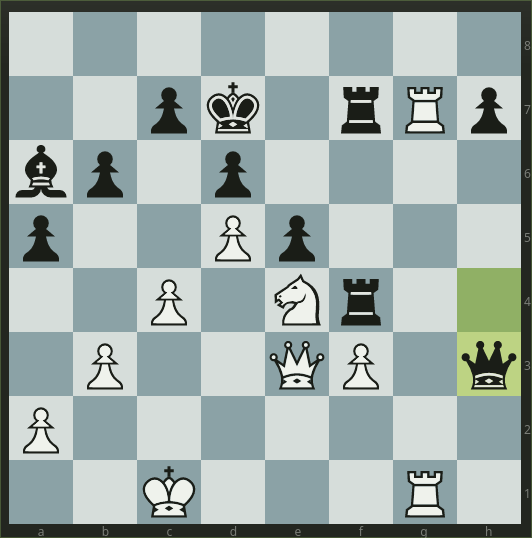 For the answer see gamelink
Lichess4545 Ledger #045 ©2017 by Thienan Nguyen is licensed under a Creative Commons Attribution-NonCommercial-ShareAlike 4.0 International License

Thanks to @somethinpretentious @MelodyMarathon, @Lord_axe and @moistvonlipwig