Lichess4545 Ledger
Issue #044 - October 30, 2017
State of the League
Thanks to everyone for a fantastic season 9! Congratulations to Bad News Bishops who won the tournament! Full standings can be found on the website https://www.lichess4545.com/team4545/season/9/summary/.
Here are a few end of season announcements:
An email list has been created to notify folks about registration for Season 10. You can register for the Season 10 mailing list here.

End of season survey: Please fill it out https://goo.gl/forms/nCrcTQwHkT9LPLlG2 to help improve the league (help choose the season 10 start date and if there should be a break over the holidays!)

The mods have opened up nominations for the best games of season 9. Be sure to submit your nominations by sending @chesster a Direct Message with, nomination 45 to get a link where you can enter your nominations or go directly to https://www.lichess4545.com/team4545/nominate/. You can nominate up to 3 games.

As the season ends we typically have an awards and stats page. I need your help to get that done! Please submit any awards or stats to @tnan123! Who wins this year's Giri Award, Marathon Man, Accuracy King and much more?!

Lichess4545 was started back in October 2015 Check out the history https://www.lichess4545.com/team4545/season/9/document/league-history/. To commemorate the 2 year anniversary we are holding another anniversary tournament on lichess. It will be an arena tournament with a time control of 15+15 held on Saturday 4th November at 17:00 UTC.
Quick updates on the other leagues
Lonewolf LoneWolf #9 will start on November 13! Registration is now open: https://www.lichess4545.com/lonewolf/register/

The big change we're making this season is splitting LoneWolf into two sections: *Open* and *U1800*. This should make it easier for players to get closer matches while still giving plenty of opportunity to play stronger players.
Anyone can join the Open section, but only players rated below 1800 at the season start are eligible for the U1800 section.
In addition to the top 3 in each section, there will be two ribbons awarded: top U2000 (in the Open section), and top U1600 (in the U1800 section).

#Blitz-battle: No blitz-battle took place this past week.
Registration for RR-league ends this week!
The registration for the round robin league ends on Nov 5th 12 UTC. League will start on November 6th!

​We already have more than 50 players with ratings ranging from 800 to almost 2400 and a very competitive A group which will have rating average above 2250.
Interested in playing as well? Take your chance before the 5th to join! (simply join channel #chess-series and post that you want to participate)
Notable Lichess4545 community member video/contributions:
ChessLeagueTV Please visit the CLTV Youtube page for VODs of the recent streams.
From the past week, highlights were:
Quirked goes over tactics from lesser known GM games.
Live commentary of 4545 league game vs @Benedictine.
Weekly Stats
Thanks to @somethingpretentious for his work to automate the process of coming up with these stats. It is much appreciated!
Stats for Round 8 of Team (45+45): Full season stats to be included in end of season awards and stats page.
Finally as always feel free to join #lichessledger on Slack if you want to help or contribute in any way to this newsletter.
---
Chess For You
We calculate: he does this then I do that. And Tal, through all the thick layers of variants, saw that around the 8th move, it will be so and so. Some people can see the mathematical formula, they can imagine the whole picture instantly. An ordinary man has to calculate, to think this through, but they just see it all. It occurs in great musicians, great scientists. Tal was absolutely unique. His playing style was of course unrepeatable. I calculated the variants quickly enough, but these Tal insights were unique. He was a man in whose presence others sensed their mediocrity.

- Garry Kasparov
I use computer a lot, I must admit. I check analyses, variations, and I have to do this, because everybody else does so, and one has to check and re-check everything. But I use computers a little strangely, because while I am looking at a position with one eye, I can be watching a film or doing something else as well.

- Viswanathan Anand
---
Chess Puzzle
From a round 8 game on board 1 in 4545: @s2004k1993 vs @hetraie. Black just played h6. White to move.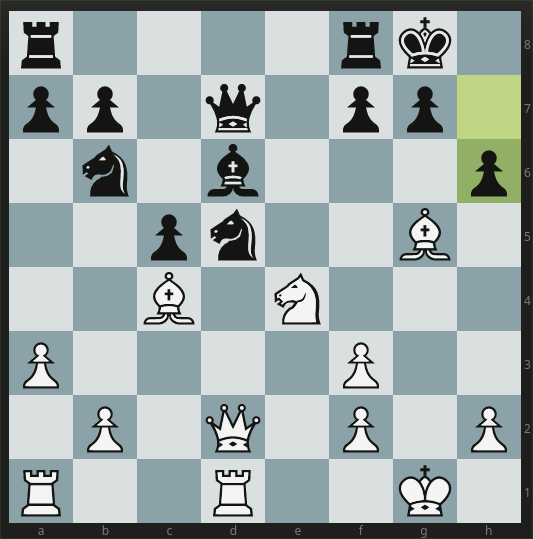 For the answer see gamelink.
Lichess4545 Ledger #044 ©2017 by Thienan Nguyen is licensed under a Creative Commons Attribution-NonCommercial-ShareAlike 4.0 International License

Thanks to @somethinpretentious and @moistvonlipwig.