Lichess4545 Ledger
Issue #043 - October 23, 2017
State of the League
One more round to go and Stormy Knights and Bad News Bishops are the current leaders. Good luck to everyone in the final round! If you have any fun awards or ideas you would like to be featured for the upcoming end of season awards/stats page, please send them to @tnan123.
The registration for Season 9 of 4545 is now closed. An email list has been created to notify folks about registration for Season 10. You can register for the Season 10 mailing list here. Stay tuned for future announcements as we end the season which will include the end of season survey. We are still deciding what to do with the money that Atrophied returned from the Season 8 youtube review.
Round Robin League registration is open!
Write in the #chess-series channel or PM MoistvonLipwig on lichess to join.
What's this?
The Round Robin League is a long time control (90 min + 30 sec/move) 9 round, round robin tournament.
The detailed rule-set is still under work however the rules will look roughly like this: https://docs.google.com/document/d/1Wqe_qwtG8iuAItl3l2omGS-AenWKAQpfovd1gYPnHUo
We expect the first season to have 1 A group and 1-2 B groups + the Swiss section.
List of registered players thus far:
https://docs.google.com/spreadsheets/d/1RqjkGKjp2KthqT11O3zphYX2m5gVR4CUtmnSBb0ibhU
Quick updates on the other leagues
Lonewolf is currently on hiatus. Stay tuned for further announcements from the LW moderators.
#Blitz-battle: No blitz-battle took place this past week.
Notable Lichess4545 community member video/contributions:
ChessLeagueTV Please visit the CLTV Youtube page for VODs of the recent streams.
From the past week, highlights were:
Quirked live commentary of his 4545 game vs @f1nn33.
An annotated 4545 game from Round 7 on Board 1 MoistvonLipwig vs RazorBoy (Alekhine's Scandinavian Variation)
Weekly Stats
Thanks to @somethingpretentious for his work to automate the process of coming up with these stats. It is much appreciated!
Stats for Round 7 of Team (45+45):
Biggest upset: TIE 136 point difference
Lowest ACPL game: TIE 9 ACPL
Lowest combined ACPL game: 21 combined ACPL ChessHavoc vs MarionTinsley Gamelink
Highest ACPL game: 99 ACPL Lynnpv in loss to archone Gamelink
Highest combined ACPL game: 165 combined ACPL archone vs Lynnpv Gamelink
Longest game: Reached move 95 Groundhopping vs ErinYu Gamelink
Quickest mate: Mate on move 26 by slaiyn against roso97 Gamelink
Fastest draw: Ends on move 18 ChessHavoc vs MarionTinsley Gamelink
Fastest resign: Resignation on move 14 by f1nn33 against quirked Gamelink
Longest think: 32 minutes 2.0 seconds on move 12 by Lord_axe against checkmonk Gamelink
Most time left: 63 minutes 49.0 seconds ed84 against aion Gamelink
Most time spent: 100 minutes 58.0 seconds Lelouch_Vi_Brittania against MeBeKa Gamelink
Finally as always feel free to join #lichessledger on Slack if you want to help or contribute in any way to this newsletter.
---
Chess For You
With drunks, the drifters, the flinty-eyed evangelists looking for sinners to convert, the moneychargers, the lurking youngsters who might have been druggies or hookers or both, and the burdened old women heading to the countryside on commuter trains, the people who held my attention at Keleti Stations were the chess players. They stood at a long marble pedestal near the bumpers, in the middle of the crowd of commuters waiting for their trains to be announced. Or perhaps they weren't going anywhere: a train station is a little democracy in which everyone has a right to exist on the presumption that he or she might be waiting for a train. These men were studying the chessboards, clawing at their hair and their beards, now and then making a move - the slow and graceful logic of chess at the center of railway pandemonium.

- Paul Theroux writing about chess players at Keleti Station in Budapest (Ghost Train to the Eastern Star)
Life is an insipid interruption of chess
- Willy de Winter
---
Chess Puzzle
From a round 7 game on board 2 in 4545: @Benedictine vs jg777. Black just played Qf6. White to move. How does white keep an advantage?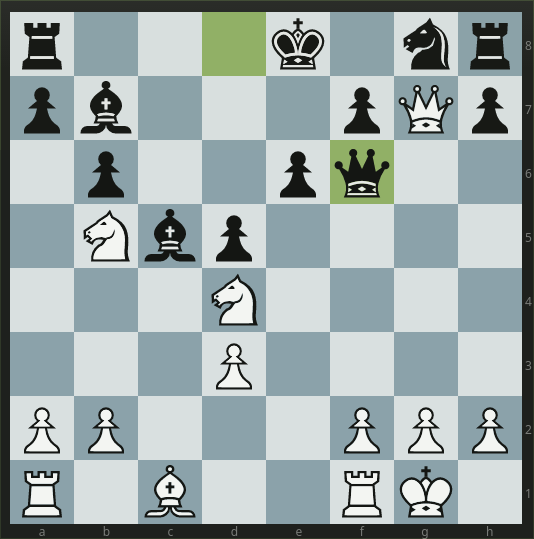 For the answer see gamelink.
Lichess4545 Ledger #043 ©2017 by Thienan Nguyen is licensed under a Creative Commons Attribution-NonCommercial-ShareAlike 4.0 International License

Thanks to @somethinpretentious and @MoistvonLipwig.