Lichess4545 Ledger
Issue #042 - October 16, 2017
State of the League
In the team competition Checkmate With Slight Advantage are the current sole leaders after 6 rounds. Alternate pools continue to be exhausted on some of the boards and 4 players had to pull double duty and play 2 games for their team. Fortunately, there are only 2 more rounds to go. Let's hang on folks!
Registration has reopened to fill alternate spots for the remaining rounds, but there is also an email list has been created to notify folks about registration for Season 10. You can register for the Season 10 mailing list here.
Finally, the 4545 mods still have the money that @Atrophied returned for the last youtuber review. We are discussing possibly contacting another youtuber to do an end of season review like in the past, but there seemed to be less enthusiasm for that idea in recent seasons. Thus, if you have other suggestions please let us know.

Quick updates on the other leagues
Lonewolf #8 has concluded! Thanks to the LW mods and all the participants for a great LW season!

From @cyanfish "After a long season, this installment of LoneWolf has finally come to a conclusion. A big congrats to our winner, @mn8! Also congrats to our runner ups, @sonata2 in second and @tapcon in third, as well as @capa_branca with the U1600 ribbon. Thanks to all our participants! Full results here:
https://www.lichess4545.com/lonewolf/season/8/summary/

The next season of LoneWolf, our 9th, will start in a few weeks. We'll put out a survey later this week about your experiences with LoneWolf #8 and what you're looking for in the next one. After that, we'll announce the exact start date for LoneWolf #9."

See below for some LW awards and statistics for the entire season!

#Blitz-battle: No blitz-battle took place this past week.
Notable Lichess4545 community member video/contributions:
ChessLeagueTV Please visit the CLTV Youtube page for VODs of the recent streams.
From the past week, highlights were:
Review of Quirked's OTB games
Coverage of 3 Board 1 games. @Aliquantus vs @Scrooge, @tipau vs @KFerapont and @MoistvonLipwig vs @mariuseg
Tactics and Blitz with @Quirked
Annotated by @ErinYu Board 4 game @tnan123 vs @shetoo (Levitsky attack)
Annotated by @Delpire Board 5 game @seb32 vs @Delpire (Sicilian Alapin)
Weekly Stats
Thanks to @somethingpretentious for his work to automate the process of coming up with these stats. It is much appreciated!
Stats for Round 6 of Team (45+45):
Biggest upset: 198 point difference MamaDuck 1344 against oddskill 1542 Gamelink
Lowest ACPL game: TIE 6 ACPL
Lowest combined ACPL game: 12 combined ACPL Tellum vs gauravsingmd Gamelink
Highest ACPL game: 122 ACPL Donkey-Kong16 in loss to jippiedoe Gamelink
Highest combined ACPL game: 211 combined ACPL Donkey-Kong16 vs jippiedoe Gamelink
Longest game: Reached move 119 Immortality vs qrs Gamelink
Quickest mate: Mate on move 20 by TCGRIF against SpiteKnight Gamelink
Fastest draw: Ends on move 28 ErinYu vs MMichael Gamelink
Fastest resign: Resignation on move 9 by redban against gyrating_kairos Gamelink
Longest think: 16 minutes 49.0 seconds on move 7 by InfernalJumble against jivey Gamelink
Most time left: 60 minutes 42.0 seconds RpImpulse against hsznet Gamelink
Most time spent: 114 minutes 50.0 seconds Immortality against qrs Gamelink
​Stats for the ENTIRE Season of Lonewolf #8:
Biggest upset: 552 point difference Linsolv 1152 against Zher0 1704 Gamelink
Lowest ACPL game: 4 ACPL finessemax against kerese1980 Gamelink
Lowest combined ACPL game: TIE 16 combined ACPL
Highest ACPL game: 228 ACPL TazDevil in loss to Dejokz Gamelink
Highest combined ACPL game: 295 combined ACPL kylecuver vs slavy Gamelink
Longest game: Reached move 92 ReyFeroz vs Fabinou Gamelink
Quickest mate: Mate on move 5 by Dejokz against TazDevil Gamelink
Fastest draw: Ends on move 14 KCchessc6 vs f1nn33 Gamelink
Fastest resign: Resignation on move 7 by pgbrail against aljopeljhan Gamelink
Longest think: 18 minutes 9.0 seconds on move 15 by liamschauerman against gyrating_kairos Gamelink
Most time left: 42 minutes 57.0 seconds Linsolv against Lynnpv Gamelink
Most time spent: 74 minutes 16.0 seconds ReyFeroz against Fabinou Gamelink
SPECIAL AWARDS (All players with 4+ games in LW are eligible)
Accuracy King: spreek averaged 13 ACPL in 5 rounds played
Fast Finisher: nadgob average gamelength was 38 ply/19 moves (4 games played)
Marathon Man: TIE iamjadetulip (6 games played) and chess4life (10 games played) average gamelength was 101ply/50 moves
Giri Award: iamjadetulip had 4 draws. (6 played games). Honorable mentions to god666 (4 draws in 11 games) and hoikka (4 draws in 9 games).
Biggest rating gain in season 8: (includes all classical games played on lichess): Dejokz gained 267 rating points
Biggest rating loss in season 8: Rescinded lost 176 rating points

Fun fact: The most popular opening played in LW #8 (categorized by ECO code) C45 - Scotch game (15 games)
Finally as always feel free to join #lichessledger on Slack if you want to help or contribute in any way to this newsletter.
---
Chess For You
Chess Series Updates
by MoistvonLipwig
Are you interested in participating? Vote here so we can plan for how many players there will be: http://www.strawpoll.me/14158904
In case you're wondering what this is about, see the last ledger. We're here to provide updates for the round robin series.
We asked, you voted: There will be fixed time controls. In the first season we will try out 90'+30''/move.
Please, keep reading, let us explain! This was discussed at length during the planning stage, and we'd like to address some of the common questions immediately:
Q: Isn't this a lot?
A: Not really. There are already options for people who enjoy shorter time controls such as the 45+45 league and lonewolf, and we wanted to try something new to mimic the OTB experience more closely.
Q: But I don't have time to schedule a 90+30 game?
A: 90+30 doesn't actually take that much longer than a 45+45 game. For example, a 60 move game of 45+45 would take approximately 3 hours, whereas a 90+30 game would take 4 hours if both players used all of their time. This difference grows even smaller for longer games - a 100 move game of 45+45 takes 4 hours compared to about 4,5 hours of 90+30 chess. As you can see, if you do not currently have much trouble scheduling a 45+45 game, you shouldn't have much trouble scheduling a 90+30 game either! Considering average game length, well most people at my club have finished their 90+30 games after about 2-3 hours of playing.
Q: Okay, but I have been playing OTB and sometimes the games take like 5-6 hours?
A: Then you are probably given extra time after 40 moves, or you are playing 200+ move chess games regularly

The poll result on single vs. double round robin was indecisive. To prevent the seasons from becoming too long we decided that single round robin is a better choice. The group size will be 10 players so each player will play 9 games.
The season will last for 11 weeks, with catchup weeks after rounds 3 and 6 to give people the opportunity to play the matches they didn't have time for earlier.
Of course you can also play your games ahead of time e.g. if you know you won't have time in some later week. Due to the nature of round robin that won't lead to any problems. If there's no other option you can also play your games in later weeks though it is not recommended.
---
Chess Puzzle
From a round 6 game on board 1 in 4545: @MoistvonLipwig vs @mariuseg. Black just played Ke8. White to move. Can you find the only continuation and be better than the board 1 player who ended up stalemating this game?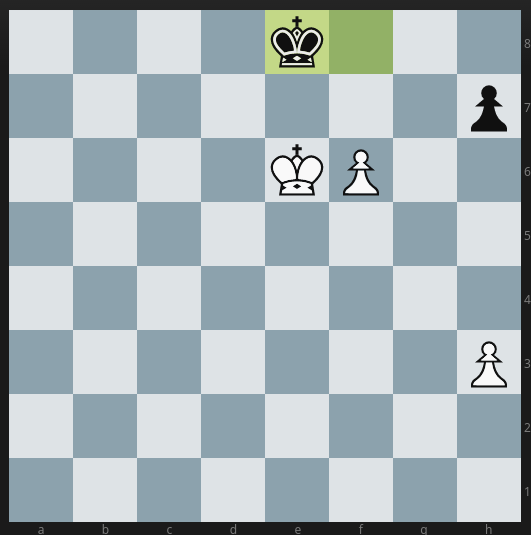 For the answer see gamelink.
Critical Line to Consider follows (in white font): h4 Kf8 h5 Ke8 f7+ Kf8 Kf6 h6 Kg6 +-
Lichess4545 Ledger #042 ©2017 by Thienan Nguyen is licensed under a Creative Commons Attribution-NonCommercial-ShareAlike 4.0 International License

Thanks to @somethinpretentious, @MoistvonLipwig, @ErinYu, and @Delpire.