Lichess4545 Ledger
Issue #040 - October 2, 2017
State of the League
We have official passed the halfway point of the season! With 4 rounds complete, The Questionmarks are currently the sole leader as the only team with a perfect match record.
This past week also saw quite a few unusual occurances. There were 4 forfeits in one match all by Peter's Swindlers. There was a first red card handed out for the season, several players (mostly board 1) were removed from the league, and 2 games had to be resumed because someone erroneously "claimed victory." Let's calm down with all the insanity please. Play fair, read the rules, and please contact moderators about any issues.
The registration for Season 9 of 4545 is now closed. This means that an email list has been created to notify folks about registration for Season 10. You can register for the Season 10 mailing list here.
Quick updates on the other leagues
Lonewolf #8 is onto Round 10! Who will set themselves up in the best position going into the last round! The standings at the top are very close!
#Blitz-battle: #20 took place this past Saturday at 13:00 UTC. Congrats to @ChessBuzz17 who won with a 7.5/8 score! Full standings.
Notable Lichess4545 community member video/contributions:
ChessLeagueTV Please visit the CLTV Youtube page for VODs of the recent streams.
From the past week, highlights were:
Live stream of @quirked's 4545 game against @gnarlygoat
Weekly Stats
Thanks to @somethingpretentious for his work to automate the process of coming up with these stats. It is much appreciated!
Stats for Round 4 of Team (45+45):
​Stats for Round 9 of Lonewolf:
Finally as always feel free to join #lichessledger on Slack if you want to help or contribute in any way to this newsletter.
---
Chess For You
"The process of rating players can be compared to the measurement of the position of a cork bobbing up and down on the surface of agitated water with a yard stick tied to a rope and which is swaying in the wind."

- Arpad Elo
I got strong ideas about my house. I'm going to hire the best architect and have him build it in the shape of a rook. Yeah, that's for me. Class. Spiral staircases, parapets, everything. I want to live the rest of my life in a house built exactly like a rook.
- Bobby Fischer
---
Chess Puzzle
From a round 4 game on board 4 in 4545: @dimitris22 vs @ed84. Black just played f6. White to move.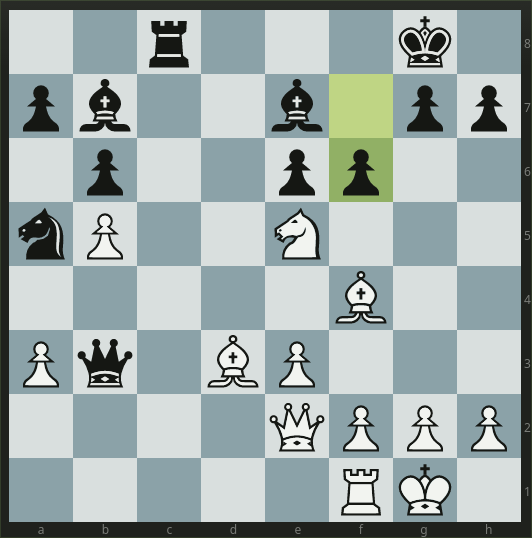 For the answer see gamelink.
Lichess4545 Ledger #040 ©2017 by Thienan Nguyen is licensed under a Creative Commons Attribution-NonCommercial-ShareAlike 4.0 International License

Thanks to @somethinpretentious.