Lichess4545 Ledger
Issue #039 - September 25, 2017
State of the League
After 3 rounds the leading group is now down to 2 teams with The Questionmarks currently leading on tiebreaks with 12 total game points. These teams face off in round 4! There are also a few new features to highlight thanks to the hard work of @cyanfish.
In addition to requesting a bye you can now withdraw from Lonewolf without needing to contact a mod. Use the same command as before to set your availability by sending a direct message to @chesster with availability lonewolf.
Cyanfish is also working on a automatic system to claim a no-show forfeit.
Finally, there is a new login system on the current league website that involves sending a lichess mail for validation.
Everyone needs to link their Slack and Lichess accounts, but I did my best to make sure existing members won't have to do that. If you have issues, you can send @chesster the message link and make sure it shows your account as linked.
Quick updates on the other leagues
Lonewolf #8 is onto Round 9. Registration still remains open at https://www.lichess4545.com/lonewolf/register/. @foreverweak is the current sole leader after 8 rounds with a score of 7/8.
#Blitz-battle: No blitz-battle took place this past week
Notable Lichess4545 community member video/contributions:
ChessLeagueTV Please visit the CLTV Youtube page for VODs of the recent streams.
Highlights include
Endgames! Bishop vs pawns.
Coverage of league games: @eie24 vs @MMichael board 5, @NoKlu vs @Arkensiel Board 6 and @revhas vs @Wardstone board 1
Live stream of @quirked's 4545 game against @morallygray
Hand and brain and other nonsense with @somethingpretentious
Weekly Stats
Thanks to @somethingpretentious for his work to automate the process of coming up with these stats. It is much appreciated!
Stats for Round 3 of Team (45+45):
Biggest upset: 145 point difference odyn1982 1681 against roso97 1826 Gamelink
Lowest ACPL game: TIE 4 ACPL
Lowest combined ACPL game: 16 combined ACPL be0wolf vs pioki Gamelink
Highest ACPL game: 127 ACPL slavy in loss to mrjv Gamelink
Highest combined ACPL game: TIE 160 combined ACPL
Longest game: Reached move 85 fradtheimpaler vs Mooserohde Gamelink
Quickest mate: Mate on move 16 by dank-chessessities against JoeyMellberg Gamelink
Fastest draw: Ends on move 26 be0wolf vs pioki Gamelink
Fastest resign: Resignation on move 17 slavy against mrjv Gamelink
Longest think: 34 minutes 20.0 seconds on move 26 by pioki against be0wolf Gamelink
Most time left: 78 minutes 8.0 seconds Mooserohde against fradtheimpaler Gamelink
Most time spent: 100 minutes 46.0 seconds matt_p_14 against CaptNCarter Gamelink
​Stats for Round 8 of Lonewolf:
Finally as always feel free to join #lichessledger on Slack if you want to help or contribute in any way to this newsletter.
---
Chess For You
by @SpiteKnight
compiled by @tnan123 with edits by @petruchio
Introduction
We have an interview from a strong titled player in this week's ledger. We interview IM Andrew Tang, a 17-year-old International Master from Minnesota, USA. He's IM penguingim1 on Lichess, and currently ranked first in the bullet category. He's seen locking horns in bullet matches with players like Hikaru Nakamura and Magnus Carlsen regularly and has a good YouTube channel showcasing those. Andrew has answered these questions with great thoroughness, and for that I would like to thank him. This was a very exciting opportunity for me to gain perspective from a strong player. I hope you enjoy reading it, too!
Interview
During your earlier training, how many hours a day did you dedicate to chess? What did your study regimen look like?
If you include playing a lot of bullet and blitz online, probably around 3 hours a day. I have taken weekly lessons from my coaches for most of the time that I have been playing and I always analyzed my games from OTB tournaments. I was never much of a book person although I have read a few books here and there over the years. I really enjoyed Endgame Strategy by Mikhail Shereshevsky.
How effective would you say is learning from videos?
When I was kid, there were far fewer chess videos than today, but I also didn't read many books. I do think videos can be more interesting for people, making it easier to learn; however, books have better content, so it depends on the person.
What was your biggest improvement in chess and what led to it? What has influenced your play the most?
Learning how to play positionally was most important for me to go past master level. My positional understanding was built up by both a lot of coaching and playing in strong tournaments. My coaches and my own experiences have shaped my play the most since I was never a huge fan of studying particular players or classic games.
How would you describe your style of play and which are your preferred openings in OTB chess?
I consider myself to be a pretty universal player. When I was a kid, I was a very tricky and tactical player but once I started going beyond master level my positional play really improved. As for openings, I've been a lifelong d4 player and in particular I love playing the Saemisch against the King's Indian. I also like the QGD a lot for both sides.
Was taking chess seriously at a very young age your decision? How much of it was influenced by your parents?
It was completely my decision, and my parents supported it.
How was your experience being coached by JB and how do you think it has helped you? Have you had other coaches?
John is a great coach who explains concepts very clearly just like how he does in his YouTube videos. He definitely improved my understanding of the game and refined my opening repertoire, which helped me reach International Master level from being a National Master. I've had several coaches besides John, but John was definitely one of the best.
What are your goals for the near future and how do you plan on achieving them?
Of course, I want to become a GM soon because I'm only one norm and 8 FIDE rating points away from satisfying the requirements. The plan is just to play as many norm tournaments as possible, although it's tough to schedule them during the school year.
How has streaming chess for viewers affected your overall experience of the game?
Mainly, it's allowed me to meet a lot of new people from all over the world and it adds more of a social aspect that isn't always present at tournaments.
Do you have any goals or aims with regards to your YouTube channel?
I'll just upload more videos and try to grow the channel but I don't have any really specific goals right now.
You're fairly young, and I'm sure growing up in this generation with numerous distractions in day-to-day life is challenging. How do you split your time between things?
Schoolwork is my #1 priority in my schedule. I always make sure to get my homework done well and on time before using any extra time for chess and other activities. I've also played travel soccer for a long time and enjoy it very much, and I also do math team. However, chess has almost always taken precedence over my other extra-curricular interests. For example, every summer I have to miss a couple of soccer games because of out of state chess tournaments.
How is being an IM perceived amongst your peers and friends?
My friends and peers are impressed by it and know me as the chess kid at school, but they don't know too much about chess or what it really takes to become an IM or GM, so they aren't impressed in the same way most chess players are. They just think it means I'm smart.
How did attaining the highest ever bullet-rating feel? Was it a milestone for you? Is bullet the most enjoyable chess time-control for you?
It felt good, but I wouldn't really consider it a milestone. Bullet is something I don't take that seriously. When playing online, bullet is definitely my favorite time control. When I play online it's just to relax and have fun. Serious, long games online just aren't fun for me for some reason. If I become the best bullet player in the world, however, I'd consider that a milestone. Otherwise I would be happier to become a GM and play OTB classical.
What is more rewarding, a mistake-free long game (online/OTB) where you outplayed a good opponent or a win in the bullet arena, which you win at often?
Definitely a long OTB game. Bullet arenas are mostly just for fun, and it doesn't matter too much to me If I win an arena or not. But an OTB game is putting hours of hard work into outplaying your opponent.
Any good or bad stories that you would like to share from a tournament that you played in?
My most disappointing moment ever was a game in the 2014 World Open U2400 section when I was completely destroying my opponent, missed a mate in 5, then missed a way to win a queen for a bishop. Then I settled for a Q vs R endgame where I had three pawns and he had one pawn, but I let it get to the 7th rank. It was still winning, but with little time and only having 10 second delay I let the win slip, ended up sacking my queen for the pawn, even though I always had a perpetual, and ended up losing the R v 3P endgame. It was even worse because I had 4/5 and it probably ended up costing me thousands of dollars as I still played a good tournament and finished with 6.5/9.
In contrast, just 2 tournaments later at the 2014 North American Junior, as the 8th seed, I unexpectedly lost to a 2000 with white in the second round. I was disappointed, but I just stopped thinking about the outcome of the tournament. Then I went on to win 6 games in a row, beating 2 IMs to finish clear first with 7.5/9, winning the IM title and my first GM norm.
How do you deal with doubts regarding the game and your time invested in it? If doubt ever creeps in, that is.
I've never had doubts about chess. The most important thing for me is that chess is fun, and making progress or not has never really changed that.
Any particular opponent you like/dislike playing against?
I don't like playing lower-rated opponents who play dry openings as white and just try to hold on to a draw.
How does it feel to play against guys like Magnus and Hikaru? Do you find yourself being star-struck or do you smell blood?
The first few times I played them I think I was definitely a bit nervous. Now that I've played Hikaru hundreds of times in bullet, I don't have any nerves against him. Even though he always crushes me in matches, I certainly look to win as many games as possible.
How do you prepare yourself on a match-day?
Sleep well, and just follow my normal routine. Like most players, I also prepare against my opponent if I can.
What is one piece of advice or tip you would give any chess player?
Don't worry too much about rating. I see a lot of players that get scared to play in fear of losing rating. If you're getting better your rating will follow, just try to be confident. Everybody has a bad tournament once in a while.
Have you ever plateaued? If yes, how did you deal with it? If not, do you have other fears about improvement?
There have been a few times where my ratings didn't go for almost a year, but it never really bothered me too much. Even if I wasn't gaining rating I still enjoyed playing tournaments, and eventually I would hit another rating growth spurt. I'm not really worried about peaking. If it happens, it happens. I'll still enjoy playing in tournaments. I don't really feel like I have any chess fears. I get nervous sometimes before games, but once a game starts I just try to win. Maybe it would be losing an important game because I didn't trust my instincts.
What do you think is the least you need to achieve for you to be satisfied with yourself?
GM.
Conclusion
As an honest and insightful exchange with Andrew Tang, this interview was a very enjoyable read. I admire the emotional detachment Andrew has regarding his rating and I hope to learn from it. It is refreshing that he just loves the game for what it is, without any fears or inhibitions. We congratulate him on his achievements thus far and wish him good luck for the future. I appreciate Andrew taking time out to answer all these questions. Thanks @tnan123, who always does the great work behind these interviews, for giving me an opportunity to do this exciting interview.
---
Chess Puzzle
From a round 3 game on board 1 in 4545: @RazorBoy vs @MeBeKa. White just played Kxh3. Black to move and draw. Let's work on some endgame calculation folks!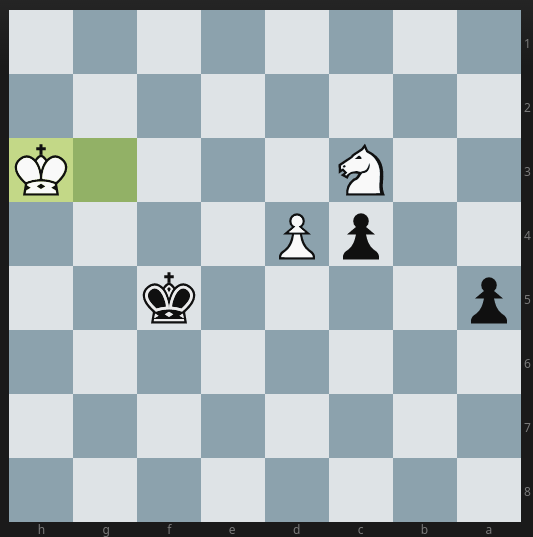 For the answer see gamelink.
Lichess4545 Ledger #039 ©2017 by Thienan Nguyen is licensed under a Creative Commons Attribution-NonCommercial-ShareAlike 4.0 International License

Thanks to @somethinpretentious, @petruchio, @SpiteKnight for contributions this week. Thanks to IM Andrew Tang for the Interview.