Lichess4545 Ledger
Issue #038 - September 18, 2017
State of the League
After 2 rounds the leading group is now down to 6 teams with Stormy Knights currently leading on tiebreaks with 9 total game points. We had an uptick to 8 unplayed games in round 2. Let's hope this upward trend doesn't continue. Meanwhile blitz-battle finally returned this past Sunday after a long hiatus with a new blitz-battle mod! Thanks @somethingpretentious.
Quick updates on the other leagues
Notable Lichess4545 community member video/contributions:
ChessLeagueTV Please visit the CLTV Youtube page for VODs of the recent streams.
Highlights include
Coverage of 3 of @quirked's OTB games
Coverage of league games: @tsatsa64 vs @deepblueincarnate board 5, @revoof vs @Fisher56 Board 3 and @Hoikka vs @CarlosMagnussen
Live stream of @quirked's 4545 game against @matt_p_14
Weekly Stats
Thanks to @somethingpretentious for his work to automate the process of coming up with these stats. It is much appreciated!
Stats for Round 2 of Team (45+45):
Biggest upset: 352 point difference slavy 1192 against nojero1544 Gamelink
Lowest ACPL game: 3 ACPL flandoo against qrs Gamelink
Lowest combined ACPL game: 14 combined ACPL foreverweak vs MoistvonLipwig Gamelink
Highest ACPL game: 111 ACPL Vevochi in loss to WarGoblin Gamelink
Highest combined ACPL game: 178 combined ACPL Vevochi vs WarGoblin Gamelink
Longest game: Reached move 105 kobol vs FelixNL Gamelink
Quickest mate: Mate on move 20 by deepblueincarnate against Tsatsa64 Gamelink
Fastest draw: Ends on move 19 foreverweak vs MoistvonLipwig Gamelink
Fastest resign: TIE Resignation on move 16
Longest think: 30 minutes 50.0 seconds on move 15 by Seb32 against Mooserohde Gamelink
Most time left: 55 minutes 3.0 seconds ed84 against odyn1982 Gamelink
Most time spent: 120 minutes 58.0 seconds kobol against FelixNL Gamelink
​Stats for Round 7 of Lonewolf:
Finally as always feel free to join #lichessledger on Slack if you want to help or contribute in any way to this newsletter.
---
Chess For You
"The Game of Chess is not merely an idle amusement. Several very valuable qualities of the mind, useful in the course of human life, are to be acquired and strengthened by it, so as to become habits ready on all occasions for life is a kind of Chess, in which we have points to gain, and competition or adversaries to contend with, and in which there is a vast variety of good and ill events, that are, in some degree, the effect of prudence, or want of it.

By playing at Chess then, we may learn:
First, Foresight...
Second, Circumspection...
Third, Caution...

And lastly, We learn by Chess the habit of not being discouraged by present bad appearances in the state of our affairs the habit of hoping for a favorable chance, and that of persevering in the secrets of resources."

-- Benjamin Franklin
Snippets taken from "The Morals of Chess"
Full Essay here
---
Chess Puzzle
From a round 2 game on board 4 in 4545: @GogoYubari vs @Hackov. Black just played a4. White to move. Only one moves saves the draw in this ending.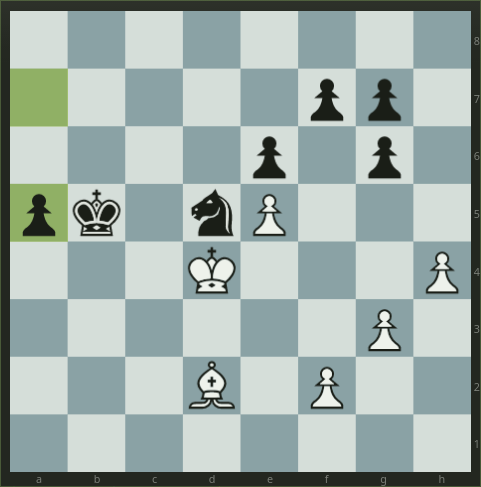 For the answer see gamelink.
Lichess4545 Ledger #038 ©2017 by Thienan Nguyen is licensed under a Creative Commons Attribution-NonCommercial-ShareAlike 4.0 International License

Thanks to @somethinpretentious for contributions this week.