Lichess4545 Ledger
Issue #033 - July 18, 2017
State of the League
Onto round 6 of Season 8. "Overworked and Underpromoted" are still undefeated! Will we have a perfect team? They have a commanding 3 match point lead at this point. With "The French Connexion" finally scoring a draw last round, there are no more teams with 0 match points! For the teams in the bottom half of the standings. It can often be discouraging as we near the end of the season. However, the point of being part of a team is not to win together. Rather you are there to support each other win or lose, to help, teach, learn from and cheer for your teammates. Best of luck in the final 3 weeks.
The mods have opened up nominations for the best games of season 8. We are still unsure if there will be a youtube review, but please nominate great games nonetheless (if no youtube review we might do something else!). Be sure to submit your nominations by sending @chesster a Direct Message with, nomination 45 to get a link where you can enter your nominations.
As Lonewolf season 7 comes to a close, let the Lonewolf mods know how it went and what you want to see for next season! https://lakinwecker.typeform.com/to/sYv2Bn
Quick updates on the other leagues
Competition is still going strong in #ladder! For new members check out #ladder on slack.
#Blitz-battle: Blitz-battle #17 was played on Sunday. Congrats to @mariuseg for first place! See the summary here.
Notable Lichess4545 community member video/contributions:
ChessLeagueTV. @quirked reviews a few of his own OTB games. @somethingpretentious cohosts to cover the games @matt_p_14 vs @Lelouch_Vi_Brittania and @Mooserohde vs @B_Sharp (the end of the stream was cutoff - View Part 2 on youtube)
@Chessanalyst streams his 45+45 game. @chessanalyst vs @Wolfram_EP (Rubinstein French)
@god666 continues to put out great 4545 content. I did not include his analysis from last week (apologies!) so here's 2 games. @carc vs @god666 (Dutch) and @CaptNCarter vs @vadsamoht (Spanish Marshall Gambit)
@S3pp puts out analysis vids on his round 1 (@InfernalJumble vs @S3pp Italian Game) and round 5 (@Riemannn vs @S3pp Symmetrical English: Runbinstein Variation) games.
@TonyRo livestreams his Round 6 game. @TonyRo vs @hicetnunc (Symmetrical English)
Weekly Stats
Thanks to @somethingpretentious for his work to automate the process of coming up with these stats. It is much appreciated!
Stats for Round 5 of Team (45+45):
Biggest upset: 131 point difference bobwooster 1922 against somethingpretentious 2053 Gamelink
Lowest ACPL game: 4 ACPL TheHaleguathor against lovlas Gamelink
Lowest combined ACPL game: 9 combined ACPL lovlas vs TheHaleguathor Gamelink
Highest ACPL game: 152 ACPL Nairwolf in loss to LuvGangster Gamelink
Highest combined ACPL game: 248 combined ACPL Lukhas vs arex Gamelink
Longest game: Reached move 103 SMC vs Rakpyrogravas Gamelink
Quickest mate: TIE Mate on move 13
Fastest draw: Ends on move 26 Malamutt vs god666 Gamelink
Fastest resign: Resignation on move 11 by YungPirc against qrs Gamelink
Longest think: 30 minutes 34.0 seconds on move 6 by fradtheimpaler against JohnJPershing Gamelink
Most time left: 64 minutes 58.0 seconds Mooserohde against B_Sharp Gamelink
Most time spent: 120 minutes 0.0 seconds matt_p_14 against Lelouch_Vi_Brittania Gamelink
Stats for the ENTIRE SEASON of Lonewolf #7:
Biggest upset: 635 point difference Round 3 kani501 1257 against krispl 1892 Gamelink
Lowest ACPL game: TIE 1 ACPL
Lowest combined ACPL game: 5 combined ACPL Round 11 thechozen0ne vs Spreek Gamelink
Highest ACPL game: 262 ACPL Round 9 Arteme in loss to gloup Gamelink
Highest combined ACPL game: 267 combined ACPL Round 9 Arteme vs gloup Gamelink
Longest game: Reached move 106 Round 6 aplause vs skela Gamelink
Quickest mate: Mate on move 11 by Round 4 ErinYu against Something_Unique Gamelink
Fastest draw: Ends on move 11 Round 8 Lord_axe vs bobwooster Gamelink
Fastest resign: Resignation on move 4 Round 9 Arteme against gloup Gamelink
Longest think: 31 minutes 35.0 seconds on move 13 Round 1 QuietStorm24 against f1nn33 Gamelink
Most time left: 53 minutes 39.0 seconds by Round 6 SoChessGoes against hitecherik Gamelink
Most time spent: 71 minutes 29.0 seconds Round 4 mingpro against fisher56 Gamelink
SPECIAL AWARDS
Accuracy King: little_dead_bertha averaged 17 ACPL in 11 rounds played
Fast Finisher: gloup average gamelength was 36 ply/18 moves (4 games played)
Marathon Man: chgreg average gamelength was 102ply/51 moves (10 games played)
Giri Award: matt_p_14 had 7 draws!! (9 played games)
Biggest rating gain in season 7: (includes all classical games played on lichess): Injektilo gained 199 rating points
Biggest rating loss in season 7: bjjfiend lost 168 rating points
Finally as always feel free to join #lichessledger on Slack if you want to help or contribute in any way to this newsletter.
---
Chess For You
Queen's Gambit Declined: Exchange Variation
by @Mrlegilimens
---
Chess Puzzle
From a round 5 game on board 3 4545: @MarStem vs @mrlegilimens. White just played Qf1. Black to move.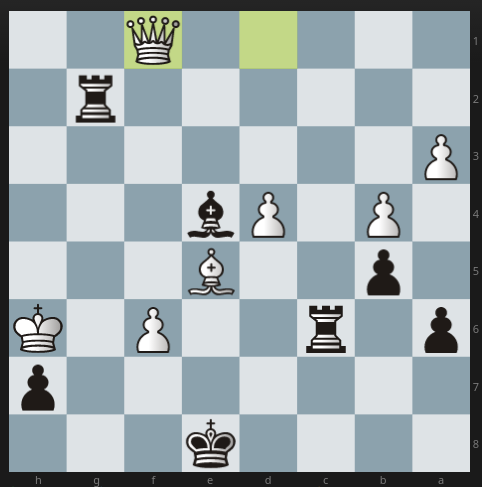 For the answer see gamelink.
Lichess4545 Ledger #033 ©2017 by Thienan Nguyen is licensed under a Creative Commons Attribution-NonCommercial-ShareAlike 4.0 International License

Thanks to @mrlegilimens, @quirked, @somethinpretentious, @god666, @TonyRo, @S3pp, @chessanalyst for contributions this week.