Lichess4545 Ledger
Issue #032 - July 10, 2017
State of the League
We are at the halfway point of season 8 of 45+45 and have just finished Season 7 of Lonewolf. At the halfway point "Overworked and Underpromoted" have extended their lead with a perfect 8 match points. Round 4 also saw the first round of the season where all games were scheduled by Friday. That meant no shaming of anyone! Wohoo! It also appears that this round had the fewest unplayed games this season. 75/78 games scheduled for the round were played! 3 total forfeits and 0 unplayed draws. Interestingly, all 3 forfeits occured in the same match. Hopefully, these trends continue.
---
In Lonewolf, the battle for the medals in Lonewolf #7 came down to the top 2 boards. The two players with 8.5/10 faced the two players with 8/10 in the final round. Although both games ended in draws, they were both hard fought! It ended up decided by the narrowest of margins! Congratulations to the winners!
| | | | |
| --- | --- | --- | --- |
| Gold | Silver | Bronze | U1600 |
| little_dead_bertha | chess4life | doganof | XxblinkxX |
The full final standings can be viewed at https://www.lichess4545.com/lonewolf/season/7/summary/
As Lonewolf season 7 comes to a close, let the Lonewolf mods know how it went and what you want to see for next season! https://lakinwecker.typeform.com/to/sYv2Bn
---
Lastly, shout-out to 3 players who all recently finished difficult 9 round tournaments.
@lovlas, recently finished the Norwegian Championship Elite Group (won by John Ludwig Hammer 6.5/9). Lovlas scored 2.5/9 facing 8 titled players in 9 rounds in the very competitive title for his nation's chess championship!
@artykom recently played a 9 round Swiss OTB tournament in his native Czech Republic. Playing in the top group in Klatovy he scored a respectable 4/9 in a field with several titled players. He achieved close to a 2000 tournament performance rating! Congrats!! He didn't feel there was anything great he wanted to share, but don't be modest, that's an amazing result!
@Aliquantus, You can read more about his adventures in the recent 2017 Nordic Championship below!
Quick updates on the other leagues
Competition is still going strong in #ladder! For new members check out #ladder on slack.
#Blitz-battle: Blitz-battle #16 was played on Sunday. Congrats to @hetraie who won his first blitz-battle! See the summary here.
Notable Lichess4545 community member video/contributions:
ChessLeagueTV covers more lines in the f3 Nimzo-Indian. In the Bottom Board Bonanza, @somethingpretentious cohosts. They cover @yago666 vs @MarStem, @DaveyJones01 vs @pokerram and @petruchio vs @nadgob.
@Quirked is joined by @Chessanalyst to cover @ThehHaleguathor vs @Kjar and @CitronSauvage vs @somethingpretentious
@Chessanalyst is back with another life stream of his 45+45 game. Check out @dkillian vs @ChessAnalyst
@kferapont was intrigued by the same game and wrote a blog post about it focusing on the opening, Light Analysis: Ideas in the Closed Spanish. (Study from the blog post included below).
Weekly Stats
Thanks to @somethingpretentious for his work to automate the process of coming up with these stats. It is much appreciated!
Stats for Round 4 of Team (45+45):
Stats for Round 10 of Lonewolf:
Finally as always feel free to join #lichessledger on Slack if you want to help or contribute in any way to this newsletter.
---
Chess For You
2017 Nordic Championship
by @Aliquantus
After being hosted outside Sweden for 25 years, the 2017 edition of the Nordic Championship was hosted in Växjö, a city of 70,000 inhabitants in southern Sweden. In recent years, Växjö Schackklubb has established itself as one of the main organisers on the Swedish chess circuit. This time, 121 players from the Faroe Islands, Iceland, Denmark, Norway, Finland and the host country descended on Växjö to try to become Nordic champion in one of four categories: Open, 65+, 50+ and Women. Aside from money and eternal glory, the winner of the Open section was promised a spot in the next World Cup.
Why not more players? The Swedish Championship is currently underway in Stockholm (with 900 registered players), starting only a week after the Nordic Championship. Playing two nine round tournaments back-to-back is probably too much for most people. What about the Norwegians? Somehow they managed to schedule their championship concurrently with the Nordic Championship, a decision leading to open criticism from Jon Ludvig Hammer.* This meant that the highest rated Norwegian came in at 2092. With the top players of Norway out, the heavy ranking favourite was Nils Grandelius of Sweden, coming in at 2655, 101 points higher than second seed Erik Blomqvist. In the end Grandelius would finish second (on tiebreaks) after the experienced Jóhann Hjartarsson of Iceland, who thus qualified for the World Cup.
Complete results: http://member.schack.se/ShowTournamentServlet?id=4764
As for my own tournament, I got trapped in the so-called "swiss elevator", alternating between clearly stronger (with White) and weaker opponents (with Black). Although I played very well strategically in most of my White games, I scored a measly 0.5/5. In three of the games I was +2 around move 30, only to collapse in time trouble every time. (It's not for nothing that I am board 1 of "Never Not in Zeitnot"). With Black I was clearly worse in 3/4 games against weaker opposition, but still came out with a score of 3.0/4. Overall, I guess I'm happy to get great positions against strong players, but unhappy about botching them.
White:
Score: 0.5/5
Opponent ratings: 2505, 2327, 2287, 2313, 2420 (average 2370)
__________________
Black:
Score: 3.0/4
Opponent ratings with black: 1891, 1397, 2027, 1834 (average 1787)
I have included sequences from two of my games. The first I found instructive because it shows how quickly a strong player (not me) can turn around a bad position if the other player (me) is not careful (I wasn't). The position quickly went from "complete control and slow conversion" to "he just played five straight tempo moves and I lost control, what's going on??". The second showcases how one can exploit a weak colour complex around the king.
*https://www.chess.com/no/blog/SultanOfKings/skandalekollisjon (Warning: It's in Norwegian and on that other chess website. Title: "Scandal collision")
---
Chess Puzzle
From a round 11 game on board 1 of Lonewolf (a deciding game for the medals): @heimoelo vs @chess4life. White just played Bc8. Black to move. Difficult sequence of moves to spot, but it gives black a decisive advantage!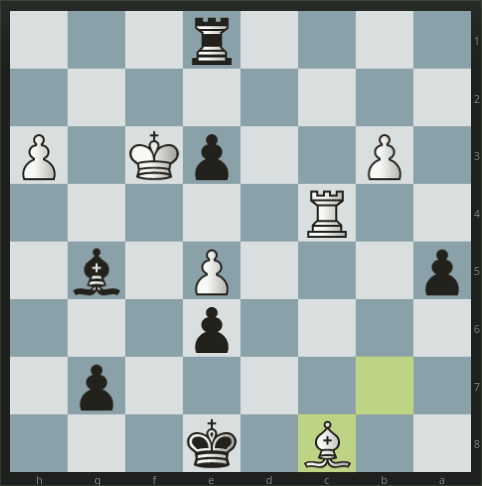 For the answer see gamelink.
Lichess4545 Ledger #032 ©2017 by Thienan Nguyen is licensed under a Creative Commons Attribution-NonCommercial-ShareAlike 4.0 International License

Thanks to @Aliquantus, @quirked, @somethingpretentious, @petruchio, @chessanalyst, and @kferapont for contributions this week.