Lichess4545 Ledger
Issue #031 - July 4, 2017
State of the League
We are already onto round 4 and only one team remains perfect with six match points, "Overworked and Underpromoted." It will be difficult to keep that lead for the rest of the season. Who knows, maybe they win the end of season award for biggest team collapse.
If you haven't been following closely, two members of the lichess4545 community have been recently competing in some big time OTB tournaments. IM Lovlas is still competing in the Norwegian Championship Elite group. @Aliquantus recently finished the 9 round Nordic Championship scoring 3.5/9 having to face 5 titled players in 9 rounds. We were and are cheering for you!
The final round of Lonewolf is this week! It's come down to the wire and board 1 and 2 will decide it all. The top 4 players with 8.5 or 8 points are matched up in the final round. Who will come out on top?!
Quick updates on the other leagues
Round 11 of Lonewolf starts this week. Best of luck!
Competition is still going strong in #ladder! For new members check out #ladder on slack.
#Blitz-battle: Blitz-battle #15 was played on Sunday with Atrophied narrowly getting first place by the narrowest of margins on tiebreaks. Congrats! See the summary here.
Notable Lichess4545 community member video/contributions:
ChessLeagueTV covers King and Pawn and some rook endings. In the Bottom Board Bonanza check out @marshmallow55 vs @noKlu and @j7barbs vs @tnan123. @tnan123 joins the stream after his game to give some thoughts on the game.
@Quirked is again joined by @Chessanalyst to cover @TonyRo vs @FelixNL and @Little_Dead_Bertha vs @KFerapont
@Chessanalyst has started live streaming his 45+45 games. Check out @kilderis vs @ChessAnalyst
@archone returns with a weekly annotated game. @archone vs @yago666
Weekly Stats
Thanks to @somethingpretentious for his work to automate the process of coming up with these stats. It is much appreciated!
Stats for Round 3 of Team (45+45):
Biggest upset: 451 point difference jamboger 1152 against Napoleon_Solo 1603 Gamelink
Lowest ACPL game: 6 ACPL TonyRo against FelixNL Gamelink
Lowest combined ACPL game: 13 combined ACPL TonyRo vs FelixNL Gamelink
Highest ACPL game: 118 ACPL Little_Dead_Bertha in loss to KFerapont Gamelink
Highest combined ACPL game: 209 combined ACPL Delpire vs RaitonvsFuuton Gamelink
Longest game: Reached move 101 GorathGER vs mariuseg Gamelink
Quickest mate: Mate on move 15 vadsamoht against ChukoDiman Gamelink
Fastest draw: TIE Ends on move 30
Fastest resign: Resignation on move 19 by kjfoster17 against Le_charpentier Gamelink
Longest think: 20 minutes 42.0 seconds on move 29 by ya_boy_Agent against GoldenPepe Gamelink
Most time left: 69 minutes 3.0 seconds joecupojoe in draw vs rsava Gamelink
Most time spent: 112 minutes 24.0 seconds GorathGER in loss vs mariuseg Gamelink
Stats for Round 10 of Lonewolf:
Biggest upset: 337 point difference Injektilo 1860 against Malamutt 2197 Gamelink
Lowest ACPL game: TIE 7 ACPL
Lowest combined ACPL game: TIE 15 combined ACPL
Highest ACPL game: TIE 102 ACPL
Highest combined ACPL game: TIE 145 combined ACPL
Longest game: Reached move 80 chgreg vs aplause Gamelink
Quickest mate: Mate on move 17 by gloup against kani501 Gamelink
Fastest draw: Ends on move 26 flaxl vs Watershogun1 Gamelink
Fastest resign: Resignation on move 6 by MarStem against chessi96 Gamelink
Longest think: 12 minutes 21.0 seconds on move 12 by god666 against yago666 Gamelink
Most time left: 34 minutes 53.0 seconds by Lynnpv against glbert Gamelink
Most time spent: 66 minutes 37.0 seconds chgreg against aplause Gamelink
Finally as always feel free to join #lichessledger on Slack if you want to help or contribute in any way to this newsletter.
---
Chess For You
Adventures and Misadventures in the 2... d5 Alapin
by @Seb32
---
Chess Puzzle
From a round 3 game on board 6 in 4545: @leinax vs @elusiveness. White just played Rxc2. Black to move.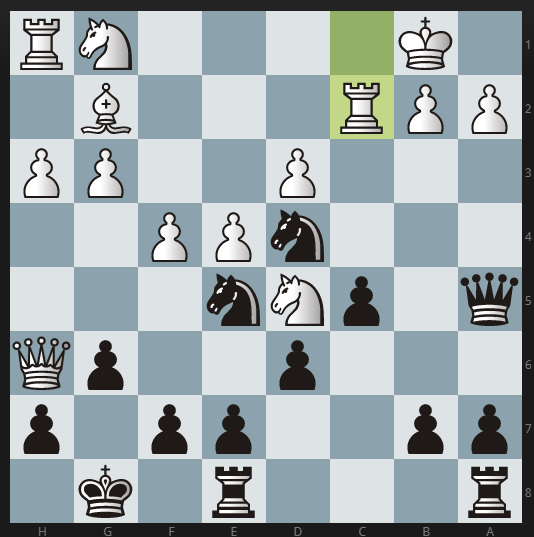 For the answer see gamelink.
Lichess4545 Ledger #031 ©2017 by Thienan Nguyen is licensed under a Creative Commons Attribution-NonCommercial-ShareAlike 4.0 International License

Thanks to @quirked, @somethingpretentious, @petruchio, @archone, @yungpirc, @chessanalyst, and @seb32 for contributions this week.