Lichess4545 Ledger
Issue #029 - June 19, 2017
State of the League
Thanks to all the people who have expressed interest in contributing to the Ledger, we have tons of content! I hope people continue to share videos, pictures, writings, chess anotations and anything else they have to share! It's all great stuff. You can only get better at doing it by actually doing it consistently; so, look out for more content from the contributors below in future installments of the league newsletter.
The first round of the team tourney kicked off this past week with 26 teams. People are doing a great job scheduling their games. There are some great team names once again this season! After round 1 nine teams are tied for the lead with Overworked and Underpromoted and Summer Pawn Storm having the best tiebreaks.
For those who are interested, @Atrophied is planning to lead a study group. See the #chess-study channel on slack. "I'm thinking maybe two study groups: one for beginners/intermediates with Logical Chess Move by Move or a different book and another for more advanced players with Mastering Chess Strategy. Looks like Sunday 1700-1900 UTC won but I have a conflict with that next week. Let's plan to start on July 2nd which gives everyone time to purchase the book: https://www.amazon.com/Mastering-Chess-Strategy-Johan-Hellsten/dp/1857446488"
Quick updates on the other leagues
Round 8 of Lonewolf starts this week. The Lonewolf mods have noticed a high number of forfeits! If you sign up to play one 30+30 game a week please honor that commitment, or speak to the mods if you have difficulties.
Competition is still going strong in #ladder! Props to @glbert for playing and climbing to #12 recently. For new members check out #ladder on slack
#Blitz-battle: Will be returning soon! If you are interested check out #blitz-battle on slack.
Notable Lichess4545 community member video/contributions:
ChessLeagueTV is back with a new host! Thanks for continuing this @quirked!
Quirked also covers quite a few games from Round 1 in the Bottom Board Bonanza. He covers @scarff vs @tazdevil and @dahdah vs @saxton47.
He is joined by @chessanalyst to cover @qualm vs @lrish in Episode 1 of Season 8.
A few Lichess4545 members this season have expressed interest in sharing game annotations for the Ledger. Thanks so much!
@archone has annotated his Round 1 game (archone vs revoof) for the Ledger. He plans to do this weekly!
@kferapont annotated a game between @mariuseg and @rakpyrogravas. @kferapont blogs about chess and shared this game where he goes over ideas in the KID (Blog Post).
@quirked has annotated all his games from the 10th New York International where he finished first in the U2200 section with 5.5/7!! Congratulations! (A single chapter is embedded here. To see the rest of the games, go to the lichess study.)
Weekly Stats
Thanks to @somethingpretentious for his work to automate the process of coming up with these stats. It is much appreciated!
Stats for Round 1 of Team (45+45):
Biggest upset: 423 point difference jamboger 1132 against B_Sharp 1555 Gamelink
Lowest ACPL game: TIE 9 ACPL
Lowest combined ACPL game: 19 combined ACPL SMC vs FelixNL Gamelink
Highest ACPL game: 107 ACPL B_Sharp in loss to jamboger Gamelink
Highest combined ACPL game: 177 combined ACPL jamboger vs B_Sharp Gamelink
Longest game: Reached move 72 InfernalJumble vs S3pp Gamelink
Quickest mate: TIE Mate on move 28
Fastest draw: Ends on move 24 VVvenomVV vs Lynnpv Gamelink
Fastest resign: Resignation on move 13 by Delpire against Sammy_Jankis Gamelink
Longest think: 16 minutes 1.0 seconds on move 18 by InfernalJumble against S3pp Gamelink
Most time left: 66 minutes 32.0 seconds Mooserohde in loss to OldTom Gamelink
Most time spent: 97 minutes 22.0 seconds InfernalJumble in tie with S3pp Gamelink
Stats for Round 8 of Lonewolf:
Finally as always feel free to join #lichessledger on Slack if you want to help or contribute in any way to this newsletter.
---
Chess For You
Altibox Norway Chess 2017
Having lichess4545 members from around the world is great! Some may complain that this can make scheduling games difficult at times, but It also means we get members who can share a unique look into the chess world outside of the usual online venues. Prune2000 has graciously shared the following pictures from Altibox Norway Chess 2017 with the Ledger.
If you follow professional tournament chess, this is one of the largest tournaments each year! See below for an inside peak with pictures ranging from what the venue looks like, candid shots of top players, to the intensity they show as they sit down at the chess board. Congrats to Levon Aronian, the 2017 winner! Be sure to check out https://lichess.org/blog for more photos, annotations and coverage of Norway Chess 2017.
Photo Credit: © 2017 by Prune2000
Images are linked and can be clicked for larger size. Format may not be the best for small screens (mobile).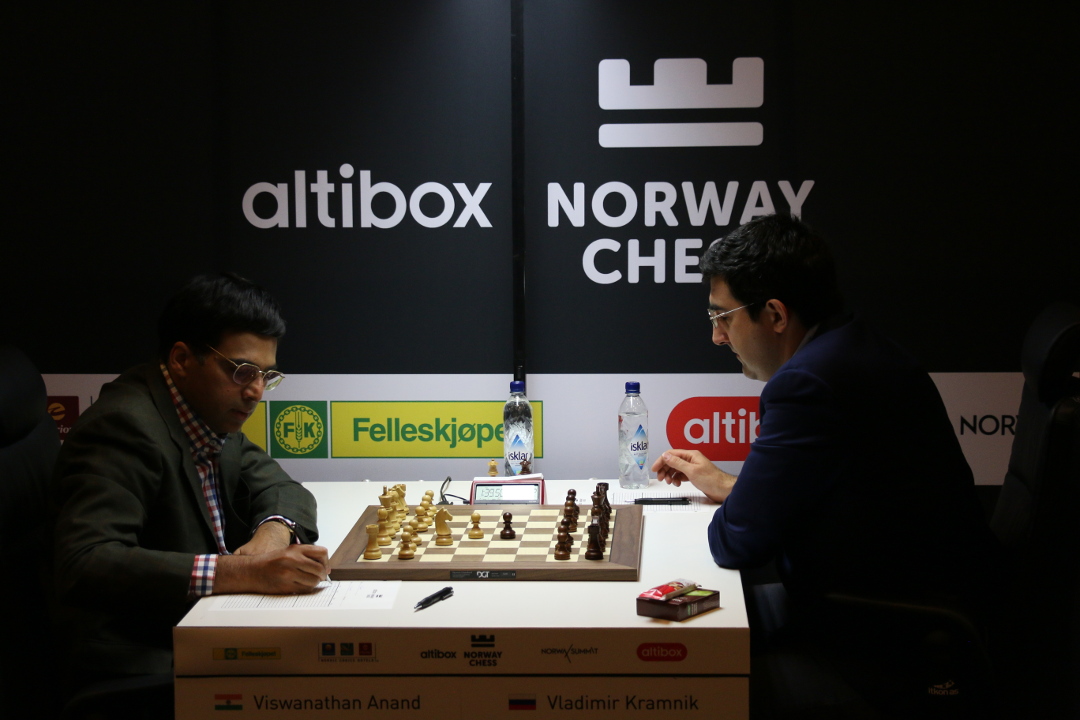 ---
Chess Puzzle
From a round 1 game on board 6 in 4545: @dose7781 vs @guanm. White just played Qf1. Black to move.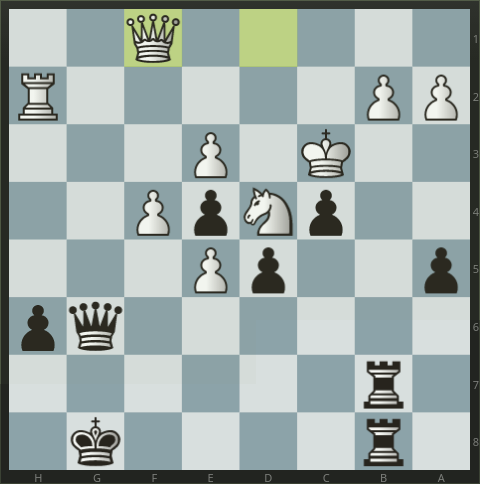 For the answer see gamelink.
Thanks to the lichess4545 mods for their contributions. Thanks to @petruchio and @somethingpretentious for help in editing this issue.
© 2017 ALL RIGHTS RESERVED
© 2017 Photos by Prune2000