Lichess4545 Ledger
Issue #028 - June 12, 2017
State of the League
Welcome to all the new members and welcome back to all the returning veterans! Season 8 starts this week. You've all hopefully gotten acquainted with your teams and are ready to battle in some online, long time-control chess. Best of luck to all those in season 8! Thanks to all who donated to cover the cost of the season 7 Youtube Review which will be done by @Atrophied. We've reached the goal of $150 and chosen the 6 games. Stay tuned to @Atrophied's youtube channel in the coming weeks! This ledger will be a longer one due to the summary of the extensive season 7 survey results. Thanks so much to @boviced for taking the time to go over all the results and put together the summary for the ledger!
Rules updates: Please take a look at the rules document which now has a changelog at the bottom. Two modifications/updates were added to the 4545 league rules during the offseason.
Be sure to check out the lichess4545 slack notifier Android app developed by @cyanfish. If you've had issues with getting notifications via the slack app on your Android phone, this should help! (https://play.google.com/store/apps/details?id=com.lichess4545.slacknotifier)
If you want to help or contribute in any way to The Ledger, feel free to join #lichessledger on Slack.
New Chesster Feature to Update Availability
Those of you who have had issues with needing to summon a mod or captain just to tell them you will be unavailable and need a bye or alternate can now set their availability themselves. For those in Lonewolf this will automatically give you a bye for the next round without having to bother a mod to request a bye. For those in the team tournament this will tell chesster to search for an alternate for you in that specific round.

To do so you can send a direct message to chesster with the following edit availability <league> (where league is either Lonewolf or 4545) to get a private URL to edit your availability. For example:

After clicking the URL you will be directed to a screen that looks like the following to change when you are available/unavailable.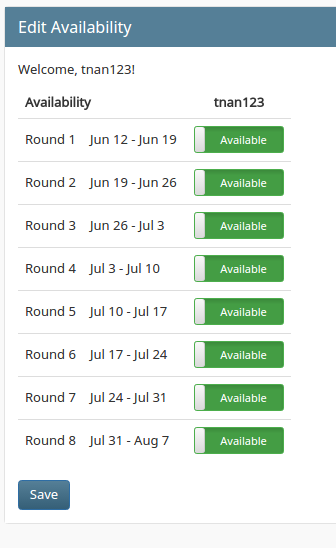 ATTENTION CAPTAINS: For team captains you can now use the exact same command in a direct message to Chesster to see (and edit) availability for all their teammates in one spot. This will make life for Captains so much easier!

Quick updates on the other leagues
Round 7 of Lonewolf starts this week
Competition is still going strong in #ladder! No major updates. For new members check out #ladder on slack
#Blitz-battle: Will be returning soon! If you are interested check out #blitz-battle on slack
Notable Lichess4545 community member video/contributions:
@rescinded Elo Ranking project. "I've updated my attempt at ELO rankings so, at least distribution-wise, it looks decent. The list only includes people who have been active in the last 10 weeks, with over 5 games played. I'll be testing it's predictive power in the next few rounds to see how much adjusting I need to do."
https://rescinded.shinyapps.io/EloRatings/

Atrophied Live Commentary of Lonewolf Round 6
Weekly Stats
Thanks to @somethingpretentious for his work to automate the process of coming up with these stats. It is much appreciated!
Included are stats from round 5 and 6 of Lonewolf when the ledger was on a break.
Stats for Round 5 of Lonewolf:
Stats for Round 6 of Lonewolf:
Stats for Round 7 of Lonewolf:
Biggest upset: 358 point difference blekinge 1722 against mariuseg 2080 Gamelink
Lowest ACPL game: 7 ACPL by glbert against Vevochi Gamelink
Lowest combined ACPL game: 21 combined ACPL TIE
Highest ACPL game: 97 ACPL gimbi in loss to SpiteKnight Gamelink
Highest combined ACPL game: 154 combined ACPL SpiteKnight vs gimbi Gamelink
Longest game: Reached move 69 david-innes vs CaptNCarter Gamelink
Quickest mate: Mate on move 26 by SpiteKnight against gimbi Gamelink
Fastest draw: Ends on move 27 Patrick-66 vs hetraie Gamelink
Fastest resign: Resignation on move 10 by kjfoster17 against tonychess75 Gamelink
Longest think: 10 minutes 35.0 seconds on move 10 by kleyveu against Boviced Gamelink
Most time left: 46 minutes 17.0 seconds david-innes in loss to CaptNCarter Gamelink
Most time spent: 56 minutes 56.0 seconds wardsstone in win vs chgreg Gamelink
---
Chess For You
Season 7 End of Season Survey Write-up
by @Boviced
First and foremost, thank you all who have taken the time to complete the end-of-season survey. This is a community based league and without the input of those who participate this league will be unable to evolve and improve on itself. That said, here are the results and my interpretation (not that it matters) of the survey data.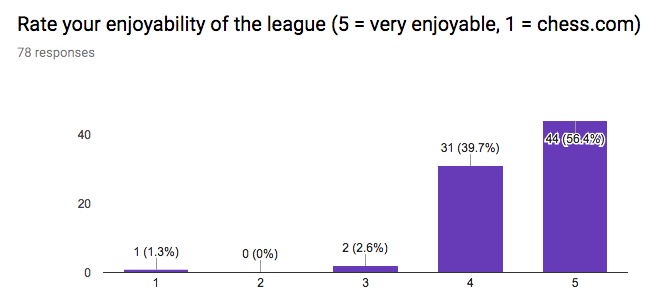 Just about everyone enjoyed themselves this season. Season 7 had the highest participation thus far and for the results to be overwhelmingly positive says something about this community and those people that sacrifice their time to make this league a reality. In case you are wondering, the one negative vote was from someone on a poor performing team. I just want to say this to anyone who is on a less successful team and who feels disappointment in their enjoyment of the league: I think playing chess makes you automatically a competitive person, at least to some degree. No one likes losing, I know I don't, but in my opinion, this league isn't about winning or losing. It's about learning and enjoying the great game of chess with people who share the same passion. I urge everyone to try and share this philosophy in the future.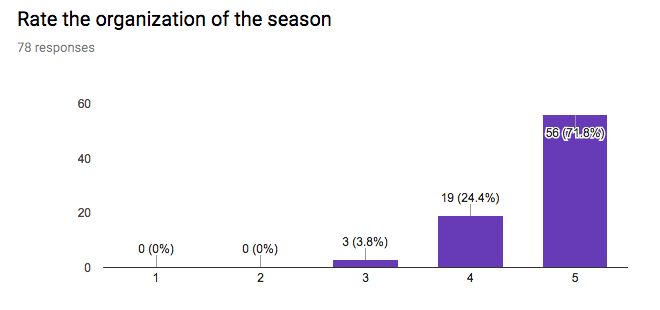 Again, season 7 had the highest participation to date. I think there is a special thank you in order for @endrawes0, @lakinwecker and anyone else who has worked on @chesster. The "little ant" does a big job and helps tremendously with the organization of the league.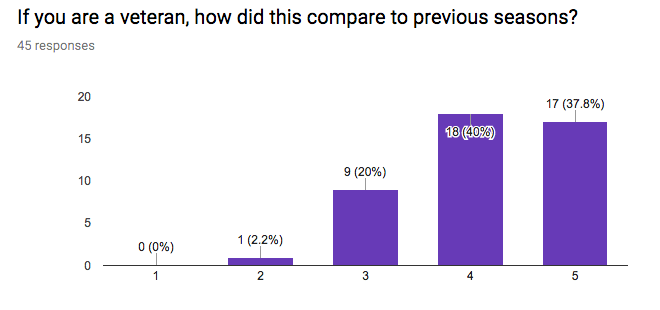 Season 7 was my fourth season in the league and about 58% of participants who responded to the 'end of season survey' are veterans! That alone says something about the community that has been built here. Overwhelmly positive opinions! Alas, this is the first season that I have observed that cheating was a real issue and could explain the '3' and '4' votes.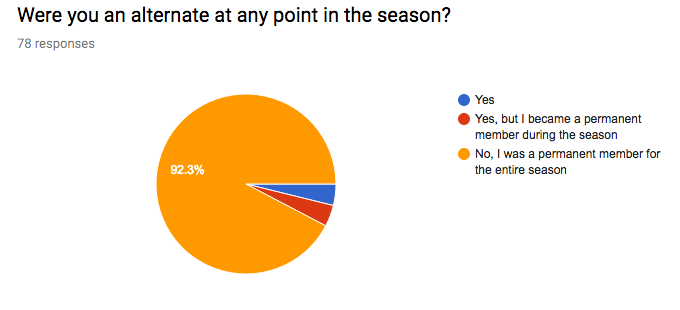 I agree that alternates don't really seem to be "part of the league". As a result, some of them do seem to go missing in action during the season. This can have a negative impact on the league as it becomes increasingly difficult to find alternates for some boards. Perhaps, when players are designated as an alternate for the season they can be made aware of the other ways they can participate with the community; Lonewolf, Ladder, Hand and Brain, pick-up games, weekend study groups, etc. Maybe we can have volunteer ambassadors to alternates and new members, just to start a friendly conversation welcoming them to the league and showing them the other great things that happen here?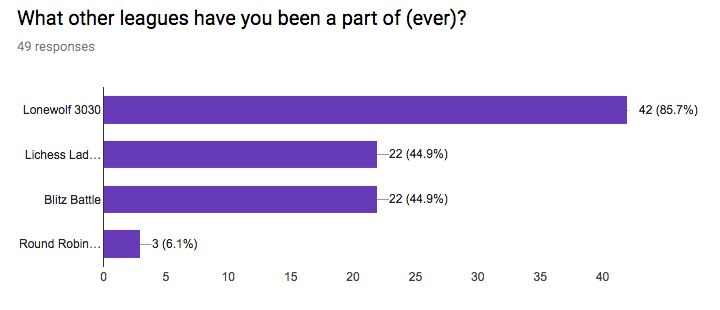 There is so much more to this community than just 45+45. Players are constantly playing pick-up games, creating new leagues, helping each other study, and just talking about chess. I think a lot of what happens on the side goes unnoticed, especially to new members and alternates. This is such a fantastic community and we should show off all that happens here.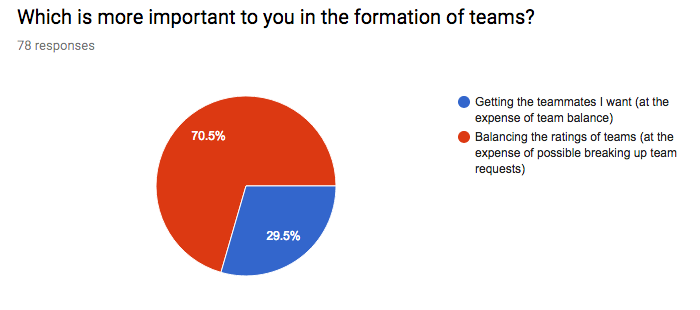 A vast majority want balanced teams and I tend to agree with that. Yes, having more control of your team will add more competition but with more competition comes the increase of the temptation of cheating. Additionally, new players would be put at an unfair advantage if they come to this league, like most do, solo.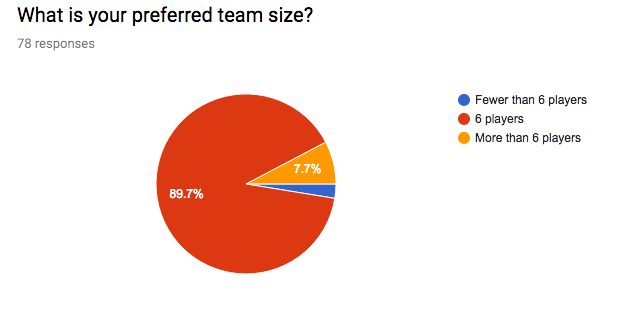 Nearly 90% like the 6 player team size.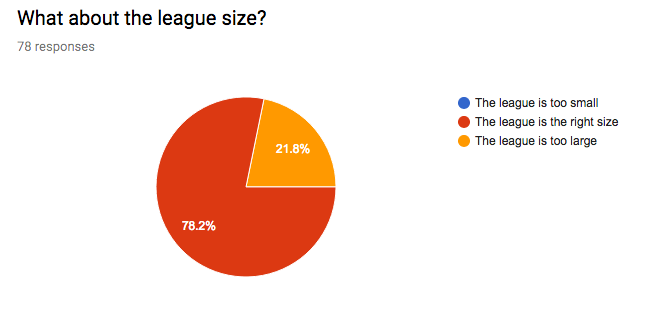 Well, no one thinks the league is too small. I agree that this is about the right size, about 22% believe it's too large and I can see their point. Perhaps it's something that will need to be discussed in the future if the league continues to grow in size, because again, I feel that if the league is split into two it will be the beginning of the end.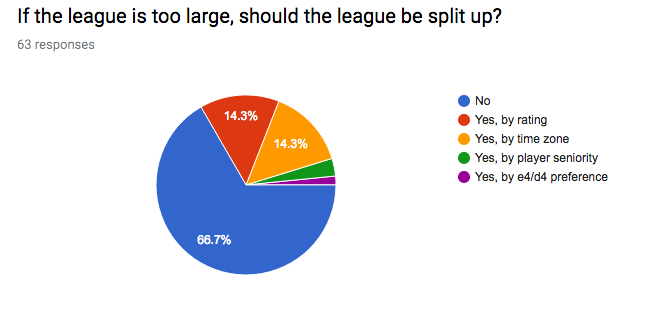 I personally am 100% against splitting the league, 65.1% agree. I believe that the moment the league is split into two will be the beginning of it's demise, we are stronger as one!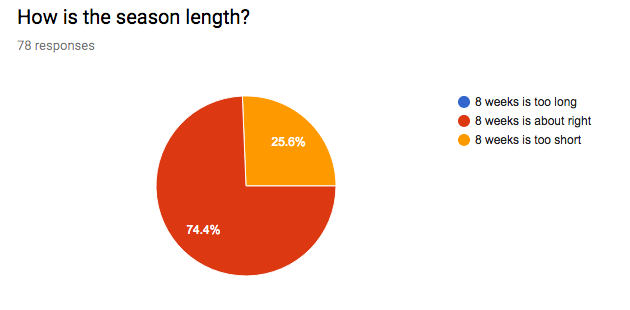 I'm really glad not a single person said, "8 weeks is too long". 8 weeks to me does seem like the right amount of time for a season. If it's any longer, participants losing interest can become a much more serious issue.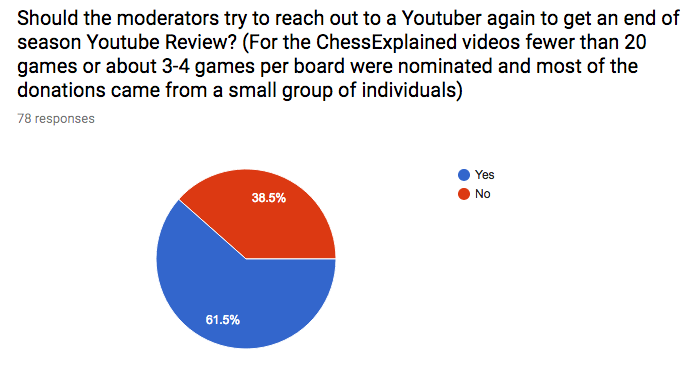 I personally enjoy the analysis videos. They do tend to be a little expensive but for those of us who have no idea how to analyze a game or can't watch every game live, it's a great opportunity to watch some good games while learning a thing or two.

John Bartholomew (7 votes)
Chess Explained (3 votes)
Chess Network (3 votes)
Fins (3 votes)
Ginger GM (3 votes)
Lovlas (3 votes)
Any (2 votes)
Atrophied (2 votes)
Simon Williams (2 votes)
Tony Ro (2 votes)
Astaneh (1 vote)
Chessbrah (1 vote)
Danny Rensch (1 vote)
David Pruess (1 vote)
King Crusher (1 vote)
@Atrophied has agreed to do the Season 7 Youtube Review! Be sure to thank him for his time and analysis. Or better yet, help cover the cost! Donate at PayPal.me/mrlegilimens.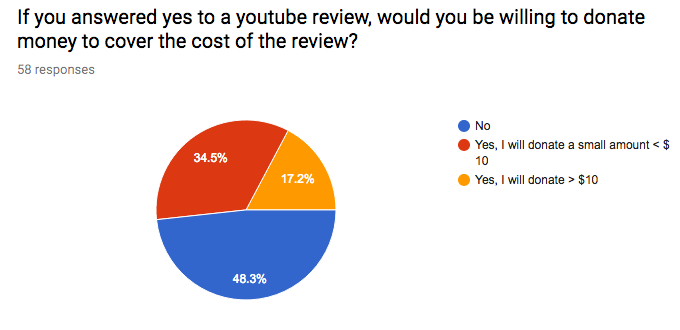 It's so awesome to see more than 50% of those surveyed willing to spend their own money to help make this community such a great place!

Five non-serious and blank responses were omitted from this summary.
I

'm not sure what would be best, but I do like the idea of a special thing at the end of a season. The analysis videos are expensive and there doesn't seem to be enough interest to warrant them.

Best two players on each board play a winner takes all match for $15 prize. The player with the best score going into the match gets white. If the game is drawn split the prize. This rewards players on teams who did great on their board during the season.

Some awards and maybe a group discussion via Discord to talk about future seasons.

We could have a nomination of games for best endgame, best queen sacrifice, best king hunt, etc., and then have league members submit their own commentary to a top 3 in each category.

An end of season stream featuring the winning team and/or the medal winners in some of the boards analyzing their own games or recapping the season would be great. Or, if that's too hard to organize and you want to do a youtube review, why not any of the strong players we already have in the league?

Let the YouTube reviewer decide (more) which games he reviews.

I really like the awards. I'd like to see some more creative/casual awards being thrown in there.

Maybe a participant would do it for free.

Some kind of "champions vs the rest" match would be fun. Not sure how you would select the team for the rest, maybe performance rating.

Something like a tournament book lite would be totally rad...like a compilation of the most interesting positions that came up in league games, with some decent analysis. yago666 spectated pretty much every game so you could just ask him to take some notes next season ;-). Seriously though, I think fuzz0410 compiled some tactics for a couple weeks in season 6. And I saw plenty of pretty combos while spectating this season. It would take a motivated volunteer(s) and some added chesster functionality enabling spectators to alert the ledger team of games worthy of additional attention. Sorry, guess this is not so much a suggestion for what we should do in lieu of a season 7 review, rather an idea on how we can enrich the ledger (i.e. weekly 'chapters' which could be compiled into a 'book' at the end of next season)
I really like the idea of using discord to have a group discussion. I believe we already have a weekly study session, but I may be wrong about that. But, an end of season review may be a nice idea. I personally don't like the idea of adding prize money as that would attract more cheating.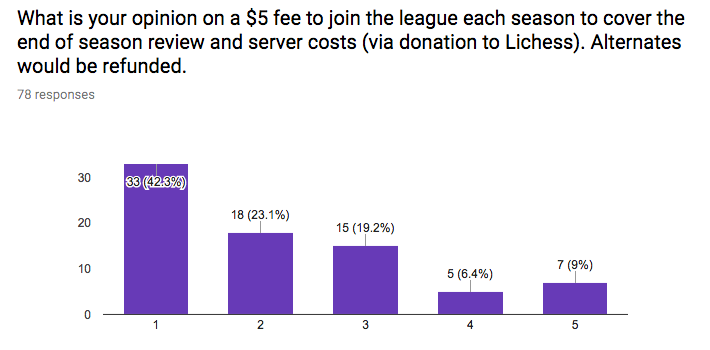 (For the table 1 - Terrible 5 - Great)
A vast majority of those surveyed are against a $5 fee to participate. There are some real costs to run this league and I completely understand why the mods would want to explore this idea. Fortunately, the admins of Lichess.org have allowed us to piggyback on their servers! Please, show them your thanks and consider becoming a Lichess Patron and donate money to lichess if you don't already! https://lichess.org/patron

10 responses were similar to, "rules were fine as is" and were omitted from this summary.
Allow more flexibility in choosing teammates. Being on a team with a cheater sucks and allowing teams to be formed by looking for teammates you trust would help alleviate this. Cheaters would be relegated to new players and players would be encouraged to stick around to stick with their team.

I would forbid cheating. :-)

​Reduce the time to contact your opponent to 24-36 hours. Pairings are released each week at the same time. There really is no excuse to not contact your opponent within 12 hours.

I'd like a review of possible solutions for teams affected by cheaters. This may be in part because my team was affected by several cheaters during the season. While current policy is 100% justified and easily implemented, it seems harsh that players who are largely randomly grouped together (at least our team was) esssntially got penalized by forfeiting multiple games of a cheater in our midst which we really have no control over. Several of my team mates had extraordinary seasons and it's sad to see their results overshadowed by forfeited games on specific boards. That said, I don't know what is an alternative solution that would be fair to all affected teams, or easy to implement. Perhaps the games can be unplayed draws instead of forfeits, essentially taking the board affected out of each match's equation. Maybe that's unfair to the non cheating team. I don't know, just something that's on my mind recently.

Longer Seasons

If possible, I would review cheating on a case by case basis to see if vacating all wins is warranted.

The size of the league is becoming a very real problem, and with the large number of teams and small number of rounds, the majority of teams will never have anything to do with each other. This will get much worse as the league grows. I'm terrible at explaining these kinds of things, but one potential way of solving this may be to split the league up into two sections that operate independently in terms of pairings and scoring. This allows the more preferable situation of having fewer overall teams, while at the same time reducing the impact of larger teams where players feel as though their contribution makes little overall impact. As an example, Team Caro would have, say, 5 players in Section 1 and 5 players in Section 2. All 10 players are in the same group chat and help support each other, but in a given round the Section 1 players may be doing well and playing against Team Rook for first place, while the Section 2 players are playing against Team Lemon to stay in the top half of the table. Thus, the two tournaments are run essentially separately but with substantive links between the teams in each.

Immediately kick from the league anyone who joins and starts spamming the main channels with stupid questions that can be solved by taking five minutes to read the rules and the FAQ. Ok, maybe you don't have to kick them, but seeing people ask dumb stuff, disturbing the mods when they could solve their problems by themselves, just by showing a bit of interest to look up the things that they ask before having other people do the work for them (i.e "When do the pairings come out?") drives me mad. You mods already do too much, you don't have to put up with these people. Also, the inactivity of some alts is a bit annoying. If an alternate is inactive for two weeks straight, he should be removed from the alternates list and banned from being a team member for one season (or something along those lines). There are a lot of people willing to join the league and play, and uninterested folks just make the searches go slower and the schedule problems pile up.

48 hour rule still needs clarification and has been applied differently in different circumstances throughout.

Force more people to actually read it before asking dumb questions? Good luck :)

Same amount of teams/less teams and more boards would be better way of expanding than more teams, which is what this season did. With only eight weeks, the standings don't feel as competitive or fun with so many teams. The Caro-Kann was played against me once and I'd like that person who played it against me to be banned post haste.

I think there should be a defined deadline for making contact with your opponent. It's loosely set by captains right now (Wednesday-Friday ish), but I feel like if deadlines were set, there would be less pressure on captains to wait until last minute to mark their player unavailable -> late alt search -> having to play board up etc.

maybe if possible make teams of players in the same time-zone

Allow more ability for titled players to play. Having some way to attract them is, I think, very important for the league. Many people will be attracted just to watch.

Make an anti-cheating campaign a more prominent part of registration.

if a player has been determined as a cheater all the boards played below the board the cheater played on should be defaulted as well.

Divide the league into similar time zones

Maybe put some thought into a fair way to handle situations where sufficient notice is given that a player is unavailable, but the alt system is unable to get an alternate in time. It seems a bit unfair to give teams 0 pt forfeits if they put in for an alt on the first day or so after pairings are up. Could be a half point bye if alt is requested by 0:00 Tuesday or something.
There are some really good suggestions here but I will keep my opinions to myself here as I am not a mod and have no say.
11 responses either said, "things are great as is" or offered a non-serious suggestions and were omitted from this summary.
Chesster needs a command to do time zone calculations for us

make chesster able to run team correspondence battles in slack

I'd love to see the ability to set your availability via @chesster fixed; I hate bugging the mods just to say I need to request a bye. As for the website, the bit where it says the pairings are up (in the Announcements section) used to be a link to the pairings, but that went away this year. It's silly, but it does save a click.

Make it easier to see overall player scores for each board, e.g. by providing scores next to the names on the team rosters page.

They're great. Maybe just put scheduling times in local time rather than UTC on the pairings page, but that's very minor

The website has a lot of cool pages, like the alternate searches or the player scores by board. However, I can't see how to get to them through the top menu, and I bet most people don't even know they exist. Make the pages accessible without having to type the URL!

I saw somebody post a link to the performance of each board, but couldn't figure out how to navigate to it from the homepage.

Rewrite in Perl instead of Python and NodeJS

Give chesster slightly more user friendliness (he's an ant though so how friendly can he be). Otherwise these things were great.

I like it the way it is. But add a command to bring up your or anyone's scheduled time to play.

Stats for Individual boards, although it's pretty great anyway

Let it remember my username or team

chesster needs better regex.

Perhaps a list of mods could be posted on the website, just for information purpose.

If it looked a little more flash, I wouldn't complain. Would even toss a few kopecks if we had the numbers. But I think it's fine the way it is. No complaints.
Again, there are some really good suggestions here but I will keep my opinions to myself as I am not a mod and have no say.

Three responses that offered no suggestions and 13 responses that extended their appreciation and thanks to @tnan123 for his work on the ledger each week were omitted from this summary.
It might be cool to have an annotated game each week, either by the player or someone else in the league. It's something I've considered offering, but I've never done it before and don't know how good I'd be at it or how much interest people would have. (If this is an idea there's interest in exploring, please contact me on Slack.)

More content on specific topics (openings, endgames) maybe. I know that's not an easy thing to do though, and it's great as is.

Some set, weekly categories that might be easier to contribute to. (Chess video of the week, opening of the week, chess.com joke of the week, poem of the week?)

it's pretty good as it is, if you put more content in you'll lose readers I think.

More examples of exciting/brilliant games from the week. I know there's some nomination thing going on for an end of the year thing, but I think there must be some way to streamline it through chesster and then include some highlights in the weekly ledger. That way, end of the year voting will be easier.

More Publicity! I honestly just found out about it now by taking the survey. Maybe occasionally advertise it in #general. But yeah it looks great. Only just found out about it.

Put me in it more ;) Less prune2000. jk it's great!

It would be nice to see some more Coaches Corner

more puzzles! (srs ledger is rad)

Perhaps by marketing it a bit. I had no idea what it was and never looked until a week ago. I think it's great.

See above comment re: tournament book w/ chapters. More tactics, more studies! I love the ledger and I know it's a shit load of work for tnan123. I can help--I'm jivey

It's great. I didn't even know it existed until after the season ended. When I saw the word "Ledger" I didn't even know what it was. If it was called "Lichess4545 week __ review" or something like that I think it would get more views.
I agree that the visibility of the ledger isn't the best. Maybe a weekly email newsletter can solve this? Join #lichessledger on Slack and see how you can help contribute to the weekly ledger. Thank you @tnan123 and everyone else who contribute regularly!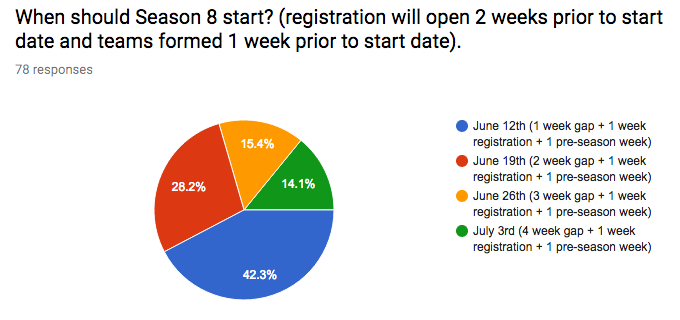 A majority of those surveyed want Season 8 to start on June 12. AND IT IS! Make sure you register for Season 8 here: https://www.lichess4545.com/team4545/register/

All of them (13 votes)
'All of them" had the most votes at 13! I omitted the results for the others in this summary because I feel like being a moderator shouldn't be a competition. Obviously, the mods have access to the data and can look up who had the most and least personal votes and if they wish, can use that information for personal development and assessment.
---
Chess Puzzle
From a round 7 game in Lonewolf: @trextchess vs @oloff. Black just played Rc8. White to move!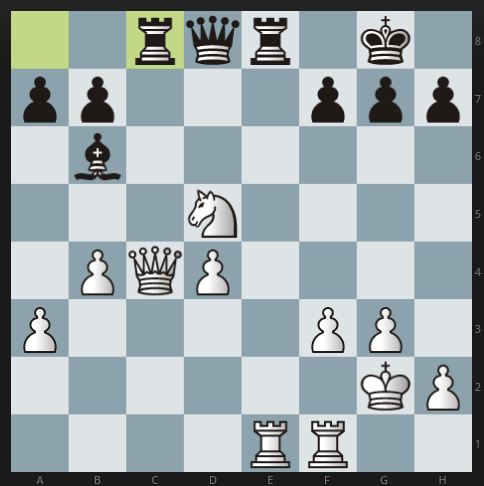 For the answer see gamelink.
Lichess4545 Ledger #028 ©2017 by Thienan Nguyen is licensed under a Creative Commons Attribution-NonCommercial-ShareAlike 4.0 International License

Thanks to the lichess4545 mods for their contributions. Thanks to @Boviced for the survey summary, @somethingpretentious for stats and the weekly puzzle, and @petruchio for edits.