Lichess4545 Ledger
Issue #026 - May 16, 2017
State of the League
We've approached the last round of the 45 | 45 Tournament. Isolated Puns is the sole team with 11 match points and a 1 point lead heading into the last round. 5 teams have 10 match points and any of these teams could catch the leaders depending on how many game points they are able to win in the final round. The battle for the top spots in the standings will be coming down to the very the last games. There are also several important announcements this week.
The last rounds of the tournament have been very busy with several players needing alternates and several players needing to be replaced. On many boards players have needed teammates to play up a board. Thanks to all those who have stuck through these issues and to all those who have been committed to playing all their games throughout the tournament :)
1. Server Costs: Many of you were made aware of the need to upgrade our servers for the lichess4545 site and @chesster. We made an announcement asking for donations recently and now have further news.
Lichess has stepped up and will host us for free! Thanks to all those who offered to donate. Please consider making a donation to lichess instead!
2. Game Nomination: With the final round already upon us, a reminder that nominations for the end of season youtube review are OPEN! We've had very few nominations so far, be sure to get the best games in to be chosen by sending @chesster a DM with "nomination 45." The Youtuber is yet to be announced.
3. End of season awards and statistics: If you have any awards from season 7 you'd like to nominate please send them to @tnan123. They will be compiled like awards from prior seasons along with season long statistics.
4. Survey and Season 8: The mods will shortly release an end of season survey which we use to plan for the following season including the start date for season 8. Currently you can sign up via this google form to be emailed about registration for season 8.
5. Lichess4545 History: Be sure to check out the new history page under the documents menu!
Quick updates on the other leagues.
Round 4 of Lonewolf starts this week
Competition is still going strong in #ladder! No major updates.
#Blitz-battle: Will be taking a break for now. Stay tuned for the next one.
Coaches Corner
This is a new feature in the Ledger and hopefully other chess coaches in our community will find time to contribute their ideas.
None this week
Notable Lichess4545 community member video/contributions:
@quirked's Study Session 2 from the previous week
Stats from Round 7 of 45+45: Thanks to @somethingpretentious for his work to automate the process of coming up with these stats. It is much appreciated!
Stats for Round 3 of Lonewolf:
Finally as always feel free to join #lichessledger on Slack if you want to help or contribute in any way to this newsletter.
---
Chess For You
Poem
by @fuzz0410
Twas the weekend before pairings
And all through the league
Not a d4 soul was stiring
Not even an 1.e4
The pieces were lined in their place
Awaiting the mods to release the chase.
The Shaming Nun had shined her bell
Ready to unleash her shaming hell.
And Chesster enjoying his last rest
Before his coding be put to the test.
When all of a sudden a vibration I feel!
A Slack notification I wonder what it could be!
I unlock my phone and wonder whom
Shall I dethrown
With a flick of my finger and a swipe to the left
Another click another tap trying to get through this app
There it is a message from that mighty tiny ant
Just a few words is all it took for me to battle ready my mighty rook.
As the ant scurried away and the mods calm one after another
Ill be prepping for you my fellow brother!
---
Chess Puzzle
From a round 7 game in 45+45 on board 4: @foxxxy_coxxxy vs @revoof. Black just played Rd3. White to move. An relatively easier puzzle to work on your calculation. See if you can spot the continuation that white missed.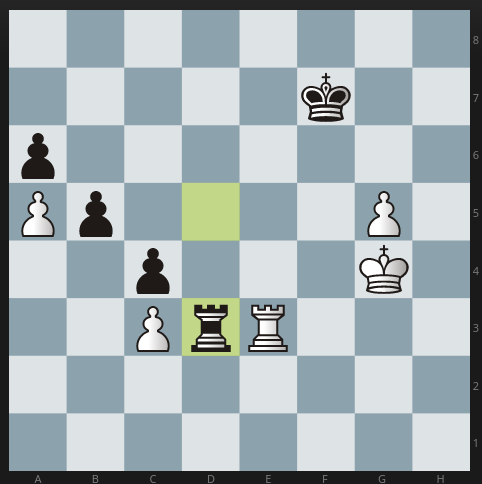 For the answer see gamelink.
Lichess4545 Ledger #026 ©2017 by Thienan Nguyen is licensed under a Creative Commons Attribution-NonCommercial-ShareAlike 4.0 International License

Thanks to the lichess4545 mods for their contributions. Thanks to @petruchio for his help in editing this issue. Poem by @fuzz0410.