Lichess4545 Ledger
Issue #025 - May 8, 2017
State of the League
There are only 2 more rounds to go, which means that the moderators need to start thinking about end of season things, surveys, compiling stats and awards, contacting youtubers. However, I encourage you all to continue to a strong finish. Many teams have had difficult seasons, but it's important to stay positive. By playing in a team you can help each other face the final challenges.
There has been an increase in the number of players needing to be replaced. We needed 20 spots filled by alternates this past round (replacing players who were red-carded, replacing unavailable players etc). The league exhausted all alts on the board 5 alternate pool and teams even needed to have a teammate play up a board.
Once again, a reminder that nominations for the end of season youtube review are OPEN! We've had very few nominations so far, be sure to get the best games in to be chosen.
Quick updates on the other leagues.
No major updates in Lonewolf
Competition is still going strong in #ladder! No major updates.
#Blitz-battle: Congrats to @alex_1987 who won again in the 5 player battle on 5th May. Mods may put out another survey due to low interest in blitz-battle.
Coaches Corner
This is a new feature in the Ledger and hopefully other chess coaches in our community will find time to contribute their ideas.
None this week
Notable Lichess4545 community member video/contributions:
Atrophied OTB Crazyhouse vs IM John Bartholomew
@TonyRo Friday Night Silliness
Stats from Round 6 of 45+45: Thanks to @somethingpretentious for his work to automate the process of coming up with these stats. It is much appreciated!
Stats for Round 2 of Lonewolf:
Finally as always feel free to join #lichessledger on Slack if you want to help or contribute in any way to this newsletter.
---
Chess For You
An Interview with @lovlas
Introduction
Lasse Østebø Løvik or @lovlas as many of you know him, is one of the very active members of the Lichess community and the highest rated player currently competing in lichess4545 tournaments. He recently got his 3rd and last IM norm required for the IM title. He is only waiting on FIDE. @lovlas agreed to do an interview for the ledger a while ago. We finally got questions out to him and he did a great job with all the questions.
Personal Chess Journey
1. Thanks a lot for granting me this interview! Tell us a little about yourself?
Thanks for having me! I am currently 24 years old and living in Bergen, Norway where I am studying law. Other than that I am involved with the Norwegian Youth Chess Federation.
2. How did you get started with chess/Who taught you? Did you have coaches? What resources did you use?
I actually have no idea who taught me the rules. My mom claims she did, so it was probably her. I only remember playing with my grandparents when I was really young. It didn't take long before I was completely hooked. Later we found an ad in the local newspaper for a newly formed kids chess club run by Tor Ketil Larsen who is rated around 2000 (I believe he was 1700-1800 around that time). He gave me some lessons and I grew up playing with similar aged kids. Two of them and myself got really good very fast so we in a way learned together and thrived on the competition. Later I attended NTG which is run by Simen Agdestein. But for the most part I am a self taught player, who prefers doing things my own way. For the most part I studied using books or by playing around in Chessbase.
3. What else was chess competing with for your time when you were younger? Why did you stick with chess?
I used to play a lot of handball and football. But there is something special about having full control over both the result and your own learning. Chess is special. You don't need to rely on teammates. At the same time it is an amazing feeling knowing that your achievements are your own.
4. Were there periods in which you had doubts about chess? Are there any negative experiences you'd like to share?
I have a couple of negative chess experiences. The first one was mostly funny. When I was 10-11ish I won an adult tournament. After I beat my last opponent he stood up and ripped the notation sheet in pieces then he just left with his clock still ticking.
In the last round of the amazing Gibraltar open my opponent offered to lose the game on purpose in exchange for 15% of the prize I would win. I of course respectfully declined his offer. He and his sandbagging friend was later banned from the tournament.
But all in all my experiences with chess are clearly positive. It has given me the opportunity to travel the world and make friends for life.
5. Was there a moment in your training where you felt things coming together in a new way or your understanding suddenly changed? What was that like and what led to it?
After my break from chess I become much more clinical and an overall better player. I guess the reason was that I had become an older and more mature person. This gave me a new perspective which has helped my chess a lot.
6. What was it like growing up in Norway? How did Magnus Carlsen affect chess broadly in your country and how has it affected chess for you personally?
To be honest I don't think MC has had a big impact on my chess. I started playing without knowing about him, and before his breakthrough. Of course I have been following his development and games closely.
MC has really revolutionized chess in Norway. Now everyone is playing and wants to learn more. Every tournament his games make the news. Some of the tournaments are even broadcasted on national TV. Before him chess players were looked down at. "Well, well, well, how the tables turn…" – Michael Scott.
7. Do you have any good stories about Magnus or other popular Scandinavian titled players?
I think my favorite thing that has happened in a Norwegian chess tournament was when Miezes declined a draw offer from Espen Lie by saying "no draw for bad Norwegian player." That phrase is now commonly used during game analysis.
8. Can you tell us about getting the IM title?
I made my first two norms in 2009, after that I worked way too hard and played too much. This resulted in me quitting for a few years. But I feel I kept my playing strength and the break gave me a new mentality and perspective on the game. Finishing the title wasn't that hard when I finally enjoyed playing again. Now I am just waiting for FIDE to get their head out of their ass and give me the title. But that takes time.
9. Are there plans for the GM title? What would it take for you to get it?
Not at the moment. I think I have some work to do if I want to become a GM, as I am still a step away. I am hoping that one day after my studies I will have the finances, time and motivation to try. But at the moment I am content with my current situation and title.
10. What would you tell someone who has ambitions to become a titled player?
In my opinion almost anyone can become a titled player. It just takes time and work. I think the reason that many stagnate is because of the training hours being spent poorly. Memorizing opening lines won't help you when you play stronger players who don't care. Knowing every endgame by heart won't affect the outcome if you are unable to reach the endgame. All it takes to become a titled player is having a decent understanding of every stage of the game. Due to the complexity of chess this can be easier said than done. I think most people really overestimate titled players. To be honest we are nothing special and chess is equally hard for us. We just have developed and learned better tools to deal with the problems that arises.
11. What are your plans for long-term career goals and how does chess fit into that?
I don't really have any long-term plans. At the moment I am content being a student and playing chess whenever possible. Hopefully I will be able to practice law while enjoying chess in the future as well.
12. You currently are in school. What are you studying and are you abandoning the hopes of being a chess professional?
I am currently studying law. A few years ago I studied physics, which was also fun. I never really had any dream or plan of becoming a chess professional and my progress was mainly a result of a love for the game. But I never had any plans or wishes of becoming a professional chess player.
Current Chess Activities
1. You currently are still very active with playing OTB tournaments, correct? Can you tell us about your recent tournaments?
"Very active" might be stretching it a bit. So far this year I have only played one tournament. But I try to always perform my best the few tournaments I play. My last two chess trips have been to Reykjavik, where I played the Icelandic national team championship. There I played like a god, and somehow managed to secure both my last IM norm and getting 2400. My team Skákdeild KR Frostaskjóli really deserves a shoutout. The amazing team atmosphere made it easy to perform and I am really grateful they gave me the opportunutiy.
2. What tournaments are coming up for you and what are the plans for 2017 in terms of playing OTB?
My next tournament is the national championship in July. Other than that I have no plans for 2017. Hopefully I will be invited back to the Icelandic Team Championship in autumn. As a student it can be very hard to stretch the budget. This forces me to find cheap or free tournaments. The IM title will hopefully make that a bit easier.
3. As an active tournament player what are your top tips for before an OTB tournament and then during the tournament?
One thing I learned from Simen Agdestein is that your attitude and daily form matters a lot. During tournaments it's very important to take care of yourself. This means getting enough rest and food. Your approach to every game and every opponent also matters. If you don't want to win or believe you can win, you won't win. It is important to realize that everyone makes mistake and you should be ready to capitalize on those mistakes, even if you are playing against a much higher rated player. The highest rated player I have ever beaten was one of the simplest games I have won. I just made simple moves and watched him self-destruct.
4. You also do chess coaching, correct? Tell us more about why you started coaching?
Correct. I was kinda thrown into it at a very young age and started coaching at schools. As my chess progressed I started coaching local youth talent and national talent. It is an awesome feeling knowing that you helped someone achieve their potential. The best player I have had the honor of working with is Aryan Tari who is now a Super GM. I can in no way take all the credit, but at least I can claim I worked with him along the way. He also deserves a shoutout. You can't find a more sympathetic and hardworking guy. It seems the sky is the limit for him.
5. How would you describe your coaching style?
I like to think of my style as relaxed. In my opinion the most important role of a coach should be to educate and motivate. This often means introducing material in a fun and pedagogic way. It is also very important to take feedback into account. If a player wants to look at something it's a smart idea to look at that. Learning shouldn't be boring or forced. I also find it important that both the coach and player have an open mind. If you refuse to try new positions or ideas you will never improve.
While coaching in OTB tournaments it is also very important that the player is in a good state of mind and the coach is in a perfect position to influence that.
6. You are also a very active member of the Lichess community. How did you learn about Lichess and why have you been so active with the Lichess community?
I started out playing on ICC when I was 10yo under the nickname lasse10. Then I was convinced to join chess.com, before @AssiOS showed me the power of the light side, Lichess. It didn't take long before I realized that Lichess was much better than both those sites. Last summer I was invited to join the Lichess team, and I have been loving every minute of it. They deserve a big shoutout. I doubt you could find a friendlier and more competent bunch of people anywhere.
7. Can you describe your work as a Lichess moderator?
It's hard to describe it as work. I feel privileged to able to contribute to such an amazing site with amazing people. I doubt most people realize how many reports are processed every day, and how fast the developers are able to push out new content and fix random bugs.
On a slightly similar note: I am currently working on a blog post on the French Opening. Hopefully it will be good enough to publish. But you never know.
8. Are you involved in other chess projects or ventures?
I always try to contribute to Norway Chess when I can. One year I worked as an volunteer and another I worked with their social media team. This year it seems AssiOS and I will be writing reports on the rounds and hopefully also some Lichess articles about the tournament.
9. Are there any current, planned, or even dreamed of chess related projects (writing a chess book, chess-start-up, working with chess education, etc.) that you'd like to mention?
We started a chess club at our faculty this year. Which has been going beyond all expectations.
There is also always something to do in the youth chess federation and school. So I am currently kinda swamped. But that's the way I like it.
Chess Training and Improvement
1. How would you describe you own style of play?
I am really a very (probably overly) aggressive player. "Lasse compensation" became a popular expression among my piers. It's used to describe unsound sacrifices. But the latest years I have become a much more mature player
2. What opening(s) do you least like to play against and why? And what is your favorite opening and why?
To be honest I prefer playing openings I don't know that much about. I usually spent a few hours before serious games and try to figure out the plans of the opening I have chosen to play. This makes every game a learning experience. I think the only opening I have kinda stuck to all my life is the French, which might qualify as my favorite opening.
3. Do you have any specific resource recommendations (books, videos, chess programs, apps) for the typical club level player?
My favorite chess book is Forcing Chess Moves by Charles Hertan. It is truly an amazing tactics book. Other than that I would highly recommend Reassess your Chess by Silman, and a decent endgame book like Fundamental Chess Endings by Lamprecht and Muller or Dvoretsky's endgame manual.
4. What are your thoughts on chess openings? Is there a rating level where players should or should not start studying theory and what do you find is the best way to begin studying the opening?
In my opinion you need a basic grasp of opening knowledge at every chess level. This does not mean memorizing lines, but rather understanding the basic ideas and plans of the openings you play. Then you will be able to find the correct moves yourself.
5. Rank the following in order in terms of importance for chess improvement and maybe give a bit of explanation: 1. Practicing tactics (tactics trainer) 2. Analyzing your own games 3. Analyzing grandmaster games.
Order: 1. Analyzing your own games 2. Tactics 3. Analyzing grandmaster games. It is very hard to say to one of these is more important than others. You should do a mix of all. I must have done way over a million tactics exercises during my chess life. But tactics mean little to nothing if you are outplayed in every game. Analyzing your own and GM games will help give you a deeper understanding of the game.
6. What are your top tips for the endgame phase?
The endgame is usually where the stronger player has the biggest advantage. This phase usually comes down to knowledge and patience. It's very important not to get carried away and move too quickly, but rather to try to understand the nuances of the position you are playing. There are countless examples where strong players, including super GMs, throw away easy positions by being reckless. Of course, you won't come very far without some knowledge.
7. People often get discouraged, especially since chess improvement takes a lot of hard work. How do you make chess improvement enjoyable?
The thing about chess improvement is that you don't really notice it happening. It can take years before it's reflected in your rating. Every single chess player stagnates at one point. I think it's most important to have fun. Then the progression and results will follow.
8. How do you balance chess with work, relationships, family, social life?
I find it quite easy. When I have time, or find other stuff intolerable, I play or watch chess.
9. How did you / does one determine a realistic goal for your chess career?
My goal is always to play as well as possible in my next game. I find having simple goals make everything easier. For me it is important to play with the least amount of nerves and pressure. But that can often be easier said than done.
Random Questions
1. Who are your favorite chess players/heroes?
I have so many chess heroes it's almost silly. If I had to pick one it would of course be MC. But I love everyone who plays fighting chess. This includes, but is not limited to: Leko, Kramnik, and MVL.
2. What is your favorite chess game (maybe one of yours and one game that someone else played)?
I don't really get emotionally attached to games. I like all the games I win, and some of the games I don't win. Especially games I had no right to win. When it comes to games by other players, I have a terrible memory. But I am equally amazed every time MC grinds out a win from a seemingly dead drawn position.
3. Do you have thoughts on lichess4545? What are some ideas you have to improve it?
I have really been enjoying my time in the lichess4545 league. I never used to be a fan of long online games but now that has changed (at least for a few hours every week). From my point of view it seems to be run excellently. I feel their might be more potential when it comes to educational material. It seems that most participants are eager to learn more. But I have no idea how this should be done.
4. Are there other interests outside of chess you'd like to share about yourself? Feel free to say as much or as little as you'd like.
I get very easily fascinated by things. Especially when I am supposed to do something else. At the moment I am doing a great job limiting my distractions to reddit and chess.
5. What TV shows/movies/music/books do you like or recommend?
Unfortunately, I haven't really read anything except chess and law books in recent years. Where it comes to music I listen to almost everything. I just finished 13 Reasons Why and American Crime Story. Both were depressing in their own way. I think my favorite series of all time must be The Office (US) and Parks and Recreation. It is impossible not to feel good after watching those.
6. What is your favorite dish and favorite drink?
Oh man that's a hard one. Favorite drink might be chocolate milk. I love all good food. My least favorite food is without doubt Hákarl. That is Icelandic shark which has been fermented and left to dry for months. I ate it years ago and can still remember the overbearing taste and smell of ammonia.
7. Okay last question: tell me a chess secret or a really important lesson you learned from chess.
I think one of the most important lessons one can learn from chess is that it is okay to make mistakes. You just have to make the best out of every situation and try to prevent it in the future.
Conclusion
Lovlas answered every single question sent to him and did so very openingly. He shares some great tips as well. Being a soon to be IM doesn't necessarily make you a good coach, or someone who can communicate good advice on getting better at chess, but most of the stuff here is very practical. With tips on a few resources, from what a chess coach should do for a plyer and how to be successful during a tournament, to how a break in chess can help improve your results as it did for soon to be IM lovlas-- he covers a lot of great ideas.
Thanks @lovlas for being so open with the interview for the ledger. It was interesting and fun to read. I can tell you are a very practical about chess and don't take it overly seriously. In my mind your answer to your favorite opening and your favorite games speaks to how chess for you is about exploring the fascinating possibilities but never to the point of obsession. It's refreshing to hear how someone can reach such a high level in chess with your attitude and personality.
---
Chess Puzzle
From a round 6 game in 45+45 on board 2: @mariuseg vs @poet1c. White just played Bxe6 Black to move.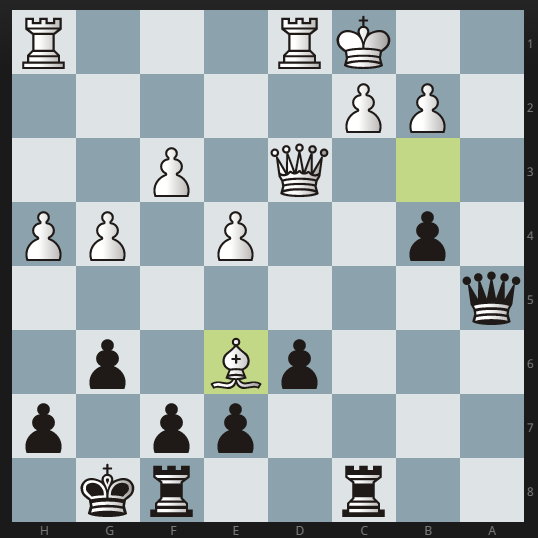 For the answer see gamelink.
Lichess4545 Ledger #025 ©2017 by Thienan Nguyen is licensed under a Creative Commons Attribution-NonCommercial-ShareAlike 4.0 International License

Thanks to the lichess4545 mods for their contributions. Thanks to lovlas for the interview. Thanks to @petruchio for his help in editing this issue.