Lichess4545 Ledger
Issue #024 - May 1, 2017
State of the League
After round 5 Truth is, Caro Can't and Chessistential Crisis are the leaders with nine match points. Also all teams have at least one match point. Unfortunately round 5 was a very blood round. There were 5 red cards handed out and thus 5 players who will not continue participating in the tournament. Another five players got yellow cards. All penalties were due to no-show, no-response, or insufficient effort in scheduling. Please take this as a warning to continue to show respect for your opponent, your teammates, and the league or else suffer the consequences.
Once again, a reminder that nominations for the end of season youtube review are OPEN!
Round 1 of Lonewolf started this past week with plenty of upsets. Number 1 seed @alex_slow was held to a draw on board 1 and upsets abounded on the lower boards.
Server Costs
As you may know, the league uses servers for Chesster and the website. Up until this point, they have both been running on my (@lakinwecker) personal server. However, in recent weeks it has become apparent that this server was no longer large enough to house all of my personal projects and Chesster and the website and the staging site.
This means that it is time to move to professional servers! The cost will be of $25 / month, and our plan is to finance it through donations. Your donations. We put a lot of volunteer hours into running this league, but we would like to involve everyone in the server costs. All extra donations each month will be kept for the next month and we will be as transparent as possible, perhaps setting up a Chesster progress alert after each anonymous donation.
For a more detailed explanation of the costs, please feel free to contact any mod.
Quick updates on the other leagues.
Competition is still going strong in #ladder! No major updates.
#Blitz-battle: Congrats to @alex_1987 who won the battle on 30th April.
Coaches Corner
This is a new feature in the Ledger and hopefully other chess coaches in our community will find time to contribute their ideas.
None this week
Notable Lichess4545 community member video/contributions:
@ChessLeagueTV covers some endgames. Determination and Sleightly discuss some very practical and useful positions.
A long Saturday stream covered several games. Hosted by several folks including @Determination, @chukodiman, @quirked, @sleightly, and @lord_axe all providing insights
@TonyRo Saturday Night Silliness
Stats from Round 5 of 45+45: Thanks to @somethingpretentious for his work to automate the process of coming up with these stats. It is much appreciated!
Biggest upset: 318 point difference cybercapitalist 1209 against majsza 1527 Gamelink
Lowest ACPL game: 8 ACPL TIE
Lowest combined ACPL game: 21 combined ACPL Atrophied vs Sleightly Gamelink
Highest ACPL game: 106 ACPL Prune2000 in loss to ChukoDiman Gamelink
Highest combined ACPL game: 181 combined ACPL ChukoDiman vs Prune2000 Gamelink
Longest game: Reached move 91 Atrophied vs Sleightly Gamelink
Quickest mate: Mate on move 32 by Glad_He_Ate_Her against sgis Gamelink
Fastest draw: Ends on move 19 autotelic vs Benedictine Gamelink
Fastest resign: Resignation on move 15 by revoof against DaveyJones01 Gamelink
Stats for Round 1 of Lonewolf:
Finally as always feel free to join #lichessledger on slack if you want to help or contribute in any way to this newsletter.
---
Chess For You
How to Prepare for An Opponent
Atrophied recently put up a video on how to prepare for an opponent. Atrophied himself would admit his openings aren't that great, but it is still interesting to see how one might go about looking up openings and choosing lines for an opponent. Also, be sure to check out @kjar's write up in issue #015 of the Ledger for another great discussion on the same subject.
---
Chess Puzzle
From a round 5 game in 45+45 on board 6: @spuntachessts vs @DasGuntLord01. Black just played Nf6 White to move.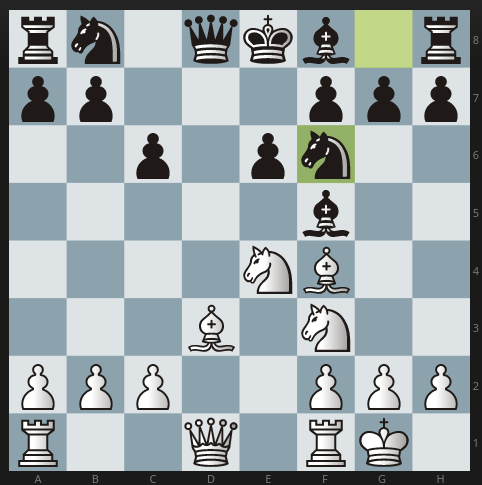 For the answer see gamelink.
Lichess4545 Ledger #024 ©2017 by Thienan Nguyen is licensed under a Creative Commons Attribution-NonCommercial-ShareAlike 4.0 International License

Thanks to the lichess4545 mods for their contributions. Thanks to @petruchio for his help in editing this issue.