Lichess4545 Ledger
Issue #022 - April 19, 2017
State of the League
After 3 rounds, only 2 teams have a perfect match record, Truth is, Caro Can't and Chessistential Crisis. These two teams meet in THE big clash of round 4 where the league will either have 1 or no teams with a perfect record. Round 3 also saw a big uptick in the number of alternates who got the chance to play a game. Around 15 alternates were recruited to play in round 3 with a few joining teams as permanent replacements. With the return of Lonewolf and the other leagues under the Lichess4545 umbrella, there will be even more opportunities to play games in our community.
A reminder that nominations are OPEN for the season 7 end of season youtube review. To nominate games send @chesster a direct message (DM) with "nomination 45" and you will get a link to enter your nominations (up to 3).
LoneWolf #7 will start Monday, April 24th! That's a week from Monday. It will be the same format as last time, an 11 round swiss.
Register here: https://www.lichess4545.com/lonewolf/register/

Here are the results from the lonewolf feedback survey:
Quick updates on the other leagues.
Competition is still going strong in #ladder as they passed 200 played games this past week! Still no changes at the top of the standings.
#Blitz-battle: The blitz-battle was off on account of the Spring Marathon and Easter. It will return Sunday 23rd April 2017 @ 18:00 UTC.
Coaches Corner
This is a new feature in the Ledger and hopefully other chess coaches in our community will find time to contribute their ideas.
None this week. If you have a chess tip be sure to share!
Notable Lichess4545 community member video/contributions:
It was a quiet week as our 6-8 lichess4545 youtubers had literally no videos and no other content was submitted.

So, we will advertise instead a study group!
A group of folks are starting to study Reassess Your Chess by Jeremy Silman in #chess-study.
Per @quirked: Reassess Your Chess study group will be this Saturday (22nd April 2017) at 17:00 GMT (trying to accomodate both EU and US people without conflicting with blitz battle.) I plan on going for around 2 hours, doing some Reassess and also some Silman endgame stuff.
I am putting everything into lichess studies, so having a copy of the book is not even necessary to join! I'd love to see you all for the full 2 hours, but feel free to drop in for however much you want.

Stats from Round 3 of 45+45: Thanks to @somethingpretentious for his work to automate the process of coming up with these stats. It is much appreciated!
Finally as always feel free to join #lichessledger on slack if you want to help or contribute in any way to this newsletter.
---
Chess For You
My Visit to the Korchnoi Zürich Chess Challenge 2017
by @roso97 for the Lichess4545 Ledger
@sgis also visited the chess event and provided a few additional photos below
The Korchnoi Chess Challenge in the Swiss City of Zürich is an annual event held by the prestigious Schach-Gesellschaft Zürich, which is the oldest chess club in the world. Many a great tournament was played in Zürich, the most famous of them being the Candidates Tournament of 1953, where Wassili Smyslov qualified for his second match versus Mikhail Botwinnik.
Many years later Zürich is still held in high regards in the chess community and whenever the SG Zürich holds an international tournament you can be certain that the playing field will be very strong. This tournament was no different. Among the competitors were the former World Champions Viswanathan Anand and Vladimir Kramnik, former World Champion-Challenger Boris Gelfand, former world number 2, and 4 time US Champion, Hikaru Nakamura. The rest of the field, Peter Svidler, Ian Nepomnjaschtschi, Grigoryi Oparin and the Swiss number one Yannick Pelletier are also very strong players, so a competitive event was guaranteed.
The tournament is dedicated to Viktor Korchnoi, two times World Championship-Challenger and probably the strongest player to have ever played under the Swiss flag. It is held as a two cycle round robin, the first of those cycles being new classical chess (45+30) where the winner gets awarded 2 points for a win and the second cycle being Blitz (10+5), where the winner got 1 point.
Since I live in Switzerland and am a chess enthusiast--I do not just enjoy playing the game but spend way too many hours of my life watching chess events on the Internet--I decided to go and visit the event. Unfortunately work prohibited me from going to any of the classical rounds, but I got to see the Blitz event, which was held on Easter Monday. It was a great experience. When you get there you can visit a small exhibition on Viktor Korchnoi (1931-2016) with newspaper articles, trophies, books and other things from his personal belongings.
Since I was quite early I spent quite some time looking at the exhibition and only then did I enter the playing hall. It was quite an amazing view. Since there was an open being played at the same time the room was full with chess sets, I would guess it must have been at least 50, probably more. The room was basically empty so I decided to go directly to the podium where four beautiful chess sets were awaiting the 8 Super Grandmasters. Later in the day the room would be full of people and one could not walk through it without looking at some interesting position. I even saw Svidler and Anand having a quick glance at one of the games on one of the higher tables (imagine the feeling having those two legends looking at a game of yours). When I got to my seat the players started to slowly show up. Many of them had brought family or friends and were generally in a good mood. I was sitting right behind the families of Svidler and Kramnik so they would usually come in between rounds and have a little chat. Kramnik has a very cute little boy who quietly sat through most of the tournament without ever acting up. I suppose he got the passion from his daddy.
I was quite surprised about the atmosphere in general. It seemed to me that the players playing in the open were a lot more tense than the Super GMs. I had the impression that those quys just enjoyed playing chess and had a lot of fun during the event. It was very cool to see the minds of these players at work. They played a lot of highly interesting games, especially the game between Nakamura and Kramnik stuck with me. It ended in a nice mate by Naka after which the crowd started applauding (something that, as you can imagine doesn`t happen that often at a chess tournament).
Hikaru Nakamura, who is known as a Blitz specialist, showed his brilliancy by not losing a single game and winning the tournament for a third time in a row. A personal highlight of mine took place after the last game of the event. Since there was a short break until the closing ceremony I chose to leave the building for some fresh air and met Hikaru Nakamura outside talking to his stepfather. Since I am a huge Nakamura Fan I approached him and asked him to sign my copy of Logical Chess by Chernev. He seemed happy that someone wanted to have his signature and we exchanged a couple of words before I let him return to his other obligations. During that brief exchange he seemed like a very nice guy and my copy of Logical Chess will always have a special place on my shelf.
I think now is a good time to give a shout-out to the Tournament Direction for doing an amazing job with the event, everything went smoothly and us visitors got an excellent view of the games. I will definitely go again next year. I highly recommend that, if you have a tournament in reasonable distance, you go and spend a day there. It is a great experience and you are going to meet a lot of other chess enthusiasts.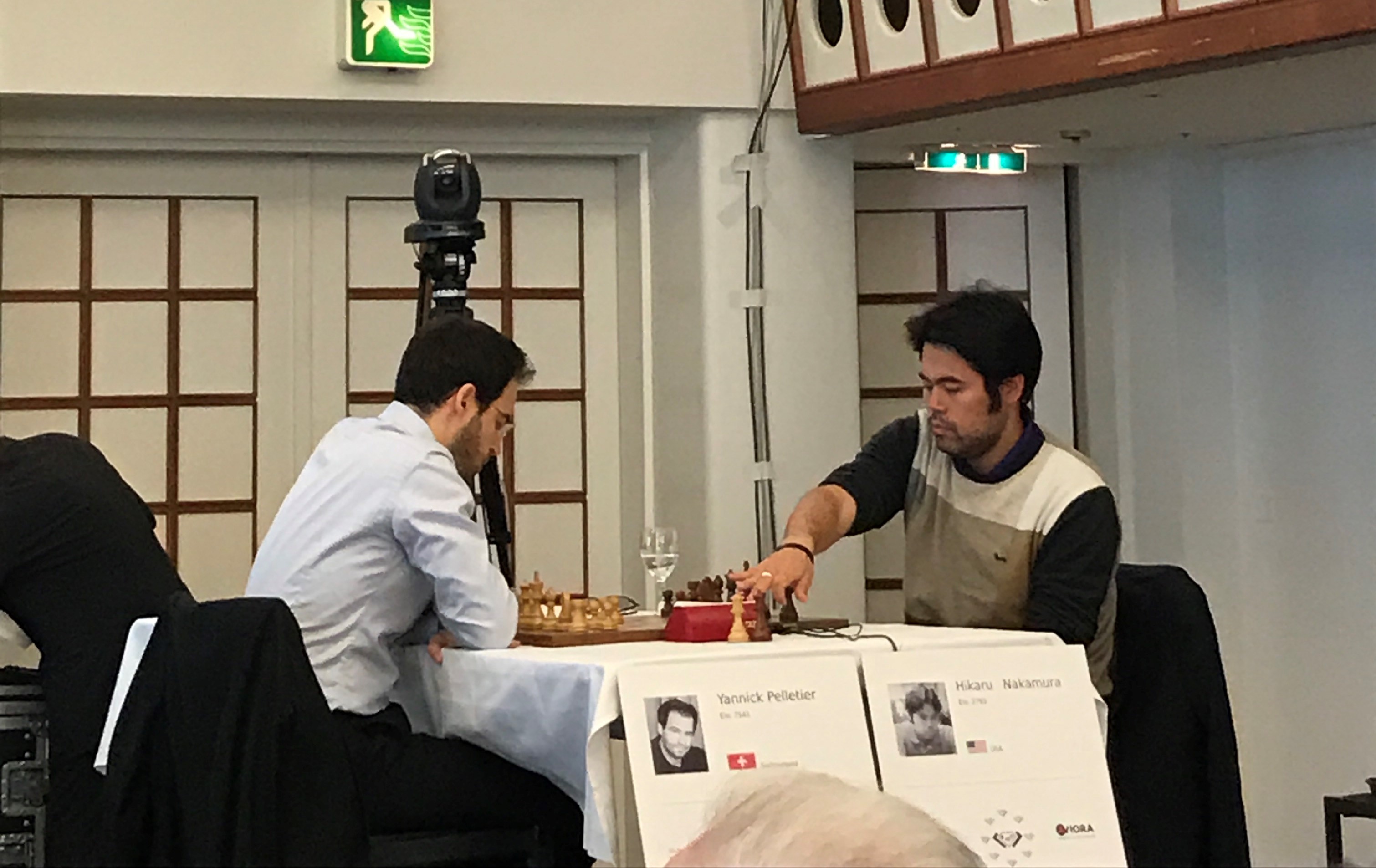 Hikaru Nakamura vs. the Swiss number one, Yannick Pelletier (Image by @roso97)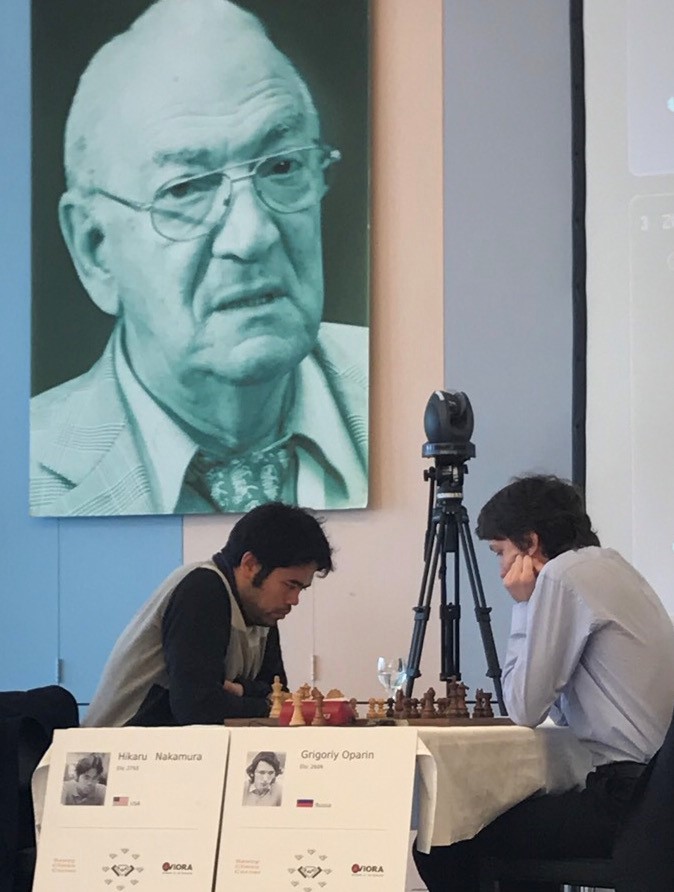 Nakamura battling Oparin in front of a portrait of Viktor Korchnoi (Image by @roso97)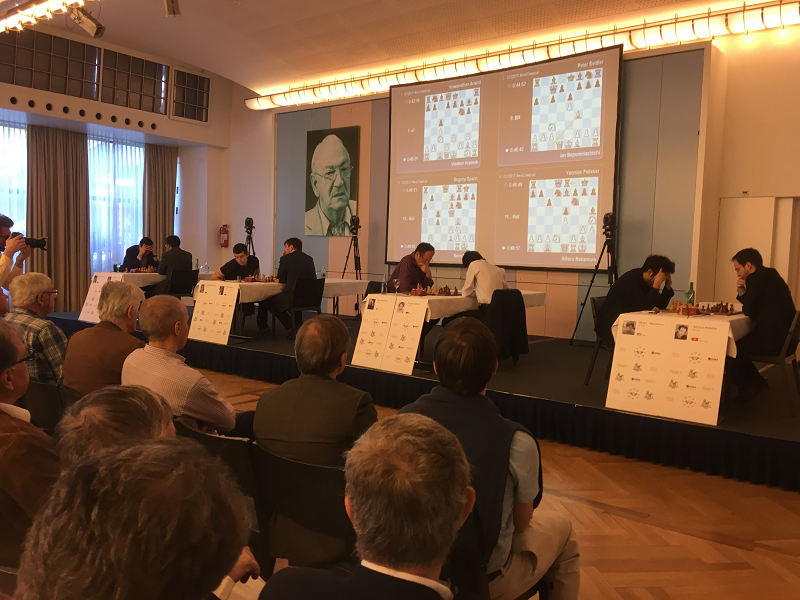 Round 1 of Event with Karpov in the Audience (2nd from the right in the 2nd row) Image by @sgis
Image by @sgis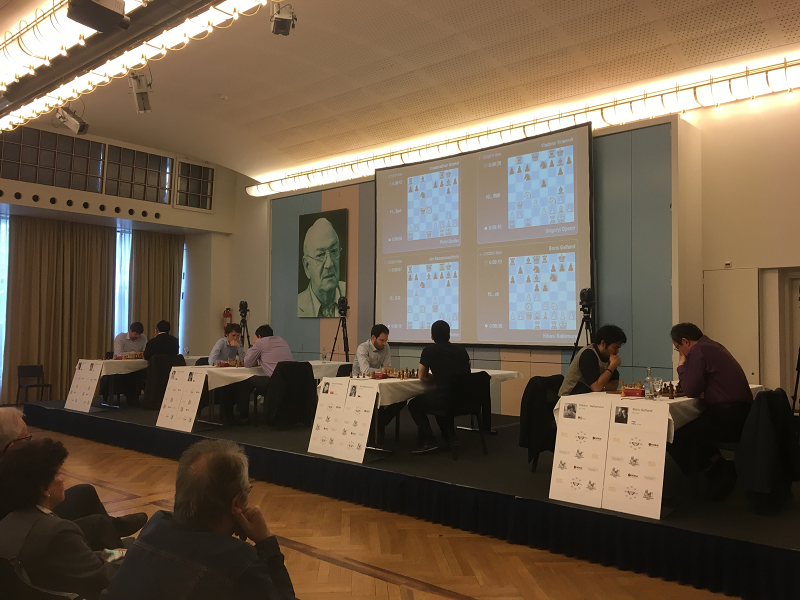 Round 6 of Event Image by @sgis
---
Chess Puzzle
From a round 3 game in 45+45 on board 6: @oddskill vs @Napoleon_Solo. Black just played Kh6. White to move. The black king appears to be on the run. However, only 1 move is decisive for white. Can you find it?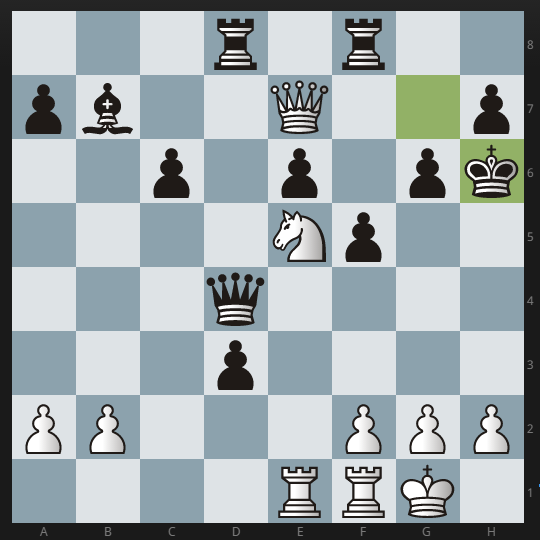 For the answer see gamelink.
Lichess4545 Ledger #022 ©2017 by Thienan Nguyen is licensed under a Creative Commons Attribution-NonCommercial-ShareAlike 4.0 International License

© All Rights Reserved on "My Visit to the Korchnoi Zürich Chess Challenge 2017" by @roso97 and the accompanying photos by @roso97 and @sgis.
Thanks to the lichess4545 mods for their contributions. Thanks to @petruchio for his help in editing this issue.