Lichess4545 Ledger
Issue #008 - November 14, 2016
State of the League
We only have one more round in 4545. Lonewolf is still going strong with round 7 of 11 coming to a close. Good luck to all the players in the next week(s). We will be recapping 4545 next week and letting you know our plans moving forward. This past week we've had a lot of chess all around the world. Almost all the top chess players were in action this past week either at the World Chess Championship, the European Club Cup or the Champions Showdown in St. Louis. Add to that the exciting games still occuring in our own league. It is an very amazing time to be a chess player. Not much else to say, as it's been a relatively quieter week in 4545 so not much to share for the State of the League in this issue.
FYI: To discuss the world championship over the next weeks, #wcc-2016, a new slack channel was created. Feel free to join there and discuss all things Carlsen vs Karjakin.
Demographic Survey
Final reminder: Please fill out @endrawes0's survey. It will close in one more week. The link is: https://endrawes0.typeform.com/to/barBRV
Chess Content
Lichess4545 members have made a ton of great chess content to check out. From this past week:
ChessLeagueTV #004 @doberm4n vs @nork with commentary by @FelixNL and @tnan123 (Link)
Did you Know?
When you post your results in slack you can use "giri" instead of 1/2-1/2 to indicate a draw. Thanks @endrawes0 and lakinwecker for your work with @chesster.
There is now a stats page for lonewolf. Thanks @cyanfish.
The crosstable is now sorted by team standings. Thanks @cyanfish.
Standings update: After 7 rounds, The LIttlest Pawn Shop, still lead with 11 match points despite a loss this past round. Four teams trail behind with 10 match points all with a chance to win Season 5!
Stats from Week 7:
Disclaimer: All info accurate to the best of our ability. However, since games occur up until the time the ledger is released, we may have missed something.
Biggest upset: 176 point difference petruchio 1381 beats angborxley 1557 Gamelink
Lowest ACPL game: 5 ACPL by linail in tie vs FelixNL Gamelink
Lowest combined ACPL game: 11 combined ACPL FelixNL vs linail Gamelink
Highest ACPL game: TIE 81 ACPL by 3 players
Highest combined ACPL game: 135 combined lakinwecker vs MadLoKi Gamelink
Longest game: Reached move 74 azuaga vs AncientRo Gamelink
Shortest game: TIE Both end on move 18
Quickest mate: Mate on move 20 skillet in win vs endrawes0 Gamelink
---
Chess For You
Game Analysis by JPTriton
I had originally started working on an analysis for the 45+45 league, but I found my own lonewolf game this morning such a delight that I felt compelled to share it with you all, and perhaps encourage you to join us in the lonewolf league - whether for this season or the next. Register here!
The game is a Chebanenko Slav, one of my pet lines against d4 that my opponent took into exchange Slav territory. I would also like to share with you a master game that follows a similar path in the opening to showcase the wonderful variety and potential in this opening which, although if absolutely correctly addressed by white is arguably no better than any other variation of the Slav, offers black an unexpectedly dynamic game.
If there is sufficient interest I may annotate some master games for future editions of the ledger, I would appreciate it if you all take a moment to tell me what sort of annotated games you would like to see in the future: http://www.strawpoll.me/11640416
---
Chess Puzzle
From a board 5 match during round 7: Immortality vs ChukoDiman. Black just played fxe4. White to move. What is the best move for white? Only one move saves the draw here according to Stockfish.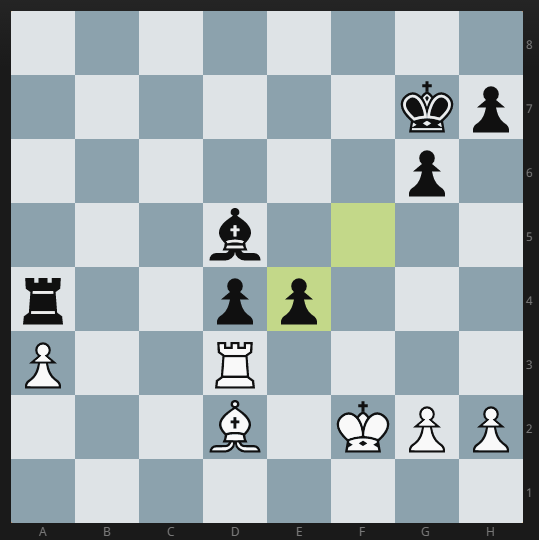 For the answer see gamelink.
Bonus Puzzle: Board 2 match azuaga vs AncientRo from round 7. Black just played Kc6. White to move. White could have secured the win, but unfortunately did not find this sequence and the game eventually ended in stalemate.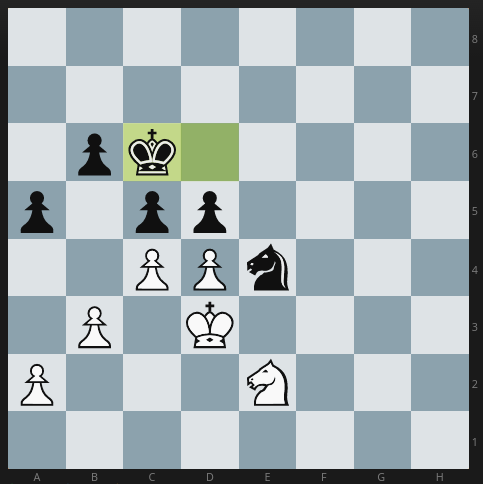 For the answer see gamelink.
Lichess4545 Ledger #008 ©2016 by Thienan Nguyen is licensed under a Creative Commons Attribution-NonCommercial-ShareAlike 4.0 International License
Thanks to @petruchio for his help in editing this issue. Thanks to @jptriton for his game analysis.