Lichess4545 Ledger
Issue #006 - October 31, 2016
State of the League
Round 5 has come to a close. That means 3 more weeks left in season 5 for 4545. In the meantime, the concurrent lonewolf tournament also deserves a shoutout in this newsletter. With 5 rounds in the books there are still a few players with a perfect score. The individual swiss tournament has been doing a good job keeping folks engaged with long time control chess - especially for alternates waiting to join the team league. The commitment of several players who participate in both tournaments is admirable. I hope you are taking these opportunities seriously. The opportunity to get a long time control game consistently each week on the amazing lichess server is NOT something that should be taken for granted.
There was a small hiccup with the swiss pairing system in lonewolf. However, that issue has been rectified and the top contenders will be facing off in future rounds as you would expect in a swiss tournament. Good luck to all the competitors of lonewolf!
We also had a succesful 15+15 tournament with over 900 participants over 6 hours on October 29th. Congratulations to GM The-Soviet-Chess for winning the tournament! Thanks to the sizeable exposure the league had a sizeable boost to our membership. Welcome to all the new members of Lichess4545 including our first GM!
Standings update: The leading team from last week changed due to some reversal of scores. After round 5 The Littlest Pawn Shop is in clear first with 9 match points. Followed closely behind are 3 teams with 8 match points (The Fianchetto Fellows, Throw in the Tal, and This Shogi tournament is weird). The four top teams are matched up in round 6.
Demographic Survey
Here is a message from one of our moderators, @endrawes0: This community is growing every day and the moderators feel we have gotten to know many of you quite well. However, in order to provide the best possible support for this community, we feel we need to get to know you better.
To that end, we would like you to fill out this anonyomous demographic survey. Feel free to leave any portion of it blank. The link is: https://endrawes0.typeform.com/to/barBRV
Thanks for taking the time to tell us about yourself.
Best,
@endrawes0
*Daylight Savings Time*
Players should note that daylight saving time ended in various parts of the world on 30th October 2016. However, for players in the US, daylight savings time ends 6th November 2016. Please keep this change in mind when scheduling your games.
Just a reminder to everyone. Stick to the channel topics and try not to spam #general in particular. It's tough to get home and see 100+ messages. No thanks! Feel free to use group direct messages for prolonged conversations.
Chess Content
Lichess4545 members have made a ton of great chess content to check out:
@TonyRo released his review of his round 2 game vs @aliquantus. Great review of Alekhine's Defense (Link)
ChessLeagueTV live streamed @Aprentice1 vs @tnan123 with commentary by @Jaivl (Link)
@dcwoods from TheChessRoom had a very instructive stream on the Middlegame (Link)
Did you Know?
You can now flip the board if you watch 45+45 or lonewolf games via the TV page at our website. Hover over the board and a menu button will pop up at the top right of the board which will allow you to flip the board. Thanks @freefal for your hard work on the TV page and thanks @cyanfish for implementing this feature!
Stats from Week 5
Disclaimer: All info accurate to the best of our ability. However, since games occur up until the time the ledger is released, we may have missed something.
---
Chess For You
For issue #006, @Seb32 has written a perspective piece about his personal relationship with chess. Seb is a freshman at Cal Berkeley this year as well as a longtime member and moderator at Lichess4545.
Finding Time for OTB
I started playing chess when I was 7 years old, mostly with my dad. He was my first teacher, first opponent and of course - first win. Almost immediately after, I fell in love with the game. I was fortunate enough to attend an elementary school that not only had a chess club, but also had some amazing players and teachers that helped me learn the game and make friends. When I was in 5th grade, I had already been going to tournaments regularly for almost a year, went to a chess camp over one summer and had a USCF rating. And then - it just stopped. Schoolwork increased, sports began to take more time out of my schedule and chess was the first thing to drop. I stopped playing chess until about two years ago. I found this great website that was free, had tons of features, and was constantly improving (yay Lichess). I started playing bullet and blitz during my free time and getting absolutely crushed. At one point, my Lichess rating fell to about 1000 - way lower than my USCF when I was 10. However, I eventually got back into tactics, openings, learning positional awareness and (for the most part) stopped dropping pieces in the first 5 moves. One thing that I still missed, however, was tournament play. With my busy life schedule and no nearby chess clubs, it wasn't easy for me to sign up and play in open tournaments. One consolation, however was the Lichess 4545 League, which I joined in season 2. The time control was a bit jarring for me at first (I'd never played games longer than 10+10 on Lichess before then) but I came to appreciate the thought and higher quality of games that comes with a slower time control. This year, I'm finally able to join a local chess club (at my university) and meet up with people regularly to play OTB chess. It isn't a large time commitment (I usually can only make an hour a week) and it's never serious chess (bughouse and blitz are by far the most played), but I'm excited to have a group of friends that I'll be able to play with and discuss games with in real life.
Written by @Seb32
---
Chess Puzzle
From a board 5 match during round 5: chessicstudent vs Mooserohde. Black just played Qd2. White to move. Only one move keeps white's advantage in this position. chessicstudent found the move and went on to win a nice game!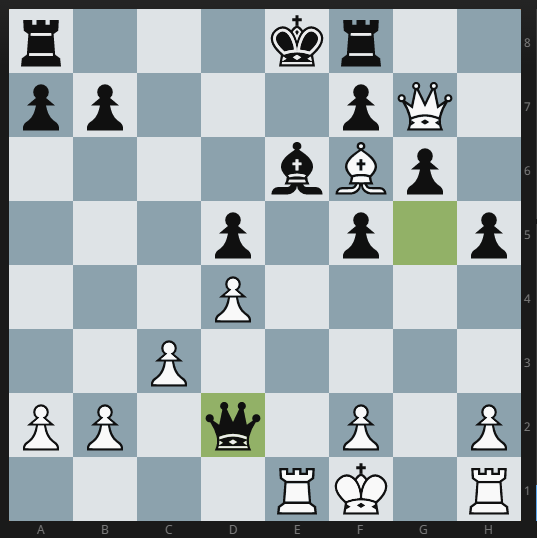 For the answer see gamelink.
Lichess4545 Ledger #006 ©2016 by Thienan Nguyen is licensed under a Creative Commons Attribution-NonCommercial-ShareAlike 4.0 International License
Thanks to @petruchio, @endrawes0 and especially @seb32 for his piece entitlted, Finding Time for OTB