Lichess4545 Ledger
Issue #001 - September 26, 2016
An Introduction: When the idea for a periodic newsletter occurred via a comment from the Season 3 feedback form, I thought it would be too hard to do on regular basis. The commenter mentioned ideas for improving the "community" feel of this league. Specifically, the person hoped a newsletter could update things like the current league status, or highlight notable games, blunders, etc during the season. Then in season 4 feedback someone suggested, adding the ability for players to "add 'study of the week' w/position(s) from league game ( archive could be useful at end of season when seeking 'top games' list as well)"
A great idea in theory, but a lot of work nonetheless. However, we've all seen the tremendous progress that Lichess4545 has made. We also listen to your suggestions to make the league best serve your needs. Thus, why not launch this newsletter which will hopefully highlight some interesting things that occur in our league.
In fact - lets make it open source. Any members of the community (you) can contribute. We also have a chess writer in our midst who has published at chessbase.in and chessbase.org - looking at you buddy ;) It might be an article, some chess analysis, or anything. Please submit contributions to the lichess4545 mods for review.
---
State of the League
A final congratulations to The Hateful Mate for winning season 4. Onward to new and better things in season 5!
Thanks again to @cyanfish for his hard work on the new lichess4545.com website. Also thanks to the help from @lakinwecker. Lastly @freefal thanks for putting together the TV portion of the site.
Thanks to all the feedback from season 4. A few highlights from the feedback response (Images by @endrawes0)




Based on these responses we are keeping the season at 8 weeks
We are implementing a penalty for red carded players from last season. The most popular suggestion by far is to start the season with a yellow card
A few folks mentioned having a playoff. We will keep the schedule as is for now
We are working on improving the alternates situation. Hopefully the website makes this easier.
Lastly we heard some comments about improving scheduling, changing the time control, having groups for chess-study (let me direct you to the #chess-study channel on slack), having more boards per team, having stats about individual performances and more! We hear you and thanks for the feedback!


The 6 games selected for review have been sent to IM Astaneh.

Congrats to those chosen and to all who participated in the nomination process. Big thanks to all who donated to help cover the cost of the review. Astaneh will do a livestream on Twitch on Saturday 1st October. He will post the VOD on his youtube channel as well.
---
Chess For You
This section will be where community contributions, news from the chess world, or any other chess related topics reside.
The enduring fascination of chess lies in the complexities of the game matching the cravings of the human intellect. There is freedom to set sail in creative expression, but ideas are always anchored by logic. It is infinitely exacting, but it stretches without strain. Yet this snug and elastic 'fit' between chess and human beings is often taken for granted. We know what it is about chess that attracts us, but we don't often consider what it is about us that that leads us to be attracted to chess.
quote from Jonathan Rowson's Chess for Zebras (p 137)
---
Chess Puzzle
Taken from the biggest upset of Lonewolf #4. Our inimitable crazyhouse expert LM Atrophied just played Qe5. What was the sequence that @wickawack pulled to overcome a 542 point rating difference and take down @Atrophied in this position.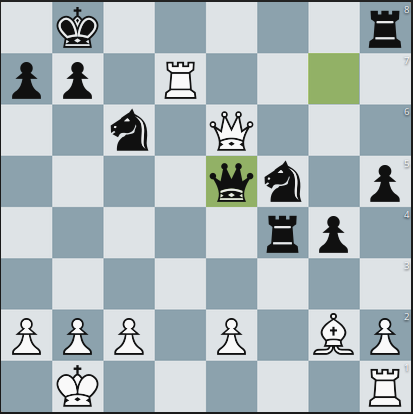 For the answer see gamelink: (Spoiler) I recommend trying to solve on your own!

Lichess4545 Ledger #001 by © 2016 Thienan Nguyen and Andrew Haddad is licensed under a Creative Commons Attribution-NonCommercial-ShareAlike 4.0 International License.