LoneWolf - Frequently Asked Questions
---
LoneWolf is an accelerated Swiss format online chess league that is run by Lichess.org as part of the Lichess4545 group of leagues. The time control is 30+30 (30 minutes per player to begin with, with 30 seconds added per move).
As with most chess leagues and tournaments, players earn 1 point for a win, 0.5 points for a draw, and zero points for a loss.
During the season, pairings are released every Monday at 21:00 UTC.
If you're interested in joining, register online. Note that we only accept registrations from around two weeks before a LoneWolf season begins to the start of Round 8. Registrations are closed from Round 8 onwards, and are only re-opened shortly before the start of the following season.
If league moderators approve your registration, you'll receive an email inviting you to join the Lichess4545 Slack workspace...so then you need to join it!
When you join the workspace, first link your Slack account by sending a Direct Message (DM) to @chesster with the single word "link". If you're not sure how to do this, seek help in the #welcome, #lonewolf-general or #general channels.
All LoneWolf players should join the #lonewolf-general, #lonewolf-scheduling and #lonewolf-games channels.
Note: this section also appears on the league rules page.
During the season, pairings are released every Monday at 21:00 UTC.
You can set your availability for each round on https://www.lichess4545.com/lonewolf/season/24/availability/edit/ [but make sure the link has the correct season number]
For every round where you have set yourself as available, shortly after pairings have been published, you will receive a direct message on Slack from @chesster that will include your opponent.
You have 24 hours to message your opponent in this thread - either offering them times you can play or responding to their offered times. This is important - if you do not make contact on Slack within 24 hours, you will automatically be withdrawn from the round, and your opponent will be offered the chance to take a repairing (or a forfeit win).
Please list all times in UTC - this just makes it easy for everyone.
Once a time has been agreed, either you or your opponent should post it in #lonewolf-scheduling. If you're not sure how to do this, just follow the formats used by other players in the channel. Please confirm that your opponent is OK with playing at a certain time before posting it.
When it's time to play, either you or your opponent has to send the other player a challenge on Lichess for a standard rated 30+30 game, making sure that each player is assigned the correct colour. (If not, chesster should message you about it!)
Then you just need to play your game. Chesster will automatically know when your game starts and ends, and the result will be posted immediately in #lonewolf-games (which is why we advise players to join this channel). The result will also show up immediately on the website's round pairings page.
All games must be completed by 21:00 UTC on the following Monday, in time for the next round's pairings to be released. Please bear this in mind when scheduling your games.
Make sure you're aware of the league's rules. It's also a good idea to familiarise yourself with the Lichess4545 Terms of Service.
The current LoneWolf league mods are yago666, TimothyHa, M0r1, ErinYu, m​irkojotic, i​zzie26, s​eb32, gavalanche20, and flipiflapi (last updated August 2021).
If you are an active member of our leagues or otherwise a member of the lichess4545 slack workspace, send the message @chesster summon mods in the #lonewolf-general channel of the slack workspace.
If you are not a member of that workspace, contact us via our contact form at https://www.lichess4545.com/lonewolf/contact/.
We recommend planning for a LoneWolf game to take around 2 hours at most - this should cover most possibilities. The average league game takes around 1h 10m, but game durations can vary considerably, as can be seen in this graph of the distribution of LoneWolf game times since April 2017.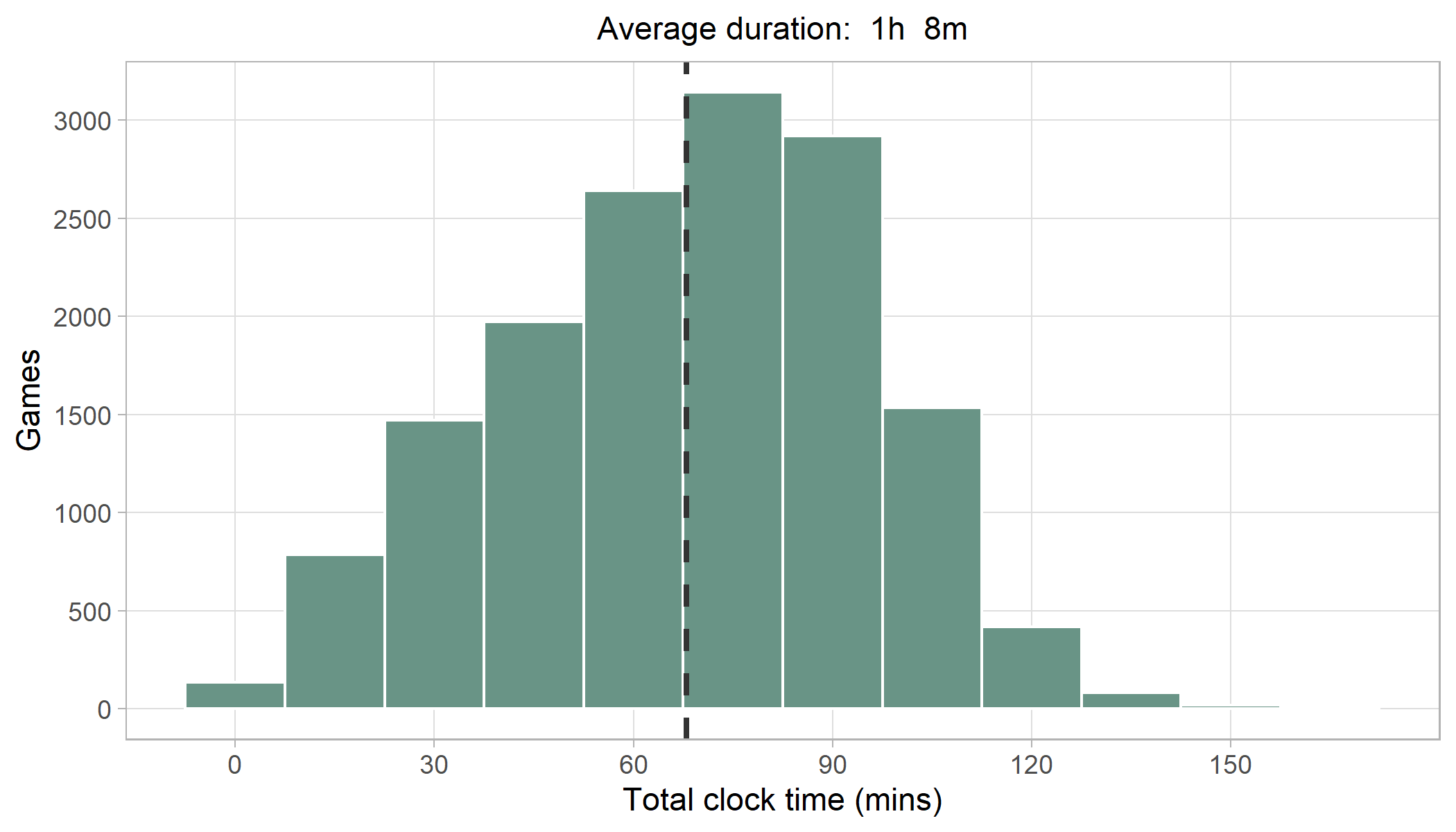 You can edit your availability in four simple steps:
Go to the Lichess4545 website and click your username in the top-right corner. (You need to be logged in to see your username; if you can't see it, log in first).
Select "Edit availability".
Toggle your availability for each round.
Click "Save".
That's it!
Please do not select the "Change registration" option on the website to edit your availability. This will re-submit your registration, which means that it will have to be manually approved again before you are eligible to play.
Here's a demonstration of how to do it: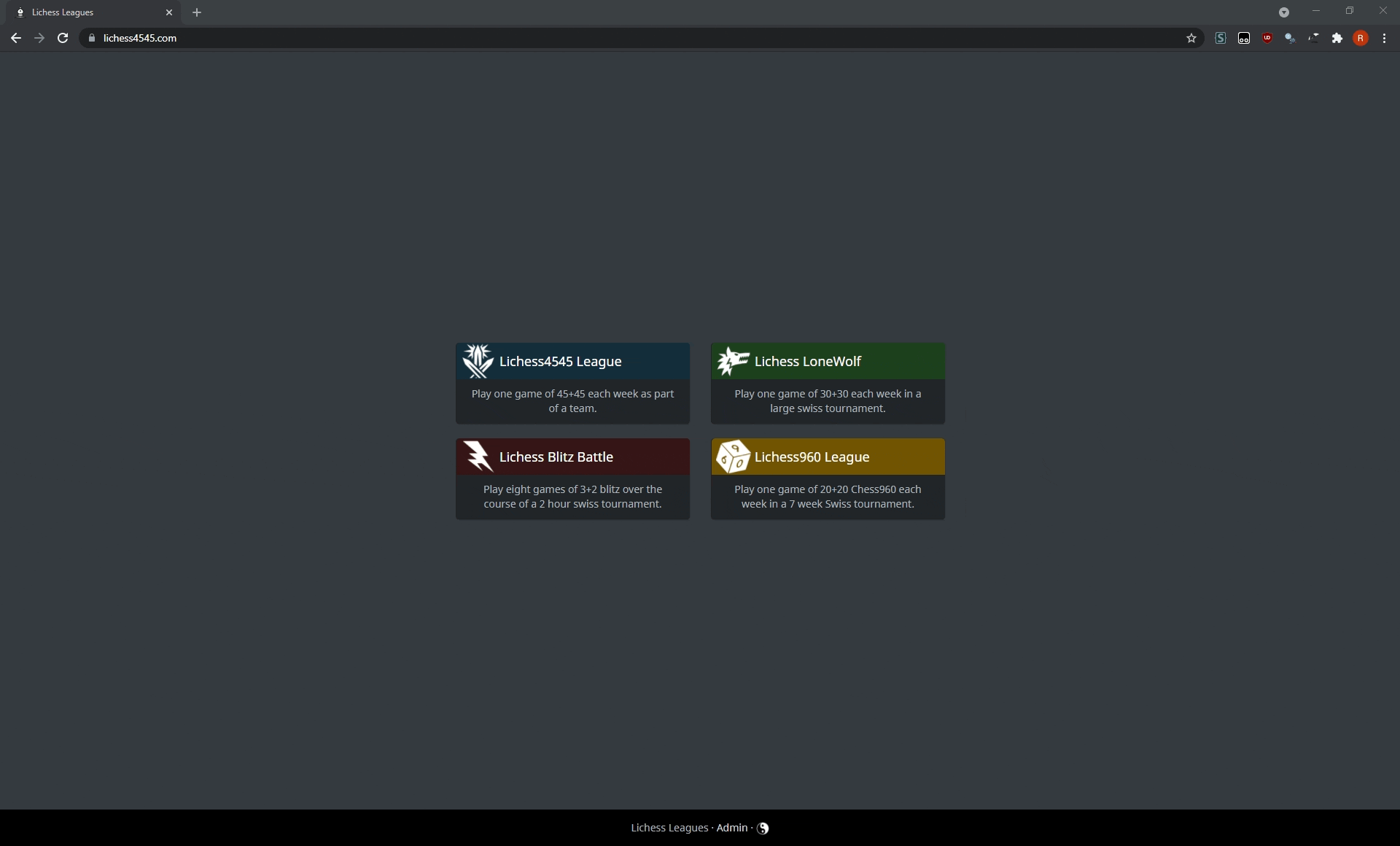 Click on your username in the top-right corner (just like if you were editing your availability), then select "Withdraw" under the appropriate season. You will be asked to submit a screenshot and explanation of your withdrawal. These are purely optional. Withdrawal requests are automatically approved. It isn't possible to withdraw after the last round of the season has started.
Please contact the LoneWolf mods using https://www.lichess4545.com/lonewolf/contact/.
We use the following USCF-recommended tiebreak methods, listed in order:
Modified Median
Solkoff
Cumulative
Cumulative opponent's score
LjP: Late Join Points. Given to players with higher ratings that join the tournament, so that they don't get paired down too far.
Tot: Total Points
TBrk: TieBreak. Tiebreak explanations are above. The best explanations for these are in wikipedia or the USCF rules.
Perf: Performance rating for the tournament.
W: Win. W23 means a win against the current 23rd placed player.
L: Loss. L3 means a loss against the current 3rd placed player.
H: Half point bye. You get these when you mark yourself as unavailable for a week.
X: Win via forfeit. Either a player failed to show or the opponent otherwise forfeited.
U: Did not participate in this round.
F: Forfeit Loss.
Z: Scheduling draw. What are those? Read the rules!
B: Full-point bye. Given when there is an uneven amount of players to be paired. The lowest ranked player gets a full point Bye.
Players who have finished in the top three positions in previous seasons are indicated in the standings by different colours:
Gold indicates previous 1st place finishers
Silver indicates previous 2nd place finishers
Bronze indicates previous 3rd place finishers
Blue indicates players who previously won either the "Best U1600" award in the U1800 section or the "Best U2000" award in the Open section.