Lichess4545 Ledger
Issue #060 - May 9, 2018
State of the 4545 League
by @SpiteKnight
Round 3 of the 4545 League promises to be an exciting one, with nine teams taking all 4 points available to them until now and challenging each other for the first place. This round should filter out the consistent leaders from the dogged challengers. At the other end of the spectrum, six teams have been unable to put points on the board yet and will surely be fighting hard to stay in the hunt.
Lonewolf League is in it's final round! It's crunch time boys and girls! Open section is being fought by @Kuhfighter and @Journey_to_NM who are on 8.5 points each. @Journey_to_NM (black) faces the winner of Lonewolf Season 8, @mn8 (white), in his final quest. Catch this exciting game on Thursday at 23:00 UTC. U1800 section has a lot of drama left with three players fighting for a first place finish and more players for the podium. @SpiteKnight, @lakinwecker and @Chrisca408 are on 8 points each. @Chrisca408 vs. @SpiteKnight on Thursday at 06:00 UTC and @BranzaDubla vs. @lakinwecker on Saturday at 17:00 UTC will decide the winners for this section. We wish good luck to all the players and wait in anticipation for the Champions!
Meanwhile: - Blitz Battle #32 was won by @ErinYu!
- Rapid Battle,15+2 final game, @moistvonlipwig (won) vs assassin_in_white.
Congratulations to both! Rapid Battle was decided in an exciting and arduous Armageddon final!
Chess news from around the world:
A study conducted by University of Melbourne concludes, 'Elite chess players live longer than the general population and have a similar survival advantage to elite competitors in physical sports.' An informative article on the abovementioned study can be found here.
GM Andrew Tang Wins Lichess Titled Arena 5 (A brief write-up on the event by @arex).
---

Video Reviews
by @quirked
A League game with commentary of his own!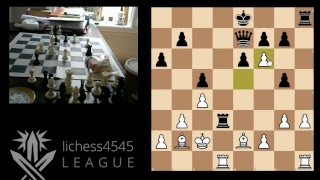 Live commentary of @quirked game in Lichess4545 season #12 Board 1 Round 2:
quirked (1991) - Sonata2 (2223) Gamelink.
When not to castle, play in a worse position, searching a good ending, coffee & singing...

Stay tuned to the CLTV Youtube page for VODs and streams.
---
Weekly Stats
by @kraaft
Stats for Season 12 Rounds 2:
Stats for Season 10 Round 10:
#series-general: Only 8 games played during the last two weeks, they were not enough for generating relevant statistics. See you next week.
---
Chess Study
by @ErinYu
Another great annotated game by @ErinYu with the following description:
'Queen's Gambit Declined: Exchange Variation. My teammate's topsy-turvy game that features several instructive tactical and strategical moments.
But they're mostly tactical moments, so sit back, get some popcorn, and enjoy the show?'
---
Chess Puzzles
by @kraaft
From Lichess4545 Season 12 Round 2:
Click on the images for the solution or to explore the puzzles with the Lichess Study format.
Favorite

Board 5
NivenN (1689) - lakinwecker (1709)
Gamelink.

◯ White to play.

Favorite

Board 1
somethingpretentious (2022) - NOTFOXAnonymous (1975)
Gamelink.

⚫ Black to play.

Board 5
rampichino (1737) - GrahamParkerME (1848)
Gamelink.

◯ White to play.

Board 5
Staincastle (1659) - OutdoorTree (1663)
Gamelink.

⚫ Black to play.

Board 6
Alkbiades1 (1483) - Acer30 (1260)
Gamelink.

⚫ Black to play.

Board 2
lenguyenthanh (1921) - Lynnpv (1921)
Gamelink.

◯ White to play.

Board 3
avelez8 (1856) - shetto (1805)
Gamelink.

⚫ Black to play.

Board 2
myle (1880) - dctrip13 (1895)
Gamelink.

◯ White to play.

Board 1
morallygra (2002) - MoistvonLipwig (2264)
Gamelink.

⚫ Black to play.

Board 4
MattyB (1746) - Seb32 (1724)
Gamelink.

⚫ Black to play.

Board 4
xEmpCC (1661) - earlymorningchess (1804)
Gamelink.

◯ White to play.

Board 3
avas_goridze (1847) - moinmann (1807)
Gamelink.

⚫ Black to play.

Board 5
imcgrat2 (1675) - oddskill (1663)
Gamelink.

◯ White to play.

Board 5
poopheaderic (1622) - dose7781 (1676)
Gamelink.

◯ White to play.
Chessboard images provided by lenik terenin.
---
Please feel free to join #lichessledger on slack if you would like to contribute towards the ledger in any way, or provide any feedback. Both are highly encouraged and appreciated. Thank you for reading.
Lichess4545 Ledger #060 ©2018 by Thienan Nguyen is licensed under a Creative Commons Attribution-NonCommercial-ShareAlike 4.0 International License
Thanks to @ErinYu, @kraaft, @luvgangster, @somethingpretentious, @spiteknight and @quirked.